Following a triumphant Coachella weekend two headlining set with Skrillex and Fred again.. and the surprise release of a new single last week, Four Tet's Kieran Hebden has more to share. The British electronic music artist announced today (May 2) that his label, Text Records, will release a new album called Secret Life by Fred again.. and ambient legend Brian Eno this Friday.
"It is the most beautiful album of 2023," Hebden wrote on Twitter, adding that Secret Life will be available in vinyl and CD versions as well as digitally. In addition, material from the album is apparently being teased via daily online radio broadcasts at SecretLife.fm, beginning at 10 p.m. U.K. time.
No other information has been revealed about Secret Life, including any details about the music itself or whether Hebden was involved in anything other than a label capacity.
And although Text mostly releases Hebden's music as Four Tet, the label has occasionally brought forth surprise collaborations, including the Burial / Four Tet / Thom Yorke project Ego / Mirror in 2011 and Hebden's 2015 team-up with esteemed jazz drummer Steve Reid, Strings of Life / Tongues.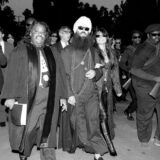 Eno's most recent album, last year's FOREVERANDEVERNOMORE, featured more of his own vocals than any prior of his solo projects in the past two decades.
Meanwhile, Four Tet begins a tour of three-night runs in Los Angeles, New York, and London tonight at L.A.'s Hollywood Palladium. Summer dates feature Primavera Sound in Barcelona in early June and a reunion with Skrillex at Hard Summer in Los Angeles on Aug. 6
this is the artwork pic.twitter.com/QykbwxfHzV

— Four Tet (@FourTet) May 2, 2023