Sometimes, a band has to get up early in the morning to rock. On the opening weekend of this year's Coachella Valley Music & Arts Festival, that meant the members of Kentucky hardcore band Knocked Loose found themselves at the massive venue's near-empty polo fields for an 8 a.m. soundcheck, several hours ahead of their Sunday night performance. The upside was getting to see avant-garde heroine Björk cruise through her soundcheck on the main stage across the grounds.
"This might be the weirdest show we've done in our career," said Knocked Loose drummer Kevin "Pacsun" Kaine of his band's high-profile gig in the Southern California desert. "We're further removed from the norm at a festival like this, but it is exciting." Singer Bryan Garris added with a smile, "We're definitely the black sheep of the festival, but we always strive to do things that are a little bit out of our comfort zone." Before the day was over, Knocked Loose erupted on Coachella's nightclub-sized Sonora stage, as the crowd reacted with the usual shouting, moshing, and stage-diving found at a hardcore show. Even Billie Eilish showed up to watch.
"We try to play as intensely as possible," explained guitarist Isaac Hale. "People are going to either be scared by it and love it or they're going to be scared by it and be like, 'Oh my goodness, what the fuck was that?' Both are equally as cool."
None of that should be surprising, even with Coachella's increasing emphasis on pop, hip-hop, dance, and various flavors of world music (to wit: 2023 headliners Blackpink, Bad Bunny, and Frank Ocean). While Garris calls his band's down-tuned sound the heaviest of the festival's nearly 24-year history, there is a long line of contenders for that title, starting with the festival's inaugural 1999 headliners, Rage Against the Machine and Tool. Subsequent years have delivered loud and proud artists such as Motorhead, Guns N' Roses, AC/DC, My Bloody Valentine, Refused, Turnstile, Mastodon, Swans, Drive Like Jehu, the Mars Volta, And You Will Know Us by the Trail of Dead, and Code Orange.
The punk and hard rock roots of Coachella promoter Goldenvoice Productions, which created the festival and continues to usually a nod to that history every year. So at this year's edition of Coachella, a fan could chart a full weekend of rock-oriented music, bouncing between stages to find blink-182, Björk, Blondie, the Breeders, Gorillaz, boygenius, Wet Leg, Fousheé, and many others.
In 2023, Coachella also remains a place where an indie rock band can play under an international spotlight a week after appearing at a small club. This year's highlights included Snail Mail, Destroy Boys, and Horsegirl, who each performed angular but melodic rock to charmed and excited crowds.
For the duo who lead the Los Angeles indie rock band Momma, playing at Coachella was a sort of homecoming. The pair first attended the festival as teenage rock fans, and caught main stage sets by Nick Cave, the Red Hot Chili Peppers, and Blur. "The first year I came, I begged my parents because I wanted to see Kings of Leon," Momma singer/guitarist Allegra Weingarten said with a laugh. "That was like my favorite band when I was 12 or 13 years old, so that was pretty awesome."
This year, Weingarten and musical partner Etta Friedman were dazzled by the Breeders' grinding, exquisitely ragged guitar riffs and classic indie rock — a recipe old enough to have influenced Kurt Cobain. "Oh yeah, we were freaking out, jumping up and down," said Friedman of the Breeders' set. "That was probably my fifth time seeing them. They're my favorite band."
Breeders bandleader Kim Deal showed up in a Star Trek T-shirt with the face of Jean-Luc Picard, while her guitar amp displayed an insignia of a reclining dude. "We know a Beatles song," Deal announced, making a beautiful mess of the Fab Four's "Happiness Is a Warm Gun," a cover recorded on the Breeders' first record, 1990's Pod. The Breeders were joined by next-generation rockers the Linda Lindas as backup singers on "Saints." During "Iris," guitarist Kelley Deal smiled proudly and squeezed out a brief but perfect bit of feedback while her twin sister Kim strummed an acoustic.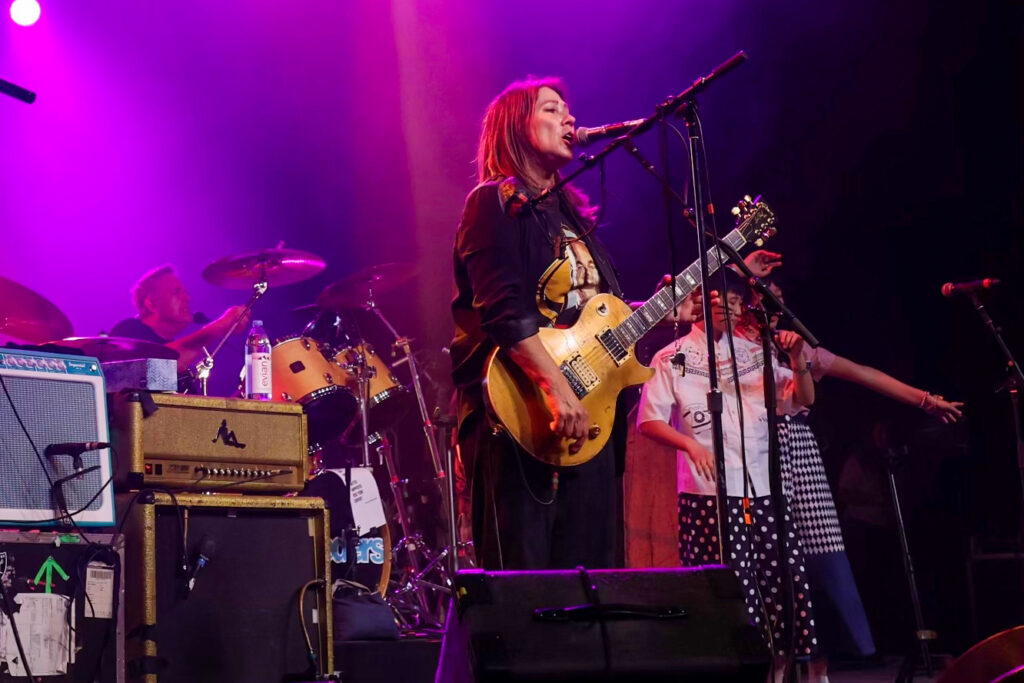 Momma kicked off its own set with "Rockstar," usually its aggressive show-closer, to set things into intense motion. The quartet played flinty, tuneful indie rock with shades of Smashing Pumpkins and Pinback, leaning into a heavy wall of guitar as the crowd swelled at the Sonora stage.
"It's cool that we're kind of on the indie rock stage," Weingarten told SPIN earlier in the day. "That's pretty cool to be with our peers at a festival that can feel so daunting. There's so many people of so many different levels and I feel like there's a little sense of community on the stage we're at. It's people that started around the same time and had a similar trajectory to us."
The big rock moment of the weekend was the surprise Friday afternoon set by blink-182, as the reunited classic lineup stepped onto the gigantic Sahara stage, normally reserved for Coachella's biggest dance music acts. With singer/guitarist Tom DeLonge back for the first time since 2014 alongside singer/bassist Mark Hoppus and drummer Travis Barker, the trio easily fell back into their old roles, as if they'd never been apart.
Blink opened with their least family-friendly tune, "Family Reunion," a half-minute blast that lifts George Carlin's "seven dirty words" (the screen behind Barker flashed the words, "Warning: I fucked your mom"). The group roared through an 18-song set of pop/punk hits and stupid jokes, with DeLonge and Hoppus bouncing behind their mics, and a shirtless Barker slamming the drums at full force with rows of chains and spikes snug around his neck.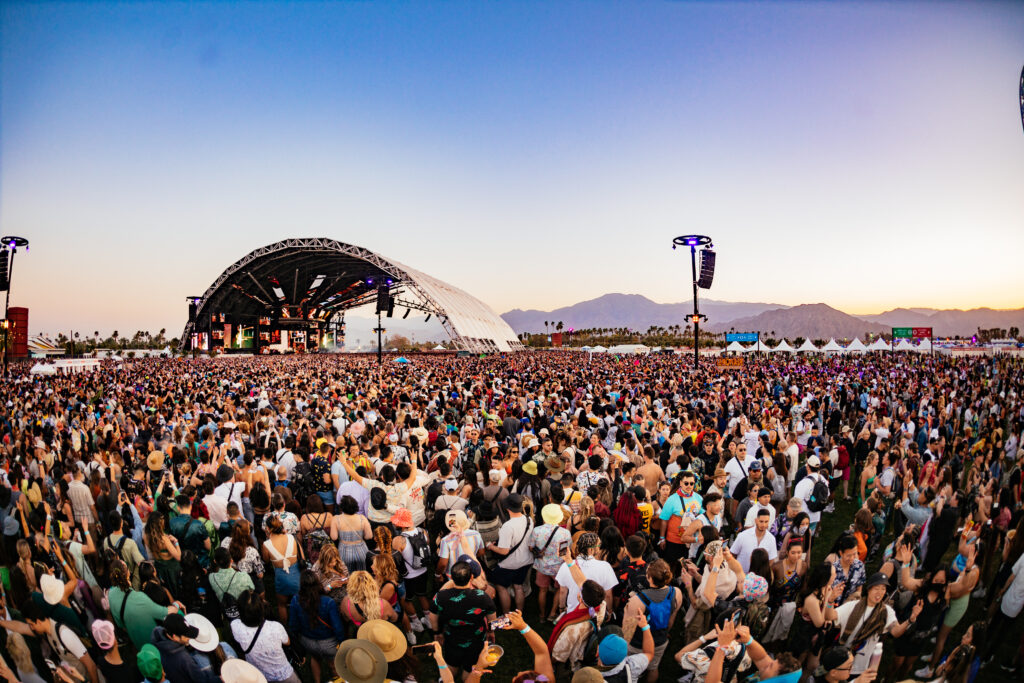 The message was clear: blink-182 remains a punk band and can still draw quite a crowd, which was the biggest daytime audience of the weekend. DeLonge played a guitar covered in stickers by his punk rock heroes, including the Descendents, Bad Religion, T.S.O.L., Fugazi, and the Queers. During "Man Overboard," multiple screens were covered in old snapshots from blink's career, and fans shouted along to lyrics from "Feeling This" such as "Where do we go from here?!" For blink at least, the trio is heading back to Coachella this weekend as the headliner on Sunday's main stage, following the abrupt exit of Ocean.
Blondie drew an excited, overflow crowd of young and old to the Mojave tent, minus ailing guitarist/co-founder Chris Stein but augmented by former Sex Pistol Glen Matlock on bass. Chic guitarist (and Rock and Roll Hall of Famer) Nile Rodgers joined the band for a stretched-out, funked-up "Rapture," then stayed for Harry's solo song "Backfired," from the 1981 album KooKoo, which he produced.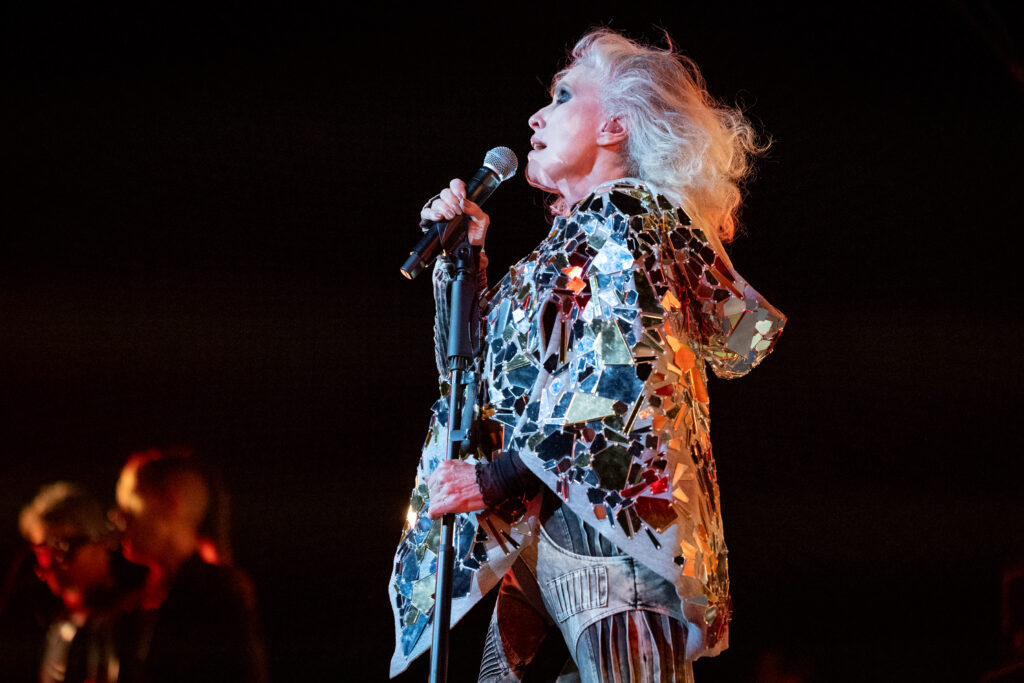 Dressed in their "Success Doesn't Suck" suits and ties, the members of boygenius began their set off-stage but on-camera with the sweet a capella harmonies of "Without You Without Them." The trio of singer/songwriters Julien Baker, Phoebe Bridgers, and Lucy Dacus (and their four-piece backup band) then shifted into the louder rock of "$20" and "Satanist."
Another young rock act listed low on the bill and facing a new, unfamiliar audience was Scowl, a hardcore band fronted by green-haired singer Kat Moss. Moss first attended Coachella as a fan in 2016, when she caught Rancid's set and managed to snag the band's setlist. This year, she was more excited about Björk's set on Sunday night, which was performed with a full orchestra and recast her forward-leaning rock and techno with layers of strings.
"A cool thing about being here is there's a lot of artists I don't normally get the opportunity to see," Moss told SPIN. "I saw boygenius last night and I cried my eyes out. It's truly a music lover's festival. As someone who loves pop music, it's very exciting to share the stage with some really amazing pop artists."
Scowl's early Saturday performance drew a crowd of hardcore believers, which even surprised Moss. "I'm so grateful that we even had a crowd," she said. "I know for a fact there were people out there who had never heard of us, never seen us, and there's people who left as fans. I was on social media getting hit up by people saying, 'Never heard of you before, but you were amazing. New fan.' That was really gratifying. And then some of the real hardcore people stepped out and were out there circle-pitting and moshing and stuff. It was awesome."