Hip-hop heavyweight Killer Mike will throw his mic at this mincing age of group think and cancel culture when he declares a new era in the fight for free speech in New York City in April.
"If you don't believe in freedom of speech for those people you don't agree with, you don't believe in freedom of speech at all," said the host of Netflix's Trigger Warning with Killer Mike.
The rapper, actor, and cultural pugilist is keynote speaker at Free Speech Makes Free People, an April 18 black-tie optional Manhattan gala marking the mission leap of First Amendment champions FIRE from defending open inquiry and expression on college campuses to defending it throughout the sweep of America.
"I encourage people to make sure that you're strict about making sure your Constitutional rights are protected and covered," said Mike – civilian name Michael Render – whose major label recording debut was dueting with Big Boi on Outkast's powerhouse 2000 release Stankonia, named by Time magazine as one of the 100 greatest albums.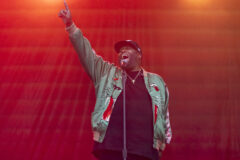 For anyone wanting a pre-gala dose of Killer Mike, the Atlanta-born rapper is headlining SPIN's South By Southwest showcase at Stubbs Bar-B-Q on March 16. Perhaps he'll perform his politicized classic, "Reagan", from 2012's R.A.P. Music, in which Render skewers both the Republican and Democrat parties before closing with a jab at domestic intelligence gathering:
If I say any more they might be at my door
(Shh…) Who the fuck is that staring in my window?
Doing that surveillance on Mr. Michael Render
Also speaking at the FIRE event, at which pre-dinner cocktails will be served, is Nadine Strossen, New York Law School Professor Emerita, former national president of the American Civil Liberties Union, and author of HATE: Why We Should Resist It with Free Speech, Not Censorship.
FIRE's acronym originally stood for Foundation for Individual Rights in Education, as the group initially focused on defending students and faculty of all persuasions who fell foul of censorious administrations and campus cultures.
Now, with much of the country resembling a finger-pointing yelling match in a panopticon ward, FIRE remains committed to free speech on campuses but has opened its books to whenever and wherever Americans' First Amendment rights are attacked.
The group's acronym now stands for the Foundation of Individual Rights and Expression, with its April 18 bash at Cipriani 42nd Street to be MC'd by Kmele Foster, FIRE-board member and partner at documentary-maker Freethink.