The crowd that went to see Foo Fighters at Lollapalooza Chile were in for a surprise on Friday night. Near the end of their headlining set, Dave Grohl invited the festival's founder Perry Farrell to come onstage and sing the Jane's Addiction hit "Been Caught Stealing."
"He's the reason why we're all here, so please everybody, Lollapalooza, tonight, please welcome, with great respect, Perry Farrell from Jane's Addiction,"Grohl said to the roaring crowd. The singer then strutted onstage with a hefty glass of red wine and yelled "¡Viva Chile!" before diving into the song.
Grohl took on guitar duty while letting Farrell do his thing on vocals. Watch the full performance below.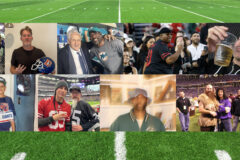 In addition to the Jane's Addiction cover, Foo Fighters treated fans to a Taylor Hawkins-led cover of Queen's "Somebody to Love" with Grohl on drums, along with some of their biggest hits. They're on the festival circuit this year and will surely keep up an A+ setlist. Check out their Lollapalooza Chile setlist below.
Foo Fighters Lollapalooza Chile Setlist
Times Like These
The Pretender
Learn to Fly
No Son of Mine
The Sky Is a Neighborhood
Shame Shame
Breakout
My Hero
These Days
Walk
Guitar Solo / My Generation / Keyboard Solo / Gonna Make You Sweat / Blitzkrieg Bop (band introductions)
Somebody to Love (Queen cover)
All My Life, Run
Wheels
This Is a Call
Best of You
Been Caught Stealing (Jane's Addiction cover w/ Perry Farrell)
Monkey Wrench
Everlong