Blue has always been Lana Del Rey's color.
Since her 2012 debut Born to Die, it's been the singer's blanket descriptor for the literal (jeans, pills, skies and oceans) and the emotive: serenity, joy, melancholy and vulnerability.
On Blue Banisters, Del Rey's candid and captivating eighth studio LP — and her second album in seven months — the color is again omnipresent as it brushes broken promises and rebirth across the 36-year-old songwriter's sullen heart.
"Said he'd fix my weathervane, give me children, take away my pain / And paint my banisters blue," Del Rey laments through the wistful title track, referencing her 2020 split from Tulsa, Oklahoma cop and LivePD reality TV star Sean Larkin.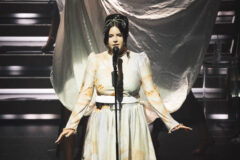 However, Banisters isn't a breakup record. It's an observational project, perhaps Del Rey's most honest portrayal yet of her own life as it stands. There's unfamiliar contentment here, as Del Rey measures herself as a single woman surrounded by friends, family and her German Shepherds Tex and Mex (who dutifully appear on the album cover).
On the cathartic "Violets for Roses," she sings of the pandemic lockdown and its merciful end: "The girls are runnin' 'round in summer dresses with their masks off and it makes me so happy." She juxtaposes the COVID timeline with her own reawakening.
"Ever since I fell out of love with you, I fell back in love with me and, boy, does it feel sweet," she continues through the same tune, laid over light-treading piano. Like March's delicate predecessor Chemtrails Over the Country Club, Blue Banisters is largely devoid of percussion, leaning on piano, acoustic guitars and lolloping bass lines to drive the 15 tracks.
But the songwriting is noticeably more confident and affecting, featuring a stronger sense of melody and less meandering.
The record's two finest tracks arrive early: The excellent opener "Text Book," a song of family trauma and betrayals endured, injects a soft drum kit into its hook before the chorus's second half plunges off the tempo grid, lifting to an ethereal place deftly balanced against the Nancy Sinatra-adjacent verses (and the rather strange "Old Man River" interpolation in the outro).
The album's single, "Arcadia," is a majestic cut; an instant-classic addition to Del Rey's catalog, celebrating the small Southern California city 23 miles east of the Hollywood glamor the singer has romanticized (and subverted) for a decade. Her disenchantment with L.A., or at least her place in it, continues: "I'm not from the land of the palms, so I know I can't stay here," furthering notions from Chemtrails — " I'm ready to leave L.A. / And I want you to come," Del Rey croons on "Let Me Love You Like a Woman."
"Arcadia" also mentions the California wildfires, a beat Del Rey hits several times on Banisters, further establishing the album's well-worn sense of time and place. The nearing apocalypse is clearly top of mind for Del Rey: "Grenadine, quarantine, I like you a lot … And if this is the end, I want a boyfriend," she quips on "Black Bathing Suit."
While the album feels exceedingly "of 2021," it's something of a chronological patchwork, as some songs are as old as 2013; cuts that didn't make the Ultraviolence tracklist. Among them are the dramatic "Cherry Blossom" and more memorable "Nectar of the Gods," which again touches the throughline: "I get wild and fuckin' crazy like the color blue."
There are remnants, too, of her scrapped collaborative album with U.K. pop supergroup The Last Shadow Puppets, apparently recorded in some form in 2017. "Dealer," a thrilling blues-tinged track, is a duet with Puppets (and ex-Rascals) frontman Miles Kane, who takes the first verse before Del Rey wails with previously unseen volume, passion and frustration: "I don't wanna live, I don't wanna give you nothing, 'cause you never give me nothing back." It's a moment of pure catharsis for Del Rey — she's never sounded better.
Banisters is far from the flashiest or most radio-friendly album Del Ray has produced, but rarely have fans gotten such crystalline, autobiographical work from the guarded star, who appeared to revel in the cool distance of her early albums. Now, she feels more present, and much closer to her music.
It's a welcome change-up, as well as a smart shift in personnel, swapping out pop superproducer Jack Antonoff (Taylor Swift, Lorde, Pink) — with whom it seemed she'd run her course on Chemtrails — for a handful of producers and songwriters mostly anchored in the indie-rock world, and whose lists of A-list collaborators is much shorter, minus hip-hop stalwart Mike Dean (Kanye West, Drake, Travis Scott).
The album is a refined, grounded work of modern Americana, a banner record for life at home, and a worthy successor to Lana Del Rey's dazzling 2019 album Norman Fucking Rockwell! — a genre-smashing roadmap she can explore as long as she likes, scribbling notes in her favorite shade.
"Let me show you how sadness can turn into happiness," she sings on the plinking new ballad "Beautiful." "I can turn blue into something beautiful."