The trailer for True Detective season three dropped on Friday, and it looks like the next installment might be just the palette cleanser to get rid of the bad taste left behind by season two. In the clip, we get a peek at Mahershala Ali's Detective Wayne Hays, the cop haunted by something from his past as he investigates what the HBO trailer description deems "a grisly crime involving two missing children in the heart of the Ozarks." That last detail should pique David Crosby's interest.
The trailer recaptures some of the tropes of the first season with jumps in the timeline, troubled men staring out of windows, the rootsy soundtrack, and the muted color palette consisting of browns and yellows. Also, Stephen Dorff looks like he's wearing Woody Harrelson's wig from the first season.
Scoot McNairy, Mamie Gummer, and Carmen Ejogo round out the cast.
The new season was written by showrunner Nic Pizzolatto, except for episode four where he shares co-writing credit with Deadwood's David Milch. The first two episodes were directed by Jeremy Saulnier of Green Room fame. The remaining six episodes are split between David Sackheim and first-time director Pizzolatto.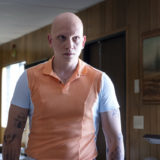 True Detective returns on January 13, 2019.
https://youtube.com/watch?v=btoZfxs0pE0