During Tuesday night's episode of  The Late Late Show with James Corden, host James Corden got the chance to air some grievances with Kanye West during a segment with West's mother-in-law Kris Jenner. While playing a party game called Spill Your Guts or Fill Your Guts, Jenner unwittingly opened a pandora's box of playful resentment when she asked Corden why he has never filmed a Carpool Karaoke spot with West. According to Corden, it wasn't for lack of trying.
"He's canceled twice, maybe even three times," Corden said. "He canceled once as I was turning the corner to his house. I was in a car, and by the time the call finished, I was sat outside his house, and they were like, 'He's not in the zone for it right now. We'll do it another time.'"
In addition to the inconvenience, Corden said that West's flakiness ended up costing the show $45,000 in production costs.
Corden then said that West apologized with a complimentary pair of sneakers.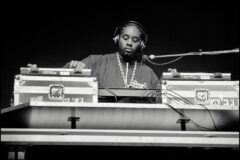 "He did send me a lovely gift. He sent me these incredible flowers in a cube… and he sent me a pair of Yeezys," Corden said. "And people were like, 'Whoa, they're so expensive.' And I was like, 'Yeah, they cost my show $45,000.'"
Despite the ye rapper essentially flushing the show's money down the toilet, Corden says he willing to try and book West again.
"He's my dream," Corden said. "He knows that. He's my absolute dream."
We reached out to West's rep for comment and will update if we hear back.