After a month-long rollout plagued by backlash from musicians and industry insiders, Spotify has announced the cancellation of its controversial "hateful conduct" policy via a post on its official blog. The cancellation had been rumored over the past week, but Spotify had not confirmed until today. In the statement, the company wrote:
While we believe our intentions were good, the language was too vague, we created confusion and concern, and didn't spend enough time getting input from our own team and key partners before sharing new guidelines… Some artists even worried that mistakes made in their youth would be used against them.That's not what Spotify is about. We don't aim to play judge and jury.
The statement uses some of the same language CEO Daniel Ek used in an interview at a Recode conference earlier this week, such as calling the directions "vague," and insisting that Spotify does not want to "play judge." Also like Ek, the post makes a point of noting the difference between the two policies originally announced. (The other policy, concerning outright hate speech, remains in place.)
The more controversial "hateful conduct" policy had ceased to promote artists facing serious allegations, removing the accused from Spotifys' editorial and algorithmic playlists. The policy's timing appeared intended as a response to Time's Up's embrace of the #MuteRKelly campaign and swiftly earned a nickname as "the R. Kelly policy."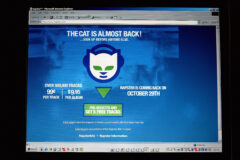 Spotify's rollout raised concerns in the industry about censorship and the subjective nature of the new policy. "They're trying to hold artists accountable, but who would ascertain what constitutes a credible accusation [of hateful behavior]?" asked Lecia Brooks of the Southern Poverty Law Center in an interview with Variety. Representatives for the rapper XXXTentacion, one of the artists affected by the policy, initially responded by publicizing a list of other musicians they felt ought to be removed as well. Anthony "Top Dawg" Tippith, CEO of Top Dawg Entertainment, reportedly reached out to Spotify, claiming it's a "slippery slope if you start censoring music."
Though Spotify initially defended the new policy, calling it "a complicated process" that required "[making] decisions on a case-by-case basis," it appeared unable to recover from the initial backlash.
UPDATE 2:45 pm: As noted by Pitchfork, Spotify returned XXXTentacion's music to its influential Rap Caviar playlist after announcing that it was canceling its hateful conduct policy.