On Sunday evening, J Prince, CEO for the legendary Texas rap label Rap-A-Lot records  went on Baltimore's DTLR radio show to discuss how he helped put an end to the longstanding Pusha T and Drake beef. Prince, who is somewhat of a mentor for the latter rapper, told the hosts that Pusha T was taking the beef toward a "pigpen mentality" with the intense and revealing diss track "The Story of Adidon." He said that he'd put in an "OG call" with Drake and advised him not to respond. "We can't get in the pig pen with pigs because pigs turn into hogs and hogs get slaughtered," he said wryly.
Here's the audio from @DTLRradioFM along w. @FadamGotDaJuice @djreddz (6/2/18) pic.twitter.com/PqzfQRC2Mm

— DJ FLOW (@ITSDJFLOW) June 3, 2018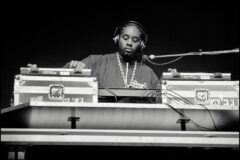 This appearance from Prince followed a day after Pusha T's collaborator and label founder Kanye West tweeted something similar announcing an end to the beef, writing that "it's not good for anyone so this is dead now." West and Prince both have business interests in keeping Drake and Pusha's reputations intact, but they also have a larger point: As deflating as the alleged end to the Pusha T and Drake saga may feel, this was the only way to end it. Drake and Pusha T are too visible and isolated from the streets for things to ever go beyond volatile words, it could only be a constant stream of rap attacks that pushed things further and further until the two finally got bored of it. Drake has shown his penchant for tough guy theatrics in the past with Meek Mill but neither artist were going to push things too far towards violence, just as Drake and Pusha won't. They have too much to lose.
So while this ending isn't particularly inspired, there's historical precedent that beefs only get uglier the more rappers feel they have nothing to lose. Nearly all major rap beefs turn into quiet hostility before an eventual anticlimactic letting go (think T.I. and Shawty Lo or Jay-Z and Nas), or they get violent quickly (Jeezy and Gucci Mane, 50 Cent and Ja Rule and, most famously, Biggie and 2Pac). If the beef between Pusha and Drake hadn't ended this week, it would have ended in the former scenario eventually, after the two men had grown tired of the back and forth. And if that's not a gratifying conclusion, think of the other ways a beef about pushing limits could go when the rappers in question feel they have less to lose.
Earlier in the week, Chief Keef inserted himself into an ongoing beef between controversial rapper and internet troll Tekashi 6ix9ine and Chicago rapper Tadoe by making threats towards Tekashi on the Trippie Redd-song, "I Kill People." This caused Tekashi to tweet a video of himself calling out both Chief Keef and Chicago rapper Lil Reese, claiming that nobody cares about Chicago rappers anymore and essentially goading them into trying to kill him. During the ensuing weekend, Chief Keef made a trip to New York City where two gunmen—reported by Keef to Page Six to be from Tekashi's crew—approached Keef in front of the W hotel where he was staying, with one letting off a shot that hit the side of the building instead of the artist. While Tekashi denies any involvement, he has continued provoking Keef and other Chicago rappers on social media, encouraging them to see him with violence. At the moment, the two rappers seem to be going in circles with each other in a way that can only be disrupted by extreme violence or until the adversaries involved get bored with each other.
The same is true with Lil Uzi Vert and Rich the Kid, who also got into a recent altercation. After Uzi signed with DJ Drama's imprint rather than to Rich the Kid's label, the two men have been having a war of words on social media and on record. Things came to a head this weekend when the two artists were in Philadelphia for the Roots' Picnic festival and got into a fist fight outside a local Starbucks, as reported by TMZ.
Both of these are extreme examples and not indicative of Drake or Pusha T's path, but if there's any lesson to be gleaned from all of these incidents, it is that as exciting as a rap beef can be in the moment, they often are impossible to end with anything bordering on satisfaction. They either go too far or not far enough. There is no seven-game series, no referee to pull an ugly dispute apart before it becomes dangerous. Sometimes, it's best to let things end with a whimper, or for an intermediary player like Kanye or J Prince to stop it when they see peril on the horizon—however disappointing that may be for fans following along. Pusha T may have won the battle by decision instead of knockout, but maybe that was for the best.