Unlike Kanye West's ye, which arrived last week with little to no information about who was involved in making it besides Kanye himself, his Kid Cudi collaboration Kids See Ghosts has a full list of credits attached on streaming services. But comparing the acknowledged contributors to the sound of the songs themselves suggests that the tracklist has been jumbled, with multiple titles and credits lists associated with the wrong songs.
A rep from Kanye's camp confirmed to Spin that the album's songs are sequenced correctly, but mislabeled due to a technical error. According to the rep, the correct list will be added to all streaming services soon. The list currently displaying on streaming services is:
"4th Dimension"
"Kids See Ghosts"
"Cudi Montage"
"Freeee (Ghost Town Pt. 2)"
"Feel the Love"
"Fire"
"Reborn"
And the correct list is:
"Feel the Love"
"Fire"
"4th Dimension"
"Freeee (Ghost Town Pt. 2)"
"Reborn"
"Kids See Ghosts"
"Cudi Montage"
The first clue to the errors is Kids See Ghosts' standout opening track, with a Pusha T guest verse and a chorus of "Feel the love." Spotify and Tidal both list this song as "4th Dimension," and credit its writing to Kanye, Cudi, producer Mike Dean, and the late jazz trumpeter/vocalist Louis Prima. (Prima is even listed as a featured artist.) It is customary when sampling to include the composer of the original sample in the writing credits of your new song, but this track has no audible Louis Prima sample.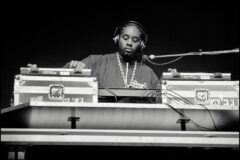 However, Prima's voice can clearly be heard on the album's third track, labeled "Cudi Montage," which prominently samples Prima's "What Will Santa Claus Say" and features Kanye rapping that he "might need a intervention for this new dimension." It's probably safe to assume that "4th Dimension" is the name of this third song, and not the opener. The sixth song is labeled "Feel the Love," i.e. the same words from the chorus of the first song, so we can similarly guess that the opener is in fact called "Feel the Love."
The other obvious tell also has to do with "Cudi Montage," which includes Kurt Cobain as a cowriter. The final song on Kids See Ghosts, labeled "Reborn," includes a Cobain sample from the soundtrack of the documentary Montage of Heck. Given the sample and the title similarity, it seems that this is the real "Cudi Montage."
These discrepancies further emphasize a dynamic highlighted on ye, which prompted several outlets to make incorrect guesses about its featured artists because of the absence of official information. In the case of Kids See Ghosts, when an album by an artist as flighty as Kanye is rushed to streaming services, without the rigorous double-checking that would presumably happen before physical production, it seems not even the official information can be trusted.