Taylor Swift kicked off her Reputation stadium tour in Glendale, Arizona last night, where for the first time—not counting song lyrics—she addressed her very public 2016 feud with Kim Kardashian and Kayne West. Swift spent much of 2017 out of the public eye and has yet to grant any interviews around Reputation, though she has used a Kim-inspired snake motif heavily, including in her album teasers and and "Look What You Made Me Do" video. Midway through last night's concert, per the Washington Post, Swift delivered a little monologue about what snakes mean to her. "You might be wondering why there are so many snakes everywhere, huh?" she began. Here's what she had to say (transcript below):
when taylor threw shade pic.twitter.com/F13qF8e3gH

— nat (@nat_nieIsen) May 9, 2018
"A couple of years ago, someone called me a snake on social media and it caught on. And then a lot of people called me a lot of things on social media. And I went through some really low times for a while because of it. I went through some times when I didn't know if I was gonna get to do this anymore. And I guess the snakes, I wanted to send a message to you guys that if someone uses name-calling to bully you on social media and even if a lot of people jump on board with it, that doesn't have to defeat you. It can strengthen you instead.

And I think something that came out of it that was good is that I learned a really important lesson that I've been telling you from the stage for about 10 years, but I never had to learn it so harshly myself, and that lesson has to do with how much you value your reputation. And I think the lesson is that you shouldn't care so much if you feel misunderstood by a lot of people who don't know you, as long as you feel understood by the people who do know you, the people who will show up for you, the people who see you as a human being. So thank you, thank you, thank you for taking the time to get to know me, for sticking up for me, for seeing me as human being."
Swift is notoriously allergic to naming names, but she didn't have to spell out where the snake came from: It's a byproduct of a dispute over a line from Kanye West's Life of Pablo song "Famous," in which West claims he "made that bitch famous" (presumably by interrupting her at the 2009 VMAs). The Wests maintained Swift knew about the namedrop in advance because she and Kanye had a phone call about it, but Swift disputed that—right up until Kim uploaded video of the call to Snapchat. The original "Taylor is a snake" meme came straight from Kim herself:
Wait it's legit National Snake Day?!?!?They have holidays for everybody, I mean everything these days! 🐍🐍🐍🐍🐍🐍🐍🐍🐍🐍🐍🐍🐍🐍🐍🐍🐍🐍🐍🐍🐍🐍🐍🐍🐍🐍🐍🐍🐍🐍🐍🐍🐍🐍🐍🐍🐍

— Kim Kardashian West (@KimKardashian) July 17, 2016
There were indeed snakes everywhere at last night's Taylor Swift concert: The tour's props and staging, like a custom snake microphone and massive snake props, aren't exactly subtle.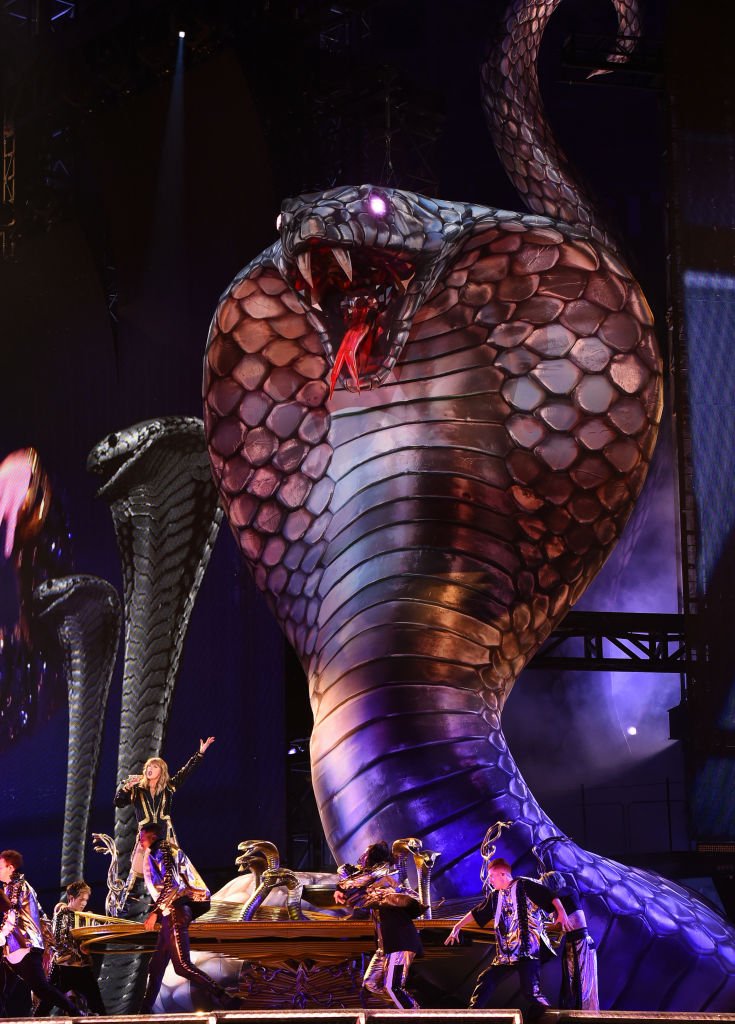 Gaze into the eyes of that viper and remember: Every time you call Taylor Swift a snake, she just gets stronger.