On Thursday, Spotify said that it would be removing R. Kelly's music from its official playlists. Due to a new "hate content and hateful conduct" policy, the platform would abstain from further promoting the musician's music, while still keeping it available via search and other features.
Now others like Apple Music and Pandora have followed suit with their own efforts to cease the promotion of R. Kelly's music. Apple Music has been quietly pulling Kelly's music from its featured playlists over the last few weeks, predating Spotify's more public announcement via Billboard. Playlists like "Best Slow Jams of the 90s, Vol. 1" and "Vol. 2" still feature the vocalist's image in their artwork, but his music is no longer included in the playlists themselves. Seven R. Kelly-specific playlists with titles like "R. Kelly Essentials," "R. Kelly: Influences," and "Inspired by R. Kelly" can still be found on the service.
Pandora has also stopped promoting R. Kelly. According to a new report from the Blast, users can still search for R. Kelly or make a radio station for the artist, but the platform has ceased its promotion of his music. In a statement, the company said:
"Pandora's policy is to not actively promote artists with certain demonstrable behavioral, ethical, or criminal issues. We approach each of these scenarios on a case-by-case basis to ensure we address components true to Pandora's principles while not overreaching and avoiding censorship."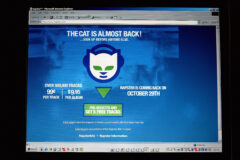 Others removed in connection with Spotify's new policy like XXXTentacion can still be found on Apple Music playlists. His songs "Changes" and "SAD!" are still featured on the "Tearjerkers" and "#OnRepeat" playlists. SPIN has reached out to a spokesperson for Apple Music for further comment.