Today on Twitter, Kanye West broke from his days-long treatise on life as a famous creative person to reveal concrete details about his upcoming album. Per his tweets, the album will be seven songs long and out on June 1.
my album is 7 songs

— ye (@kanyewest) April 19, 2018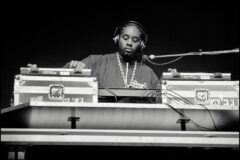 June 1st

— ye (@kanyewest) April 19, 2018
Kanye had reportedly been spending time in Jackson Hole, Wyoming recording the album with frequent collaborators such as Travis Scott, The-Dream, and King Louie, as well as Drake and other folks from the OVO universe. But he has been back in Los Angeles as of late, and today reportedly played the album for Charlamagne Tha God. No word yet on whether the album is still called Turbo Grafx 16, though given how frequently the names of his other albums have changed, it probably isn't.
Kanye's last album was The Life of Pablo, which he debuted at Madison Square Garden and frequently tinkered with even after its release date. Though he, as always, chased the zeitgeist, Pablo was his least commercially successful album to date, spawning the singles "Famous" and "Father Stretch My Hands, Pt. 1," that made little dent on the charts. The sprawling record did have its charms, though, and West seemed to find its best manifestation on the Saint Pablo Tour, where he was suspended above the crowd on a platform to which he was tethered. That tour ended abruptly, with West being hospitalized, and since then he has mostly avoided the spotlight as rumors about his recording gathered momentum. You can read our review of The Life of Pablo, written by Greg Tate, here.
UPDATE: Kanye has announced a second album, a collaboration with Kid Cudi, that he says will be out June 8.