In 1850, Herman Melville spent a year creating and then transforming completely his plans to write an epic tale of man and the sea that would eventually become Moby Dick, an incredibly ambitious book based on Melville's years at sea. It is in this tradition that Kanye West is now tweeting. Last week, Kanye talked about writing a book on philosophy and shortly thereafter he made his triumphant return to Twitter, making bold, sometimes inscrutable tweets about design, creation and existence.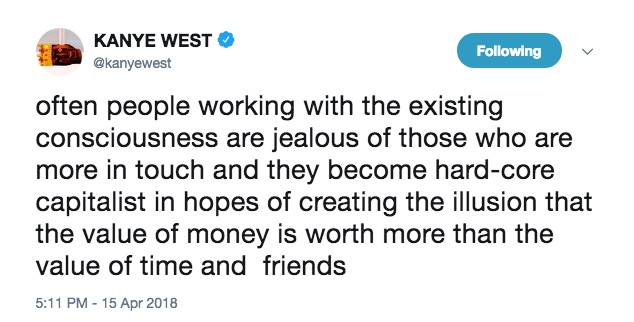 It's classic Kanye speaking with Godly remove from the universe in order to impart his brand of wisdom and occasional shoe design. Originally, it was fair to think that this was part of a buildup to a potential new album or merchandise drop (because all of this comes back to just making expensive clothes), but instead Kanye let us know exactly what the deal was.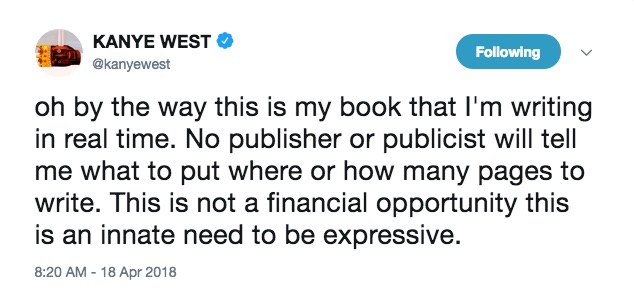 Indeed, Kanye's book of philosophy is not an actual book but instead a stream of exasperating advice and guidance that only other wealthy people could benefit from, and it is happening in real time as of this post. West is proving his ability to shift the consciousness by taking what a lesser mind might call "random shitposting" and instead saying it's essentially a living book. Malcolm Gladwell could never.
Kanye's string of tweets (or book excerpts) are strange, maddening, and sometimes even a little brilliant and inspirational. One minute he'll tweet something rich and thought-provoking like: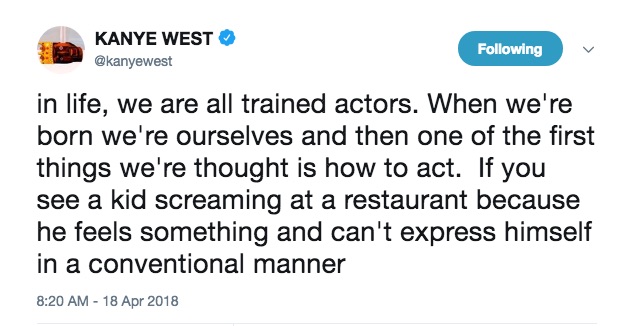 And then an hour later, he'll make a statement that's completely useless to anyone who isn't already incredibly wealthy:
That last one is particularly rich given how much collaboration goes into Kanye's records and designs. This is something he's always been open about, but a lot of those collaborations have come with controversy. The world is full of ideas that got stolen, unearthed or just forgotten about—made by artists who'll never make one percent of Kanye's net worth. The idea of just sharing to share is idealistic in a society where people work their whole lives just to survive each day.
A lot of Kanye's words are pretty basic dorm room philosophy mixed with the Will Smith brand of rich guy life affirmations, but as always, it's exciting to watch him go. He's unwieldy, passionate, and hurried; it's obvious from the spelling and the fogginess of the ideas behind the tweets that Kanye is just thinking out loud. Yet, it's no better or worse than any other rich lifestyle advice guide.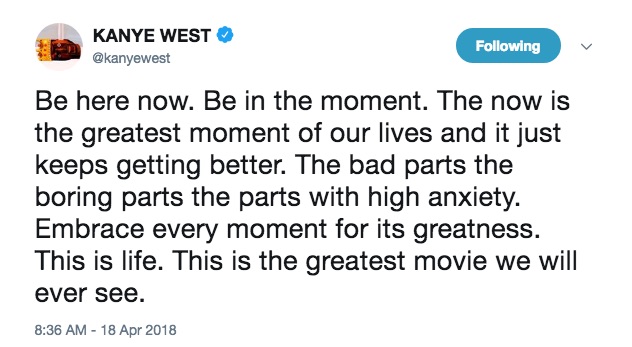 You're telling me this wouldn't fit in perfectly on the GOOP site or within the pages of Oprah's "Book of the Month"? He even inadvertently offers a rebuttal to M.I.A.'s statements that much of today's music is doing what her and Kanye did first, and just the general idea of rappers thinking they're original tastemakers.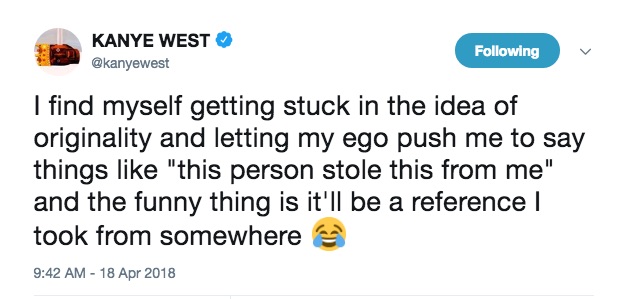 Kanye managed to turn a book into a real time event, even though it's kind of cheating. His thoughts here don't differ much from his interviews or his tweets before deactivation, so it's unclear what makes this different from the nonsense that he or the rest of us would tweet. Rather than waking up every morning to tweet out a so-called book you're thinking of, listen to the best piece of advice you gave that everyone should follow.