Just minutes after announcing details of his new solo album, Kanye West tweeted that he and Kid Cudi will release a joint album titled Kids See Ghosts, which he said is also the name of their group. Kanye says the album will be out June 8, a week after his solo album.
me and Cudi album June 8th

— ye (@kanyewest) April 19, 2018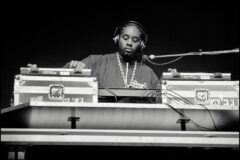 it's called Kids See Ghost. That's the name of our group

— ye (@kanyewest) April 19, 2018
West and Cudi have been longtime collaborators, and despite what has appeared to be spurts of falling out, Cudi has contributed to every Kanye album since 2008's 808s & Heartbreak, featuring on that album's "Welcome to Heartbreak" and My Dark Twisted Fantasy's "Gorgeous." The two most recently reconnected last year around the dissolution of West's tour, which ended in him being hospitalized. West hasn't appeared on one of Cudi's songs, or worked on any of his albums, since 2010's Man on the Moon II: The Legend of Mr. Rager. Cudi has released four full-lengths since then; the most recent, 2016's Passion, Pain, and Demon Slayin', featured appearances from Andre 3000, Travis Scott, Willow Smith, and Pharrell.
The announcement of the album came as a surprise—despite the churning rumor mill surrounding West's forthcoming solo record, it had not yet slipped out that he was considering a joint album with Cudi. West reportedly recorded for weeks at a compound in Jackson Hole, Wyoming, a full 180-degree turn from the recording of The Life of Pablo, which took place, in part, in Mexico.