HBO's David Bowie: The Last Five Years finally got its U.S. premiere on what would have been its subject's 71st birthday. The documentary, which was directed by Francis Whately and released in the UK via BBC in 2017, explores the final five years of David Bowie's life and career, focusing on the creation of his last two albums, 2013's The Next Day and 2016's Blackstar, as well as his 2015 musical Lazarus. At least, that's what the film purports to do. In reality, it attempts to examine nearly the entirety of Bowie's career, and it suffers for this lack of focus.
The Last Five Years serves as a sequel of sorts to Whately's 2013 documentary Five Years, which took its title from the Ziggy Stardust album-opener and focused on five specific years from Bowie's career that Whately felt were of particular importance. Whately successfully stuck to this premise the first time around, but the decision to mimic it for the final half-decade of Bowie's life appears to have been more of a hindrance than anything else. For instance, the documentary actually begins in 2003, with Bowie's Reality tour. This "prologue" is meant to establish how–after suffering a heart attack at the tail end of one of the longest, most ambitious, and successful tours of his career–Bowie simply disappeared from public life and the music industry until his sudden reemergence in 2011. This is important context, but nothing that couldn't have been explained with one of the title cards that litter the rest of the movie. Instead, it's nearly 15 minutes before we actually get to those last five years, and even then, the rest of story never really manages to confine itself to its stated time frame.
The Last Five Years often veers back into Bowie's '60s and '70s heyday, lingering in these eras without adding much context or insight. It is not particularly surprising that his views on fame and stardom evolved over the course of his decades-long career, yet the film spends an excessive amount of time explaining this to us. Too eager to show off never-before-seen or rare footage, it devotes huge chunks of time to performances of songs like "Starman," "Space Oddity," and "Fame," as if the audience would somehow be unfamiliar with Bowie's best-known works.
Even when the film remains within the bounds of 2011-2016, it feels unfocused and confused. The timeline becomes muddled, as songs and visuals that wouldn't be released until 2013 are given heavy focus in the 2011 and 2012 sections. Sections in which Bowie's bands simply get together to play the tracks they recorded years earlier, or producer Tony Visconti sits at his computer going over his work, would be fine in an episode of Classic Albums. But they don't fit the tone of a documentary that promises at its outset to "reveal the real David Bowie."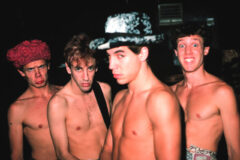 That's not to say there's nothing useful found within The Last Five Years. Segments in which Donny McCaslin and Maria Schneider, musicians who worked on Blackstar, reminisce about their time with Bowie with uncontrollable giddiness are genuinely heartwarming. An explanation of how Bowie decided on the iconoclastic artwork for The Next Day, which deliberately subverted the imagery from his own classic 1977 album Heroes, is one of the rare moments where the documentary actually approaches its own thesis. The documentary reveals that Bowie learned his cancer would be fatal during the week he filmed the music video for "Lazarus," which features shots of him blindfolded and writhing on a hospital bed. It also tells us that this revelation apparently did not impact the video itself, contrary to what you might think upon viewing it–a great moment of myth-shattering on a small scale. But these enlightening moments are too seldom.
In an attempt to expose the true nature of a singularly enigmatic artist, The Last Five years sadly gets lost in itself, dithering between attempts to dive deep into those final years and to give Bowie's entire oeuvre the examination it deserves. In its attempt to do both, The Last Five Years accomplishes neither.