SPIN Rating:
Release Date:
January 08, 2016
Label:
ISO / Columbia
Finally, David Bowie's recorded an album that comports with my idea of a David Bowie album in 2016: art-damaged ballads on which several excellent musicians flesh out tricky time signatures and unexpected chord progressions. Bowie croons a lot, mostly about bluebirds and evergreens and where the f**k did Monday go. Averaging 40 minutes, including a couple tunes that have gotten generous airings in the last 18 months, ? (pronounced "Blackstar") is what he should've released in 2013 instead of the staid, fusty The Next Day.
Fans will note the similarities between ? and Outside, an impregnable 1995 experiment with clotted band arrangements containing some of Bowie's most confident vocals, but whose stiff liner notes about fin de siècle art crimes are a sterling example of why the world hasn't lost a prose writer. This time the old man hired experts: guitarist Ben Monder, Jason Lindner on keyboards, and, impressively, Grammy-nominated jazz saxophonist Donny McCaslin. A 68-year-old icon's name may be in the songwriting credits, but it's McCaslin and Monder who pull these songs into unexpected shapes. The results evoke John Coltrane's 1963 collaboration with Johnny Hartman, the singer occupying a nocturnal world peopled with private fantasies and drafted in a purple demotic that the band can translate.
Take "Sue (Or in a Season of Crime)," anchored by Mark Guiliana's unrelenting snares and Monder's insistence on playing its main minor-chord riff while Bowie gives each word its weight as if he were Maria Callas in Covent Garden; his natural inclination to linger and the band's impatience produce genuine tension. "Dollar Days" says farewell to several ideas of order in his most ghostly voice while McCaslin, against a chalky mix, scratches out a solo indebted as much to Wayne Shorter in Miles Davis' "Prince of Darkness" as to Marty Fogel on Lou Reed's "The Bells."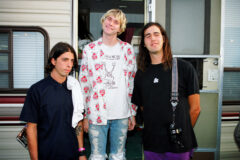 This assumes, of course, that one cares about new work from David Bowie, whose ten-year silence was among the shrewdest moves in a shrewd career. He can still test the patience. When he wants to open his mouth and frighten us, he can unleash the vibrato on an unsuspecting pronoun. Despite expert camping, the title track, lodged like a splinter at the beginning of the sequence, strikes as too reliant on wintry rue. But when three-note fuzz guitar blasts answer each lyric in "Lazarus," or Bowie harmonizes with himself on the nonsense lyric of "Girl Loves Me," it's hard to resist 40 years' worth of craft resulting in so intriguing a record. ? finds Bowie and longtime producer Tony Visconti as hungry as they ever were, and with no modern context into which the artist can insert himself (including rock) he's free to do what he likes. Keep throwing darts in fans' eyes.