SPIN Rating:
Release Date:
March 05, 2013
Label:
Columbia/Iso
This didn't need to happen. In 2003, David Bowie hung a "Mission Accomplished!" banner over the breadth of his career, and just like our reaction to George W. Bush on that battleship the very same year, we all thought, "Yeah, sure, buddy." But, goddamn it, he meant it. His late-career rehab, begun tentatively in 1993 with a breathless run through non-linear gothic hypercycles, jungle, and James Taylor-esque acoustic plaints, ended with a pair of apotheosizing records helmed by Tony Visconti, still his most intuitive producer. No longer was Bowie the pretty guy in Nine Inch Nails' live hate machine or the dude who wrote "The Man Who Sold the World" for Nirvana. Except for a yodel onstage with Arcade Fire and paparazzi shots of the smashing old dad doing boring stuff around Manhattan, Bowie kept silent for a decade — one of the shrewdest moves of his career, as powerful as Station to Station itself.
But time, like the man himself once sang, flexes like a whore. As the title suggests, The Next Day picks up where 2003's Reality left off, even employing the same cast: Gerry Leonard and Earl Slick on guitars, bassist Gail Ann Dorsey, drummer Zach Alford. The mix, as uncluttered and functional as modern furniture, would not alienate the Rolling Stones who recorded A Bigger Bang or the Elton John of Songs From the West Coast. Aware perhaps that his maturing audience won't believe Bowie songs about buying cannoli in Little Italy or experimenting with Instagram, he rummages through several decades' worth of guises and settles on the imperial grandee, thinkin' about things from a penthouse window. The collision of rhetoric and intentions result in both colorless abstractions like piano ballad and first single "Where Are We Now," and grand melodrama like "You Feel So Lonely You Could Die," which ends with the same drum taps used in "Five Years" — though he'll deny it, since he's also scolding new-wave boys in "Love Is Lost" for doing the same old thing in brand new drag.
The Thin Graying Duke sounds good, if parched, on the quiet stuff and ridiculous on the rockers, which is progress: During his golden years, the vibrato that decorated his songs like feather boas often strangled them to death. "Boss of Me," one of The New Day's outright duds, has the courage to boast the line "Who'd ever dreamed that a small-town girl like you would be the boss of MEEEEEE," sung exactly like that. At least when he bellowed, "I like to blow on your horn" on 1987's "Beat of Your Drum," he went hoarse. Now, the most pleasant effect is his multi-tracked and closely miked Gerry Rafferty impersonation on "The Stars (Are Out Tonight)."
While it's true that Bowie songs can still sketch an empyrean in which he's the lone guest, a peevishness about the Kids Today undergirds The Next Day enough times for the hauteur to crack. In "Love Is Lost," his haunted-house organ punctuates a growling rocker about "the voice of youth, the hour of dread" without ever articulating why the ugly things deserve such scorn. Better than "If You Can See Me" anyway, which begins with a funk riff and keening Dorsey vocals, but then goes pompous when Bowie delivers meter-free twaddle about "destroying the beast" and wearing "your old red dress" like Morrissey reciting a Peter Gabriel-era Genesis libretto. (Plus the keyboards are gross.) On the other hand, "Valentine's Day" is a charmer, a trad-rock chug that reads like Bowie rewriting Fountains of Wayne's power ballad "All Kinds of Time," embellished with Earl Slick's lively variant on the riff from Pavement's "In The Mouth a Desert."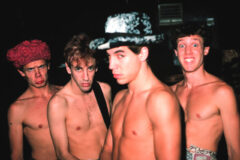 In the early '70s, Bowie came to America and acted like a star, despite not selling many records, treating the self as if it were an unstable molecular recombitant and antagonizing a lot of bearded men in flared pants. So when he became a star in 1975 the old-fashioned way (landing a No. 1 hit, moving to L.A., and drinking with John Lennon), the mutability of the public self was the only subject on which he evinced special insight — and insights can harden into assumptions, if not prisms. Bowie still thinks like a band who just recorded its third album, the one stacked with plaints about the misery of touring and hotel bars. The acoustic-based "The Stars (Are Out Tonight)" might depict the pre-Hunky Dory period: A wannabe envies the pretty people and their burning eyes and tinted window limos. The triumph is "You Feel So Lonely You Could Die," top-drawer corn in which Visconti swathes Bowie in strings, his diva croon busts the windows, and Mars is now a Midtown skyscraper, lifeless, a God-awful small affair.
I'm glad that track exists, but The Next Day is an album that didn't need to be made. Plenty of his contemporaries — including Elton and the Stones — still release albums at his level of craft, a couple of which sundry publications have even patted on the head and cited in year-end lists. But because Bowie requires context and reactive poses for vitality — and uses distance as a muse — his albums don't function as mere singer-songwriter collections; they demand to be accepted as statements. He can't, at 66, suddenly cultivate a new imaginary universe commensurate with the demands of such an infamous style thief and aesthetic flâneur. Does he still require vampiric devotion at the level described in "The Stars (Are Out Tonight)"? For Bowie, abjuring histrionics is impossible, but emulating the quieter mischief of Luis Buñuel and Leonard Cohen — to cite two far more vital septuagenarians — would be creepy as fuck, too.
In other words, it's difficult to imagine a context in which new Bowie product would work. Reality capped a decade of false starts and dead ends that often produced thrilling music; it was a bourbon before bed. The Next Day asks fans to pretend those years of courageous dormancy didn't exist.