Blink-182, the same pop punk band that once sang songs about prank phone calls and bestiality, is now a group of 40-plus year old rich dudes who hang out in Los Angeles mansions. Mark Hoppus' Beverly Hills home was briefly on the market last year for a cool $10 million. Travis Barker, a former So-Cal skate punk, now hosts playdates with Kourtney Kardashian's children. And last year, EDM giant Steve Aoki lent his signature womp-womps to a remix of "Bored To Death," the lead single off of Blink-182's seventh studio album.
All of which is to help give context to the following: Last night, according to TMZ, Blink-182 played an acoustic set at Steve Aoki's 40th birthday party, held in Green Acres Estate, Ron Burkle's Beverly Hills mansion.
Despite the flashier surroundings, Blink-182 still knows how to play the hits, performing a stripped-down acoustic version of their 2000 hit "What's My Age Again?" And as awkward as it may sound to hear a 45-year-old Mark Hoppus sing about getting handsy on a couch, at least the band updated the lyrics for the occaision, replacing "Nobody likes you when you're 23" with "Nobody likes you when you're 40, Steve." Aoki, sitting nearby on a couch, seemed to really get a kick out of Blink's birthday remix.
//cdnapisec.kaltura.com/p/591531/sp/59153100/embedIframeJs/uiconf_id/6740162/partner_id/591531?iframeembed=true&playerId=kaltura_player_1413478522&entry_id=0_tosb7dnn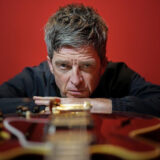 Where was Tom Delonge, you ask? Well, he's too busy running To The Stars Academy, a "public benefit corporation" that seeks to explore "space phenomena" and "consciousness." In case any partygoers from Aoki's charitable birthday need another outlet to give more money, they're currently accepting "investments" on their homepage.