Last weekend, Bob Dylan was officially presented with the Nobel Prize in Literature in an intimate, secret ceremony in Stockholm. Dylan was in town on tour supporting his new triple-album of standards, Triplicate, and carved out some time to meet with 12 members of the Swedish Academy, accept his medal, drink some champagne, and perform a few songs, The Guardian reports.
According to Academy secretary Sara Danius, they largely talked about the award itself: "Quite a bit of time was spent looking closely at the gold medal, in particular the beautifully crafted back, an image of a young man sitting under a laurel tree who listens to the Muse," she said in a blog post. By her account, it seems like it was actually sort of fun: "Spirits were high. Champagne was had."
A faceless photo run in The Local Sweden, which the paper claims shows Dylan entering the ceremony wearing a hoodie under a leather jacket, has not yet been verified.
The Guardian also claims that Danius and several other Academy members attended the first of Dylan's two Stockholm show that night, where Dylan–as is customary at Dylan shows–did not talk between songs, let alone mention anything about receiving the Nobel Prize earlier that day. (Sample some fan recordings of the concert below.)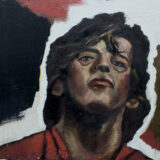 Dylan has still not fulfilled the requirement of the Nobel lecture, but according to reports, he will be delivering a taped speech to the Academy prior to the June 10 deadline.
[videoembed size="full_width" alignment="center"]https://www.youtube.com/watch?v=qjGTiVDd030[/videoembed]