Television's hot-button drama of the moment has been the HBO miniseries Big Little Lies, which was helmed by veteran TV writer David E. Kelley (Ally McBeal, Boston Legal, etc.) and Dallas Buyers Club director Jean-Marc Vallée. If you're a member of an alien race–reading this post years in the future, seeking to learn about what television meant to humankind at the unsustainable apex of its popularity–then take it from us: patch the HBO archives into your ship mainframe and sample BLL. It's good. 
One of the most-discussed elements of the series is its expertly deployed pop music soundtrack, which is mostly reflective of the precocious tastes of Madeline's (Reese Witherspoon) sprite-like six-year-old daughter Chloe. (The songs from the soundtrack also had a huge spike on Shazam as people watched the show–the standout track from the series premiere, Michael Kiwanuka's "Cold Little Heart," is the most frequently searched.) Reflecting on the musical components of BLL–which is crucial to heightening the series' grand melodrama–caused the SPIN staff to question whether its soundtrack deserves to be counted among TV's all-time greats. 
Is Big Littles Lies' haunting retro-chic competitive with all-time great soundtracks like The Sopranos and Twin Peaks? How about the tastemaking playlists that helped garner The O.C., Gossip Girl, or Miami Vice such rabid fanbases? What about series with original songs–anywhere from Empire to Nashville to Tim and Eric? How about the historical signposts–the future-shock space-age cues of Star Trek or Henry Mancini's big-band surf rock for Peter Gunn?
We assembled a team to pay tribute to some of the best TV soundtracks ever, keeping the definition of "soundtrack" a bit loose (not all of the shows had official music releases). See our list below.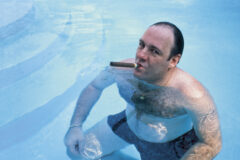 ---
Buffy the Vampire Slayer
A good chunk of Buffy took place at an actual night club, where real-life bands were invited to play their real-life songs as Buffy and her friends navigated the week's crisis. Some of these appearance were fairly haphazard, as about a thousand random '90s bands you barely remember passed by. (How about Bellylove, or Velvet Chain?) But there was occasionally room for legitimate alt-rock standards like the Breeders and Cibo Matto, and latter-day appearances by acts like Michelle Branch—which fan could forget "Goodbye to You" scoring the brutal montage dissolution of the gang's personal relationships?—and Aimee Mann were wonderfully memorable. (Read a previous post we did about some of those musical appearances.) — Jeremy Gordon
---
Freaks and Geeks
From the Joan Jett song that opens each episode to Lindsay Weir's spiritual experience with the Grateful Dead that brings the series to a close, Freaks and Geeks used music to invite you into its character's heads and their sticker-covered lockers and composition notebooks. The songs in the show were the songs its cast of nerds and aspiring dropouts trapped in early-'80s suburban Michigan would have actually listened to: "Bad Reputation," "Box of Rain," Van Halen, Styx, Bachman-Turner Overdrive. This approach was hugely successful from an artistic standpoint, and also hugely expensive: the show took several years to get to DVD after going off the air in 2000 because licensing the music cost "over a million dollars," according to Judd Apatow, and when Fox Family picked it up for reruns, the network substituted some of the music for cheaper soundalike songs. The show's depictions of how it feels to play music as a bored suburban teen, mostly conveyed via Jason Segel's earnest drummer character Nick Andopolis, were equally affecting. When Nick fails the audition to join a group of mediocre white bluesmen covering Eric Clapton's cover of Robert Johnson's "Crossroads," you experience his dejection; when he jams along to Rush's "Spirit of the Radio" alone in his basement, you share in the feeling that a single righteous rock song can make your dreams come true, if only for a few minutes. — Andy Cush
---
Hannibal
The soundtrack for the most gruesome, deviant show NBC has ever aired was as avant-garde as the series itself. The searing, percussion-heavy orchestrations of Brian Reitzell–of Lost in Translation and Friday Night Lights fame–would have made some of the fiercest atonal composers of the last century blush. The score was one of the hallucinatory, often terrifying show's main characters, creating arguably more jump-scares than Mads Mikkelsen's dead-eyed Hannibal Lecter (creepy and naturalistic enough to even surpass Anthony Hopkins' tongue-flicking prototype). Reitzell's unexpected blasts often became the demented bells and whistles going off in Will Graham's head when the hunt for Lecter pushed him toward indulging his darkest urges. They became the seams between fugue state and reality being split, and central to the show's heavily mannered atmosphere. When succulent-looking human flesh was served up to an unsuspected dinner guest of Lecter looking like a petit four, Reitzell's music softened to gentle background music; he and the show's architects knew well enough when to push the macabre drama and when to play against it. — Winston Cook-Wilson
---
Gilmore Girls
The iconic mother/daughter series of the early 2000s is punctuated by two recurring themes: the insane amount of junk food and coffee consumed by main characters Lorelai Gilmore (Lauren Graham) and her daughter Rory (Alexis Bledel) and the show's theme song. "Where You Lead," originally written and released by Carole King on her album Tapestry in 1971, was re-recorded as a duet between King and her daughter Louise Goffin for Gilmore Girls. King even makes a few cameo appearances in the show as a local music store owner named Sophie. 
Rory's teenage dramas and fast wit is mirrored in the music for the show–she loves Sonic Youth, Belle and Sebastian, and Franz Ferdinand. Her first kiss with moody bad-boy Jess is to the XTC's "Then She Appeared." (Jess also wonders if Rory's other romantic fling, Dean, even knows who Björk is while referencing "Human Behavior.") That musical nerdery makes it onto the show's soundtrack, Our Little Corner of the World: Music from Gilmore Girls, with songs from the Shins, Erasure, PJ Harvey, Yo La Tengo, and Yoko Ono. 
That small-town indie feel is accentuated by the musical elements scripted into the show itself. The Stars Hallow troubardour is a recurring character played by musician Grant-Lee Phillips, and was often shown singing in the town square. (One episode shows a battle between traveling buskers for who would become the "official" troubadour for the town–guest stars included Sonic Youth, Sam Philips and Mary Lynn Rajskub.) But the funniest detail of the show's ties to music comes from Rory's best friend Lane Kim's band, which featured Skid Row's Sebastian Bach as a mellow guitar bro named Gil. — Geena Kloeppel
---
Entourage
Admittedly, selecting the soundtrack for HBO's meaningless celebration of male hedonism doesn't sound like the hardest job in the world. The show required no musical cues other than, "Okay, everything happening in this scene is extremely cool." But it does seem like the job was about as fun as the show itself. Helmed by Scott Vener–who would go on to be music supervisor of spiritual successors How to Make it in America and Ballers–the music of Entourage is a wonderful time capsule of the early 2000s. Vener's soundtrack swerved between some of the biggest pop hits of the era ("Pon De Replay," "Hollaback Girl"), fêted indie crossovers (Interpol, Franz Ferdinand), the more bro-y end of cool rock (many early Kings of Leon songs), classic rock (Jimi Hendrix, The Doors) and a bunch of rap ephemera that sounds perfect in 10-second snippets (Slim Thug mixtape tracks, Obie Trice). Existing within this ongoing Lollapalooza, though, were bits of genuine curation that felt genuinely novel to hear on the TV, like DJ Quik deep cuts or music nerd favorites (Teedra Moses, M.I.A) that may have never sniffed the airwaves otherwise. Also, S02E01 opens with "The Boys Are Back in Town." And why not? They were.  — Jordan Sargent
---
Empire

Its soundtrack raises fewer eyebrows than each episode's did-that-really-just-happen twists, but no current TV show uses original music more effectively than Empire. From record mogul Lucious Lyon's old-school rap to his son Jamal's socially conscious R&B to the glossy hip-hop of the youngest Lyon, Hakeem, each character's style is a reflection of their personality. Empire is also savvy about the politics of hit-making; its writers understand that a guest verse on a hot artist's single can make a young rapper famous and a duet can bring both musicians a new audience. Each song exists to drive the plot. And some of them—like Hakeem's maddeningly catchy "Drip Drop"—are just as likely to get stuck in your head as anything you'll hear on Top 40 radio.  — Judy Berman
https://youtube.com/watch?v=4-cAjYzQncQ
---
Grey's Anatomy
A little known fact about Grey's Anatomy is that it gave a few up-and-coming artists a huge platform. Take Tegan and Sara, for example, whose "Where Does the Good Go" soundtracks the first season's look into the best-friendship that would develop between Meredith and Christina. (That was in 2005, and the song appeared again in 2014 when Christina leaves Seattle in season ten.)
Outside of the small indie triumphs, the show's music is at its best when taking difficult relationship dynamics (and drama) and amplifying their emotional heft and agony with song. In season two James Blunt's "High" plays during the birth of quints, Rósín Murphy's "Ruby Blue" as Christina collapses in surgery due to an ectopic pregnancy, Anna Nalik's "Breathe (2AM)" soundtracks the clip of Meredith taking a bomb out of a body cavity, the sounds of Snow Patrol's "Chasing Cars" as Alex gently lifts Izzie from her dead fiance's hospital bed. (Don't even get me started on Bailey's wedding in season nine, where we see a close-up of Richard, who lost his wife only an hour before, as Ed Sheeran's "Kiss Me" plays in the background.) Grey's Anatomy owes a large part of its success to the music that draws out and makes tearjerkers out of their most memorable scenes. — G.K.
---
The X-Files
When series creator Chris Carter first approached composer Mark Snow about creating a theme for The X-Files, he sent The Smiths' "How Soon Is Now?" as a point of reference for how it might sound. Moz and company might seem like an odd choice for a sci-fi thriller at first, but it's easy to hear what Carter heard in the song: Johnny Marr's razorlike tremolo guitar would pair neatly with visuals of two stylish FBI agents suiting up and putting on their sunglasses, with Mike Joyce's reverbed snare tracking their footfalls as they chase the bad guy of the week down a dank alley somewhere. Of course, even one listen to the theme Snow eventually came up with is enough to make it obvious that he decided to disregard Carter's suggestion entirely. Instead of buttoned-up rock'n'roll cool, we get empty space and anxiety; instead of electric guitar, an eerie hollow sound that Snow created by layering his E-mu Proteus synthesizer with his wife Glynn's whistling. The melody is both disorienting and instantly recognizable, always beginning a breath before you expect it to, refusing to settle into the downbeat established by its digital piano accompaniment.
The incidental music Snow created for each episode, all silvery synth strings and dramatic percussion, isn't as iconic as his theme. How could it be? Watching the show today, I think about Jason Segel's unhappy TV composer character in Forgetting Sarah Marshall: "It's not music. There's no melody. It's just tones! Just dark, ominous tones. The masturbating dog killer is on the loose again!" But those dark, ominous tones did a lot to bring genuine tension and fright to the X-Files' plots about incestuous farm families and gamer teens with lightning powers. The show used pop music only sparingly, but when it did, it followed the creeping dread Snow established with his original score. When a murderer drives through the woods of Virginia with Dana Scully tied up in his trunk in Season Two, he's blasting Nick Cave, and not some violent transmission from his Birthday Party days, but the masterfully restrained "Red Right Hand." So much of the X-Files' indelible atmosphere follows from Snow's music, and the show is infinitely better for the creative license he took with Carter's advice when composing it. — A.C.
---
My So-Called Life
"I loved Jordan Catalano so much, and talked about him so much, and thought about him so much that it was like he lived inside me." Thus speaks 15-year-old Angela Chase, the twisting, agonizing, lovestruck star of the ABC teen drama My So-Called Life. Episode after episode, we watch as Chase develops a deeper crush on young Jared Leto, a songwriter with certain Kurt Cobain looks and a penchant for sweetly-sung Ramones covers. But one day, as she mopes in bed, something changes–she erupts into laughter and leaps from her bed, dancing to the alt-rock classic "Blister in the Sun."  This is how you get over heartache.
Though it only ever saw a single season, My So-Called Life wrung every bit of passion and heartbreak from its tender 13-song soundtrack. From hits by the the Violent Femmes, Afghan Whigs, and Lemonheads to lesser-known tracks from Sonic Youth, Daniel Johnston, and Buffalo Tom, Chase's struggle to make friends and woo the love of her life was always marked by the triumph of and tragedy of the era's greatest sleeper hits. With its own take on the teenage misanthropy of the grunge and riot grrrl, it's a soundtrack that feels reflective of an era but timeless nonetheless. — Rob Arcand
---
Tim and Eric, Awesome Show, Great Job!
Respectfully, Tim and Eric didn't make much comedic sense if you weren't stoned out of your gourd. Contrarians may disagree, but they're wrong. And if you were riding that good weed wave when one of Tim and Eric's deliriously bizarre songs started playing? Boy, you were in for a ride. Tim and Eric's parodic songs were hard-hitting odes to peeing, space wizard jock rock, karaoke b-roll ballads, literal dad jams, torch songs for office ladies, candy jingles, and much, much more, all of it paired with their indelible, quickly edited visual style. Comedy music is often not very funny and not very musical, but Tim and Eric knew how to write a tight hook. They just insisted on pairing it with as many uncomfortable bodily urges as possible. (That's before we even get into whatever David Liebe Hart was on.) — J.G.
https://youtube.com/watch?v=Q3SZ4lSvH9o
---
Gossip Girl
By the end of its increasingly redundant run, there were only two reasons to watch Gossip Girl: the fashion and the music. Teen dramas have always scored cool points by scouting new musical talent–remember The Flaming Lips on 90210?–but this Upper East Side soap bridged a generational divide by making one of the kids' parents, Rufus Humphrey, a washed-up '90s rocker. Along with superstar music supervisor Alexandra Patsavas' prescient soundtrack picks, the series featured cameos from older legends like Sonic Youth, who played "Starpower" at Rufus' wedding just a few years before Kim and Thurston's split broke up the band. GG also took frequent advantage of its Manhattan high-society setting to plausibly incorporate intimate performances by such of-the-moment stars as Lady Gaga, Florence + the Machine and Robyn. — J.B.
---
Star Trek: The Original Series
More than half a dozen composers contributed to the soundtrack of the original Star Trek's three seasons, but most memorable of all is Alexander Courage's theme music: four opening notes and a fanfare imbued with the mystery and anticipation of space, the final frontier. Part classical orchestration, part action-adventure bombast, and more than a little bit loopy, the Star Trek score is an almost constant presence in the original series, playing softly under the beeping of the Enterprise bridge or loudly in the background of fight scenes, like the much-parodied Kirk vs. Spock battle from "Amok Time." Sure, it's over the top, and sounds cheesy now (wait 'til you see the special effects), but it's also exciting in a way few contemporary original scores even attempt. Trek is renowned for bringing '60s audiences something new—a serious sci-fi drama with a humanitarian message—and its use of familiar Earth instruments underscored its wider purpose on this planet. True Trekkies can invest in the definitive 15-disc box set, which comes with 100 pages of informational booklets. We, however, recommend Spaced Out: The Best of Leonard Nimoy and William Shatner, an incredible collection of Trek-themed novelty singles and random cover songs recorded by, yes, Nimoy and Shatner. — Anna Gaca

---
Friday Night Lights
In the final minutes of Friday Night Lights' first season, having just won a state championship, Coach Eric Taylor and the Dillon Panthers parade through the small Texas town that hangs on the football team's every move. And just when you're expecting some obvious jock jam like "We Are the Champions," the show cues up Tony Lucca's cover of Daniel Johnston's haunting "Devil Town"—a song about suddenly realizing that evil is all around you. The choice encapsulates FNL's approach to music. The guitar-driven, largely folk, alt-country and post-rock soundtrack suits the story's Southwestern setting. But it also intensifies the tear-jerking drama's many big emotional beats, transforming first kisses into moments to swoon over and rendering visible everything that's troubling about high-school football culture. — J.B.
---
Stranger Things
It's the TV theme that launched a thousand mashups and Soundcloud remixes. In retrospect, it's not at all surprising that the Stranger Things soundtrack, composed and performed by Kyle Dixon and Michael Stein of the Austin synth quartet S U R V I V E, would achieve ubiquity. Hitting a sweet spot between all the great synth-score composers of the past–Tangerine Dream, John Carpenter, Giorgio Moroder, Vangelis–it enhances Stranger Things' sense of nostalgia as well as its dread, inviting and foreboding all at once. Even if you're sick of the show's endless hype cycle, if you never want to see its child actors running around in music videos or handing out sandwiches at awards shows again, it's hard not to get at least a little goosebumpy when that fat, glorious analog bass line comes in during the title sequence. — A.C.
https://youtube.com/watch?v=Yl4bKkahuMA
---
Seinfeld
This list is full of soundtracks one might say are… actually good. The music to Seinfeld is, well, let's say "memorable." Pretty much anyone sentient in the 90s can close their eyes and instantly hear the show's signature bass riff, a piece of music so utterly tasteless that it makes you wonder how Jerry Seinfeld and Larry David managed to create arguably the most iconic show in the history of the medium. Still, the sheer quality of the program itself means that there's always been something welcome about that sputtering bassline punctuating Seinfeld's stand-up bits about the minutiae of human interaction. The music lives on still, not just during the show's endless reruns, but also online, where it has become a meme. The theme has inspired videos that loop it for 10 hours, or slow it down by 1,200%, or, of course, mash it up with Smash Mouth, which is how millennials say "I love you." — J.S.
---
Miami Vice
If your synth-pop band isn't careful with their use of keyboard tones, you might find your songs compared to "something off of the Miami Vice soundtrack." The NBC show—as much cultural three-ring circus as gritty procedural—was essentially a showcase for hip contemporary music during the peak of its popularity in the mid-1980s. Three Vice soundtrack albums were released in the 1980s; the first topped the charts in 1985 and 1986. Outside of the outfits, balletic fight scenes and car chases, and guest stars (Miles Davis! Frank Zappa! The Fat Boys!), the music, blasted high in the sound mix, was the reason to tune in every week.
It wasn't just composer Jan Hammer's pulsating electronic score that caught music fans' attention, it was the use of major pop songs of the time as dominant agents in the show's episodes from the very beginning of the show. The most famous music cue in the show is the use of Phil Collins' "In the Air Tonight" in the show's action-packed pilot, but later, there would be everything from Melle Mel (rap on a primetime drama!) and The Damned and Jackson Browne. The crowning moment of the late Glenn Frey's solo career was likely when his 1985 single "Smuggler's Blues" inspired an entire episode of Vice and earned him a cameo.
A common misconception about Miami Vice among millennials is that it was simply a showcase for "yacht rock" and its offshoots; in truth, the soundtrack was a veritable smorgasbord of '80s pop styles, from R&B to AM rock to the counterculture. — W.C.W.
---
Mad Men
Mad Men turned out to be a meditation on nothing less lofty than the meaning of life, and particularly the role work should play in it. But it also charted the evolution of American culture over a decade of accelerated progress, using the '60s as a window into how various types of people adapt to changing times (or don't). The show's strict requirement that no song could appear on the soundtrack before the characters could've heard it on the radio yields a score that reflects each year's zeitgeist and, over the course of seven seasons, registers the passing of time. Don Draper's anxious response to the East-meets-West psychedelia of The Beatles' "Tomorrow Never Knows" doesn't just mirror his own inner turmoil—it's also a sign that he's starting to feel his age.  — J.B.
---
The O.C.
It's hard to think of a show that had more impact on the mainstreaming of indie rock than The O.C. In just its first season, the show took viewers from the sunny "California" of its Phantom Planet opener through the upbeat jangle of indie at its most accessible, with cuts from Mazzy Star, Liz Phair, Belle and Sebastian, the Dandy Warhols, OK Go, and many, many others. For Seth Cohen, music was the lifeblood of his identity. Swearing by Death Cab for Cutie, ranting about the merits of Jimmy Eat World over the TRL-approved Rooney, Cohen became the mid-aughts arbiter of a certain indie rock cool, a stand-in for every teenage Smiths' fan's struggle through sweaty-palmed breakups or dizzy adoration of the girl across the lunchroom. As Sharon Steel at Stereogum once explained, "Seth continually mentioned how intrinsic Death Cab were to understanding who he was as a human being, a misanthrope, and a lover of unconventionally cool, under-the-radar things."

The O.C.'s success always lied in its ability to export this underground image to a larger suburban audience. With its phony oceanfront venue The Bait Shop and on-screen performances by the Killers, the Walkmen, and once even Death Cab themselves, the show built a universe around the just-alt-enough indie pop of acts always destined for major label success from the start. Turning its six volume Music from The O.C. into perfect summations of the coming-of-age mixtape, The O.C. showed just what good music can do in the hands of a generation of eager new fans. — R.A.
https://youtube.com/watch?v=zlkgT0Ga2TU%3Flist%3DPL6A47B22AFD85659A
---
The Leftovers
Classical minimalism has gradually become a mainstay of film soundtracks following Philip Glass' score for Errol Morris' 1988 true-crime doc The Thin Blue Line. From there, it began to crop up all over the place, from The Truman Show to The Piano to nowadays, Hans Zimmer's roided-out orchestrations for DC Comics movies. HBO's The Leftovers, amidst curious pop music cues, employed contemporary Glass acolyte Max Richter to create a complex series of musical motifs for the show. Most of the churning piano themes feel like slight variations on each other, and they snowball in dramatic significance as the series goes on. The fragile melodicism (indebted to Erik Satie as much as Glass) sometimes give weight and poignancy to scenes which one might otherwise think are unimportant. Often, they highlight moments where the show's main character (Justin Theroux's Kevin Garvey, usually) nearly comes in contact with the divine–or at least the white-smocked, smoke-enwreathed Guilty Remnant, who never fail in giving him a release for his latent anger and grief.
Season 1 opened with hyperdramatic opening credits scored to Richter's primary theme, but showrunner Damon Lindelof and company opted to pull from the intro for Season 2, in favor of a less assuming folk-pop tune by Iris DeMent. Richter's symphonic swells against images evoking the Rapture might have felt too dramatic and mannered to some, but really, the opening simply felt like The Leftovers announcing itself honestly and appropriately. It represented the show refusing to be bashful about what it was: that is, super-indulgent, wildly ambitious, obsessed with loss, the randomness of human suffering, and who, if anyone, is really pulling the strings upstairs. Richter's is one of the most narratively significant TV scores of this decade, and also indicative of why The Leftovers is a lot more than a pseudo-intellectual slowburner that exists only to leave fans of Lindelof's first small-screen triumph, Lost, disappointed all over again. — W.C.W.
---
The Wire
The "all the pieces matter" mantra also extends to The Wire's song selection, whose scope is as large as the show's narrative focus. The appearance of Dem Franchize Boyz's "White Tee" and the Pogues' "The Body of An American"  appear as supplemental delights, subtly pulling the audience into the show's atmosphere. But the series' dynamics are contextualized by the opening and ending themes. "Way Down in the Hole" switches up its iteration every season, but it never loses its bluesman theme: The systemic injustices aren't just the way of Baltimore, but acts of the devil. Blake Leyh's closer "The Fall" is perhaps The Wire's most underrated gem. A brisk bass line that bleeds into a mournful wah-wah pedal quota, the instrumental is a metaphor for the lives corroded by unfeeling politics, the series' most compelling conflict. — Brian Josephs

https://youtube.com/watch?v=mMVObjbQu9c%3Fecver%3D1
---
Cowboy Bebop
There's no clear frontrunner for the best Yoko Kanno soundtrack, as The Vision of Escaflowne's haunted romanticism, Macross Plus's arresting orchestra, and Ghost in the Shell: Stand Alone Complex—a contender just off the strength of its opening theme—all have their own strengths. However, none are more salient than her work on Cowboy Bebop. For one, the masterpiece was Adult Swim's anime mainstay, consistently airing from the lineup's 2001 debut until 2015. Then there's the soundtrack's breadth: Kanno's band the Seatbelts, formed specifically for the show, made compositions that veered wildly from Bitches Brew-reminiscent space jazz to Young Disciples' acid soul. The result was good enough to inspire director Shinichir? Watanabe, known for his eye for style, to create entirely new scenes around the music.
The symbiotic relationship led to some of the series' most memorable moments, including the brass-backed dog chase and the alternate version of the ending theme that scores the series climax. Of course, the Seatbelts' most recognizable piece is the show's thrilling opening theme song "Tank." — B.J.
https://youtube.com/watch?v=n6jCJZEFIto%3Fecver%3D1
---
Twin Peaks
To hear composer Angelo Badalamenti tell it, writing the otherworldly music for Twin Peaks was as simple as sitting down beside director David Lynch at the keyboard and summoning the image of Laura Palmer's ghost floating through the trees. Naturally, the opening theme's easy-listening melody and moody bass is most iconic, but there's a smooth, spooky Badalamenti texture for everyone in town: Sultry jazz for teenage femme fatale Audrey Horne, a noir-ish blues for the vigilante Bookhouse Boys gang, and little ditty called "Freshly Squeezed" whenever things really started getting weird. The show's "Falling" (credited to vocalist Julee Cruise, who performs it at the Roadhouse) became a modest international hit in its own right.
In another memorable musical moment, Laura's bereaved friends—James Hurley, Donna Hayward, and Maddy Ferguson— moonlight as as rockabilly lullaby singers, immortalizing a love triangle in song as they coo, "Just you… and I" into a pair of inexplicable old-timey microphones on the Haywards' living-room floor. It's hard to imagine any of these characters separate from their music, and thanks to Lynch's repeated use of each theme, they're all as unmistakably Twin Peaks as coffee and cherry pie. Badalamenti returns as composer in the long-awaited season 3—coming May 18—with guest contributions from Chromatics' Johnny Jewel. — A.G.
---
The Sopranos
The Sopranos was the first TV series to make incidental pop music a direct, often richly symbolic extension of dramatic situations. Its songs lent episodes–and even full seasons–a enigmatic weight, providing much more than style and pleasant background music. David Chase, who is still perhaps television's most obsessive, hands-in-every-cookie-jar showrunner, famously selected every single piece of music in the show itself, from Vivaldi to Nils Lofgren to Xzibit. The songs on The Sopranos, which were funneled into a couple of successful soundtrack albums, came from all over the stylistic spectrum. This wasn't just going to be a show where gangsters just listened to Dean Martin and "Pizza Boy U.S.A": Tony Soprano, ever the atypical mobster, liked The Chi-Lites just as much as the Chairman of the Board.
But it was the give-and-take between meaningful uses of apropos music you could imagine these characters listening to in the world of the show (the sweeping, poignant montage set to Sinatra's "A Very Good Year" or Carmela pining around the house to Andrea Bocelli) and more idiosyncratic choices ("Kid A" underscoring the grief of the ever-dramatic Meadow, and "Seven Souls," a screwy collab between Material and William S. Burroughs opening the deadly-dark final season) that makes The Sopranos perhaps the most influential TV soundtrack on modern television. It's cast its shadow over Fargo to The Americans to Billions to True Detective…just flip to a random channel, and wait for the ironic pop song to blare over someone getting killed, drinking themselves into a belligerent stupor, or betraying the one person who truly cares about them.
The capstone song in the episode end credits was a convention that was born in earnest with The Sopranos, long before The Sopranos' own Matthew Weiner made it a industry with his surprise hit Mad Men. Then there were the crucial bookends: The Soprano's distinctly of-its-time, turntable-scratch-punctuated theme song by forgotten UK electrofunk soldiers Alabama 3–all stease and simmering violence–was cathartic enough to make one never want to fast forward through the credits sequence. And it goes without saying that the use of "Don't Stop Believing" in the last moments of the series remains, full stop, one of most masterful musical moments in the history of scripted television. We consider whether Tony Soprano can hold onto his life while Steve Perry is urging us to pursue our own nebulous, quixotic hopes and dreams, screaming at the ungodly apex of his vocal range. We're still lying in wait, thousands of self-serious hour-long dramas later, for anything just like that to show up on TV again. — W.C.W.