Update: As former SPIN editor Camille Dodero pointed out on Twitter, West has made two donations to the Democratic party in recent years. He donated $15,000 toward the Democratic National Committee in 2014, and more recently in 2015, he gave $2,700 to Hillary for America.

In the latest episode of Kanye West Has Jumped the Shark, Yeezy has offered a post-election co-sign of president-elect Donald Trump. During the San Jose stop of the Saint Pablo tour, West interrupted his performance to say that even though he didn't vote, he "would've voted for Trump." Even his disciples couldn't endorse this one; the statement was met with a chorus of boos.
As for why, West reportedly said that Trump inspired racists to reveal themselves.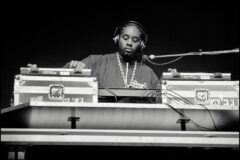 Kanye West just stopped the show again to tell us that Kanye liked Trumps campaign. Someone threw something at Kanye but he isn't mad.

— Raptor (@RaptorJesuss) November 18, 2016
Kanye is now saying how he loved Trumps debate style. Kanye is glad Trump inspired racists to reveal themselves. "This is the beginning"

— Raptor (@RaptorJesuss) November 18, 2016
West continued to cut songs to explain his reasoning. He praised Trump's campaign style saying, "I don't think his approach was just entertaining, because that trivializes it. I actually think his approach was absolutely genius. Because it fucking worked."
But perhaps his most damaging remarks are his commentary on the racist ideology that's brought Trump to the White House. "To black people, stop focusing on racism," West said. "We live in a racist country. That is a fact. This world is racist, OK? Let's stop being distracted to focus on that as much. It's just a fucking fact. Period." He essentially told his fans to accept a system that's continued to destroy lives. This is nihilism.
In 2016, the same rapper who's made "Crack Music," "Jesus Walks," and sampled Nina Simone is a Cosby truther and Trump supporter. View footage of some of the comments below.
"I would've voted for Trump" – @kanyewest pic.twitter.com/XtyUteCgUZ

— albertoreyes (@albertoreyes) November 18, 2016