The Jacob K. Javits Convention Center was the Hillary Clinton campaign's stronghold for Election Day. It was also supposed to be the place of her coronation, but as the night progressed, hopeful faces turned world-weary, miserable. I watched a white, blonde woman hide quiet sobs behind her hands, as a man consoled her with his hand on her back. It was one of those awkward gestures meant show empathy when words don't fit. Very few of us who were at the center had the words to describe what we were watching happen.
I'd been texting my friend throughout the night. As red filled the electoral map, her complaints about day's nuisances—the polling place opening 45 minutes late and her fully charged iPhone abruptly shutting off—was quickly replaced by fear. All through the election cycle, the boilerplate response to Donald Trump's flagrant racism and sexism was that we were better than this. The logic passed in the night, as it became clear the voters had decided white nationalism was once again worthier than a black woman's sense of safety. "He's unstable and a maniac… He sexually harasses women," she wrote, desperately grasping at logic. "I'm scared.. We are going to die… That's how I feel."
Hillary Clinton was billed as the full realization of O.G. suffragettes Susan B. Anthony and Elizabeth Cady Stanton's dreams of a democracy inclusive to women. Never mind that those dreams were originally inclusive only to white women, as both were explicit in their belief that newly freed African-Americans weren't worthy of getting the right to vote. Both were name-dropped by Senators Chuck Schumer and Kirsten Gillibrand during their rally speeches outside of the Javits Center, as Clinton's all-inclusive campaign sought to claim America was better than that racist legacy.
Trump's brigade argued otherwise. The president-elect didn't invent racism, but his campaign surged by harnessing those pathological fears. The xenophobic and economic anxieties that laid dormant during Barack Obama's run in office were empowered through Trump's rhetoric. Hate became rallying cries. Rallies became pro-white Thunderdomes. The violence begat votes: A majority of white men voted for Trump, two-thirds of them non-college-educated.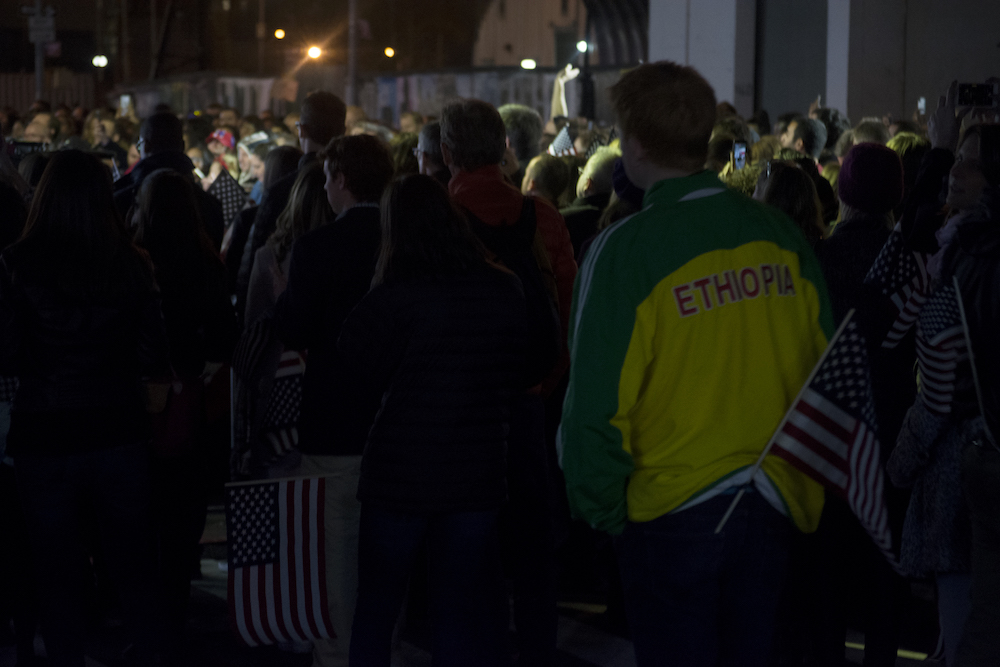 As the night wore on, the Javits attendees came to realize that like facts, the polls meant nothing. The conference hall above us rumbled as the analysts monotonously declared which states went blue, and went silent when the red states revealed themselves. Outside by the speaker stage, a red-haired kid in an track jacket with Ethiopia's colors gave two frustrated jabs to the ground, American flag in hand, as he nervously paced back and forth. A slightly older male—in horn-rimmed glasses and a navy blue sweater, looking like the archetypal college white liberal—stood akimbo as he stared at the sky. Whenever I checked my phone, I saw the New York Times giving Trump higher and higher chances to win, following Hillary's supposedly indomitable lead
Katy Perry's speaker appearance became an afterthought, of course. The two gentlemen disappeared along with the waving flags, the pro-Hillary raucousness replaced by autumn's chill. Down in the journalist pit, where professional splendor gave way to wrinkled faces, I saw a black, curly-afroed woman burrow her cheek in her palm as the joyful piano chords of Mary J. Blige's "Real Love" blared through the speakers. She never really broke away from her daze as we moved past midnight; she continued to blankly stare at the television screen's bleak analysis, trapped within the gap between fantastical and reality.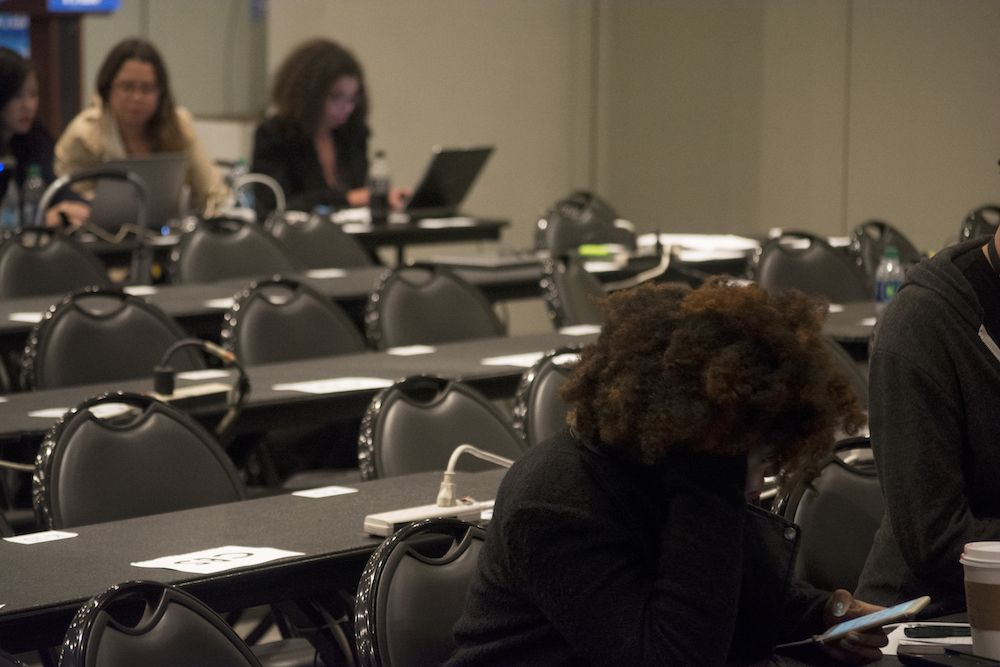 Van Jones, the CNN analyst who emerged as a lonesome bastion of logic within the media bubble, had the unenviable task of interpreting the insanity on such short notice. He emotionally declared "this is a whitelash against a changing country, and it is a whitelash against a black president, in part. And that's the part where the pain comes." For years, it was deemed cynical to focus on racial disparities and brutality when Obama supposedly ushered in the "post-racial" era. This was gaslighting at its worst, a disaffected majority whispering "chill out" while readying the knife.
After spending 12 hours in the center, I left Javits around 1:30 a.m. By then, Florida was lost and the battleground states were swinging red. A funeral procession of silhouettes listlessly walked away from the blue light thrown off by the "H" sign, and into the night. My body shook with despair. How do I raise a son here? I thought. How do I tell my cousin, West Virginia University freshman, that the key to breaking the glass ceiling is not her will, but the policy of callous white men? Because on November 9, Hillary Clinton lost to a candidate whose Sister Soulja moment was distancing himself from human decency. For the past 18 months, Trump hasn't distanced himself from any of these adjectives: racist, misogynist, xenophobic, and nationalist. This is where we are.