Azealia Banks has filed battery charges against Russell Crowe following a dispute in the actor's Beverly Hills hotel room Saturday night, TMZ reports.
Banks apparently had some sort of altercation with Crowe after RZA, with whom she recently signed a record deal, brought her to Crowe's hotel room, where about 10 people had gathered to have dinner and listen to music. Witnesses told TMZ that Banks laughed at Crowe's taste in music, and called the other guests "boring white men."
When asked by a woman to tone it down, Banks reportedly lashed out at the woman and Crowe, telling them: "You would love it if I broke my glass, stabbed you guys in the throat, and blood would squirt everywhere like some real Tarantino shit." She also reportedly said the n-word repeatedly, and grabbed a glass with the apparent intent to throw it at someone. At that point, the witness says, Crowe grabbed her in a "bear hug" and took her out of room, and called hotel security.
Crowe hasn't yet publicly commented on the ordeal, though he did retweet TMZ's story this morning.

Banks, for her part, said on Facebook that Crowe was the aggressor in a series of since-deleted posts. "To recap my night, I went to a [party] at Russell crowes suite, at which he called me a nigger, choked me, threw me out and spat at me," she wrote, according to E!. "Last night was one of the hardest nights of sleep I've had in a long time.The men in the room allowed it to happen. I feel terrible today."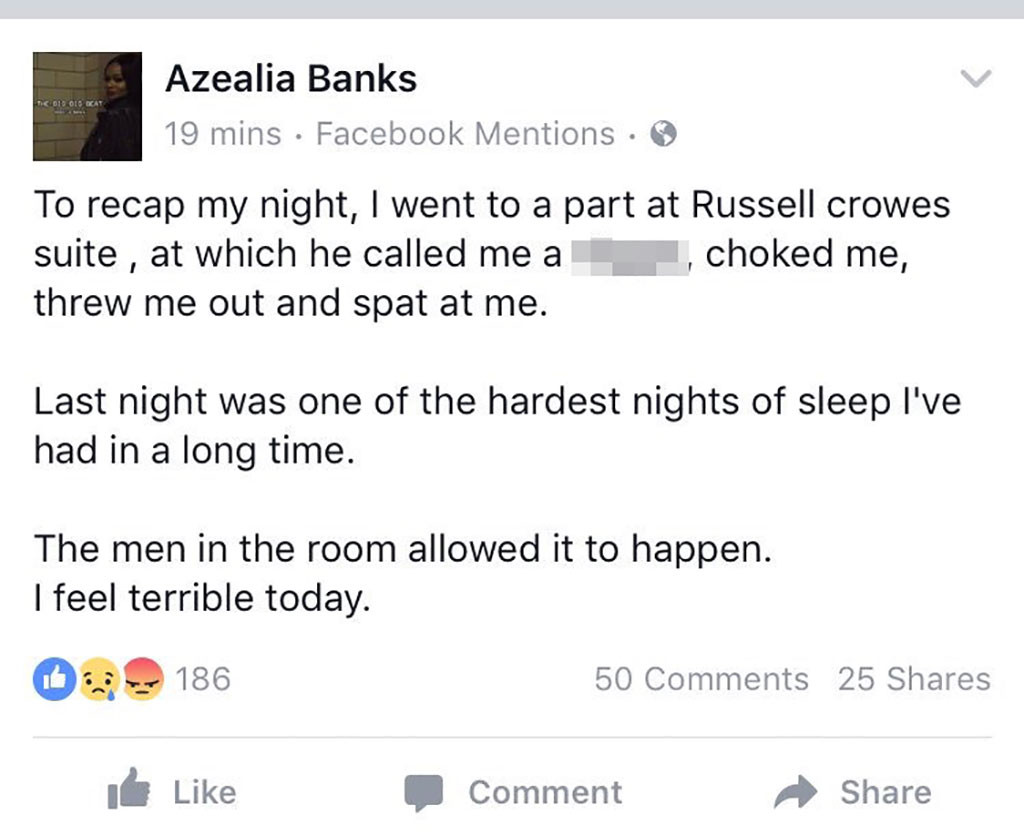 In a post that remains up, she wrote, "I have receipts. Stay tuned."

Her manager also released a statement on Twitter this morning.
https://twitter.com/Raymani/status/787947156095246336?ref_src=twsrc%5Etfw
https://twitter.com/Raymani/status/787947228287627264?ref_src=twsrc%5Etfw
TMZ reports that Banks went to police Sunday after Crowe refused to apologize. We've reached out to the Beverly Hills Police for confirmation. Representatives for Banks said they're "not releasing a statement or comment at present."