When was the first time you heard rap? How did it speak to you?
I first fell in love with hip hop, uh, at the age of seven years old. I went to a block party in New York City on Staten Island. The DJ was spinnin' the records back and forth. The year was 1976. It was the summer. As he spinned the records back and forth, kids started freestyling, which eventually became known as break dancing on the floor. An MC on the mic just kept reciting the words "dip dip dive, so-socialize. Clean out your ears, and you open your eyes. Like this y'all, it's like that y'all, a yes yes y'all to the beat and, just, all of that. Yes, yes, y'all to the beat."
And the words he said just, you know, just resonated with me. I had just come back from spending three years down south in North Carolina with my uncle, and came back New York, my birthplace in 1976.
I heard this voice, these beats blasting through speakers that were plugged up to the streetlights and fell in love and never lost love from that day forth. And it's become one of the driving forces in my life.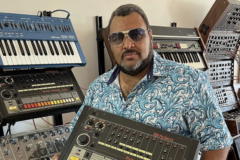 By the age of eight, I learned my first lyric, memorizing some words that my cousin, the genius, had wrote, and then by the age of nine, wrote my own lyrics. 1978, I just kept writing lyrics every day. This is how much I love hip hop. And I would be in school writing lyrics while I sat at my desk, and rap against other kids on the way home from school.
It wasn't until 1979 when Sugar Hill Gang actually played on the radio that I was confident that one day my voice would come through the radio, and come through those speakers and come through a place where people would listen, love and enjoy. So the second wave of love came from hearing hip hop played through the radio in constant rotation in New York City. Thanks to the Sugar Hill Gang.
Interview by Daniel Kohn