Last month, Frank Ocean released two new albums back to back: Endless and Blonde. Blonde was the standalone portion of the project, and since Endless was only available to Apple Music subscribers as a video, it didn't qualify for the Billboard albums chart.
At the time, the Fader reported that Ocean may have had an ulterior motive for giving Blonde an album-length prologue: According to a source, Endless fulfilled Ocean's contract with his label, Def Jam, allowing him to release the main event as an independent artist.
Now, another anonymous source has told the AP that Def Jam made the decision to end their contract with Ocean well before Endless or Blonde dropped, describing the partnership as a "bad marriage." In this scenario, Ocean still released Endless through Def Jam—the label is credited at the end of the visual album.
"He didn't want a label. He wanted to do his own thing," the AP source said of Ocean. "I'm sure there was some kind of negotiation in order for him to get out of the contract if there were remaining commitments on the contract."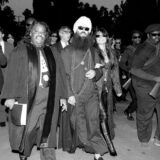 The latest report adds another layer to the mystery surrounding Ocean's unusual and closely watched album release cycle, but it's also worth taking with a grain of salt. Remember when the New York Times said Boys Don't Cry was coming on Friday?