SPIN Rating:
Release Date:
August 20, 2016
Label:
Boys Don't Cry / Def Jam
Frank Ocean fixed "Wolves." No, really: Kanye was onto something when he called The Life of Pablo a "living album," because — while he's on the right track to keep it available solely in BitTorrent territory (or TIDAL hahaha), away from carbon-based corporeality — everything that lives must die. 'Ye thought that leaving his album open-ended would keep it, theoretically, in the press cycle forever. But the man born Christopher Breaux has made clear that he understands mortality ever since he Imma-let-you-finish'd a minor Coldplay single to eulogize a "dying world."
So he doesn't pretend that the duality inherent in his second studio album, Blonde, means it's got a shot at outliving anything else. He simply made [screwed-and-chopped-reviewer voice] two versions. Which — as Genius has already noted about the video version of "Nikes," — sounds a bit like "two virgins," to Ocean's delight. That's what John and Yoko named their first album of Unfinished Music, after all. On the same song, Ocean promises, "We're not in love, but I'll make love to you"; a couple tracks later on "Solo," the most emotive vocal on Blonde insists, "In hell there's heaven." There's no hair this guy can't split. His pansexuality is as unsurprising now as it was novel in 2012.
https://youtube.com/watch?v=aXtBOZO_cII
When white people claim that Ocean "transcends R&B," they mean he transcends PBR&B, that amorphous deconstructionist thing that, despite what you may have read, existed concurrently with Jill Scott and Jazmine Sullivan. He was too good for the box he was lumped in, story at 11. So was Sly Stone. I bore witness to him calling himself brave at Philly's packed Union Transfer in July 2012. At the time, it annoyed.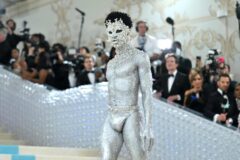 But the steady persecution of queer and black Americans (Trayvon Martin "look just like me" he observes on "Nikes"), the death of Prince (who too went schizo-sexual on his third album), and his own Tumblr posts (like March 2013's "JUST LOCKED MYSELF IN THE TRUNK OF MY CAR. CLAUSTROPHOBIA CONQUERED") have added retroactive weight to his claim. "I'm not brave," he sings on Blonde's "Seigfried," before quoting an already-dead Elliott Smith. Maybe he found some new perspective of his own, though he's always been wide open: "American Wedding" in 2011 did a fine job of sneaking hijab into "Hotel California."
https://youtube.com/watch?v=O6LqNByyCwk
Ocean cares more about the persistence of time than his Twitter followers might think; that half-bar cribbed from "Here, There, and Everywhere" on "White Ferrari" only missed Revolver's 50th anniversary on August 5 because Ocean instead changed objectives to outwit a snitching New York Times. He's every bit as detailed as his fellow Pazz & Jop winner Kendrick Lamar; the shout-out to Trick Daddy and Trina's label that opens the video version of "Nikes" is as far afield as Wesley Snipes' tax evasion opening To Pimp a Butterfly. The green-haired synesthesia, the ladder to heaven, the possibility that goddamn David Bowie worked on this record before getting beamed up — Frank Ocean's Summer '16 package demands that we ponder every last missing "e." It quickly establishes that channel ORANGE is his most conventional record.
Wedding John Mayer to synth-disco was canny and all, but ORANGE's claim to genius (or "bravery") was in its lyrics, approximating the softness of a boy's lips on "Forrest Gump," calling HD TV "too real" on a mango-and-lime-festooned "Sweet Life," or sneaking a "little rock" joke into the Arkansas-based freebasing of "Crack Rock." Consistently good musically, it still begged the question of whether he'd ever create his own environments as colorful as, say, MGMT's "Electric Feel," which became the kaleidoscopically seductive "Nature Feels" on Ocean's unmatched 2011 debut, nostalgia, ULTRA., which will never see legal release while Don Henley remains at large. That question is one of the only things answered on Blonde, which matches its own lyrical-conceptual heft with several vocals pitched up like Camille, the fastest André 3000 verse in known memory, and enough collaborative feng shui to propel a lot of stillness past 17 tracks unnoticed: One whole phrase on "Pink + White" is sung by Beyoncé. ("Take it easy" — take that, Henley).
Over half the tracks are drumless: Ballpark Hammond B-3 and whistling comprise "Solo," the loveliest thing Frank's ever sung. Rostam Batmanglij's grounded, effects-laden guitar melody that provides everything non-Ocean on "Ivy" is a pretty great Lockett Pundt impression. "I'll be the boyfriend in your wet dreams tonight," he sings over acoustic strum on "Self Control," a good-enough jab at Miguel's "Pussy Is Mine," until the Harrisonesque soloing barges in, attempting to outclass his 2010s rival. (It misses the point. It's great anyway.) And on that note, "White Ferrari" is one of the better Abbey Road-gospel conflagrations you're ever likely to hear.
https://youtube.com/watch?v=dr2XEM87gWU
Divorced from the package total, "Nikes" and "Solo" hold their own against nostalgia, ULTRA., and the first half of Blonde is astonishing, sustained beauty. The second is more distant, closer to the shower improvs of Friday's sounds-like-a-soundtrack-and-it-is Endless, which Drake probably got through one-third of and asked how much is left. ("Rushes To" slaps, don't @ me.) But it's more eventful than Side Two of Bowie's Low, if just as scattered — the first half of "Nights" sure ends with some Eno guitar abstracting. The closing "Futura Free" is quietly as psychotic as you'd expect from a song named after Wes Anderson and Weezer's favorite font, escalating from the salty "I keep quiet and let you run your phone bill up" to a queering of the threat to "cut bitches." Even Ocean's meltdowns are calm, spectral.
As with To Pimp a Butterfly, Blonde ends with an interview — between Frank and his younger brother, reportedly taped when Ryan Breaux was 11. But you could imagine the unanswered, candidly recorded questions that poke through the static ("How far is a light year?") are dialogue from that spaceship abandoning the apocalypse on "Strawberry Swing." In 2016, art doesn't make us feel safer. It just amplifies our most vivid feelings, and Blonde is a wholehearted, not obtuse, argument against clarifying them. Ten thousand incomplete thoughts do not complete one. Art imitates life, and life is a mess. So why shouldn't our event-release rollouts be? Listen to the Breaux, kids.