Like a foregone conclusion, the rain arrived hard and early on Lollapalooza Day 2. Unlike years past, thunder and lightening bypassed the Grant Park fairgrounds, and business went on as usual. Concertgoers donned multi-colored plastic ponchos, and in lieu of torrential downpour, the steady, gentle raindrops served as respite from the heat. The denizens of the Toyota Music Den were unfazed, taking in body painting while eagerly awaiting the first acts of the day. With a stacked bill of seven bands for the afternoon, including Chicago DJ/producers Louis the Child, fiery, folk-punker Frank Turner, and a solo set from Frightened Rabbit frontman Scott Hutchison, the Den was soon swarmed and packed to the gills, transforming the space into a Wet Hot American Festival.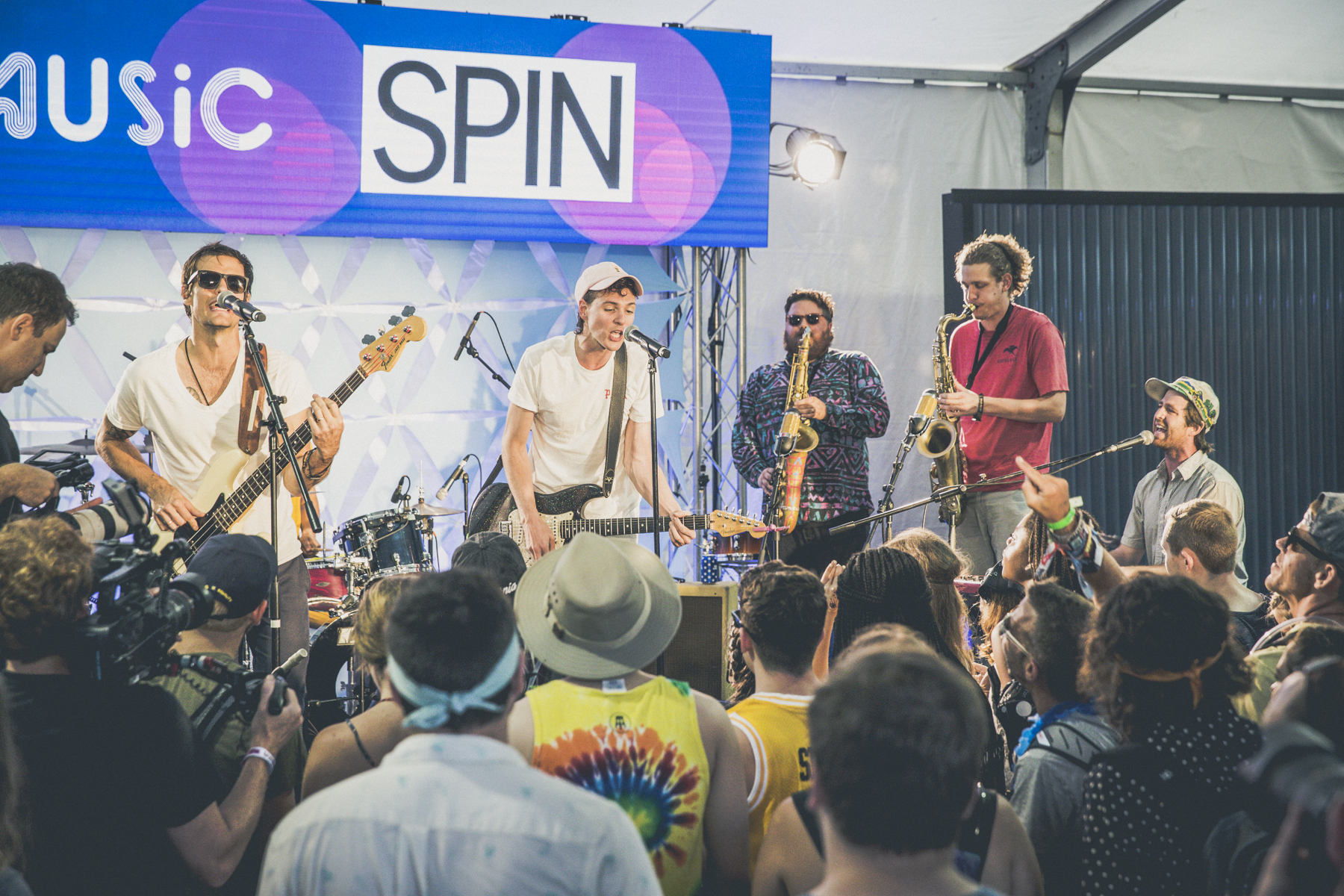 HOUNDMOUTH
Starting the day off on a raucous, rowdy high note was Houndmouth. The bluesy, roots rock quartet was rounded out on stage by dual saxophones, bringing a Tower of Power vibe to their already uplifting core. The Indiana-bred band kicked things off with "Black Gold," a choice cut from their 2015 LP Little Neon Limelight. The group has drawn comparisons to the Band, and on "Black Gold's" tale of an oil family torn apart by greed, the comparisons feel apropos. The wistful strains of "Sedona" sent the crowd into a singalong frenzy, as Houndmouth closed out the set in a sepia-toned, Laurel Canyon vibe.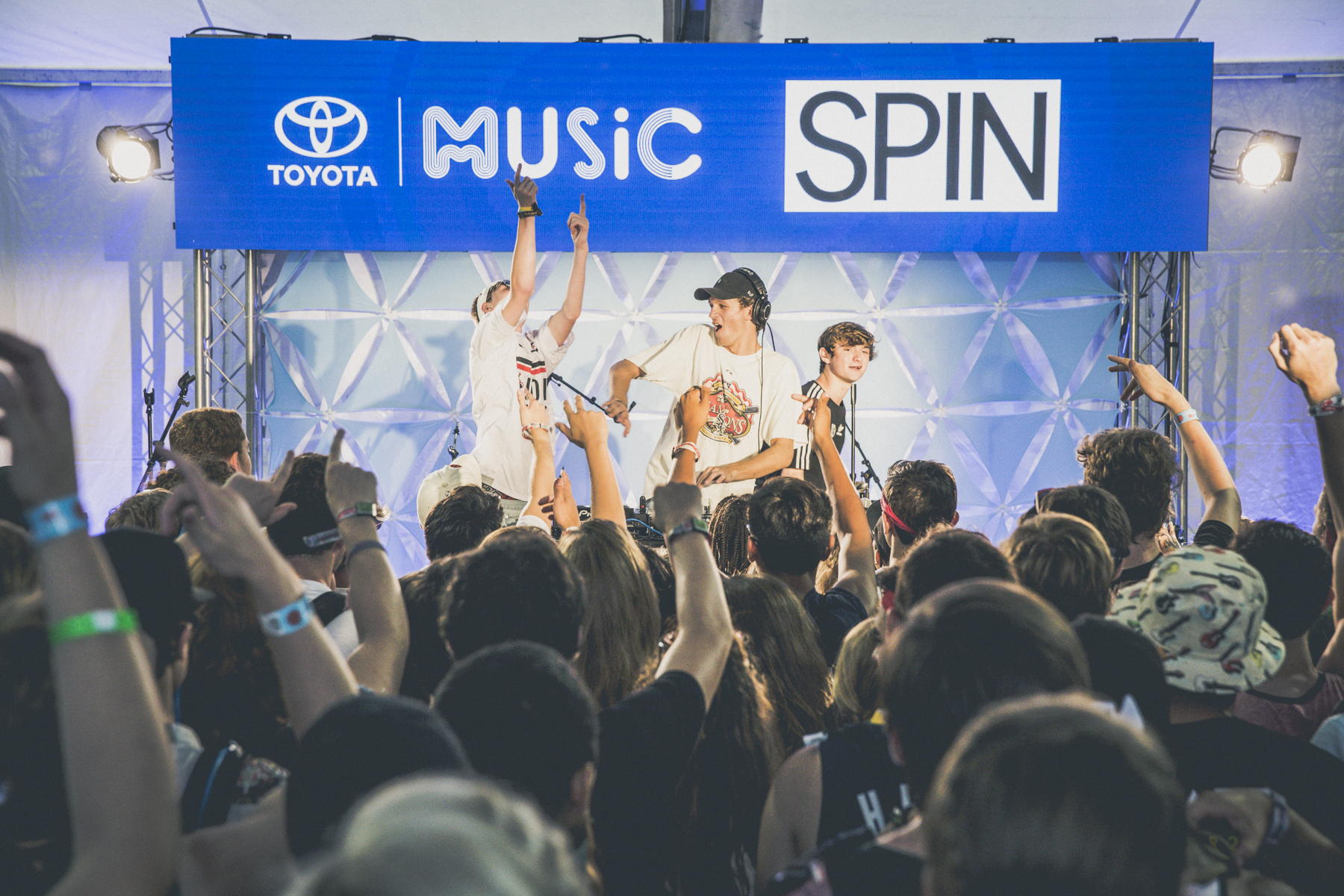 LOUIS THE CHILD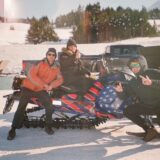 Prior to their set, Chicago DJs/producers Louis the Child (Freddy Kennett and Robby Hauldren) took to Twitter, asking fans to vote for whether they would like a "Chill" or B2B (in EDM parlance "Back to Back") set for their Den performance. B2B overwhelmingly won out, so they brought up fellow Chicago DJ Whethan to match them on the deck. Louis the Child throw dubstep, mashup and EDM all into the pot, and the results gel into one hell of a party. The guys hit the scene running with one of last summer's hottest bangers "It's Strange" featuring a vocal assist from indie hip-hop heroine K. Flay. The single sparked a huge response, gaining praise from fellow DJs and celeb tweet love from Taylor Swift and Lorde. Inside the Den, the trio took to the turntables, dropping warped tropical vibes set against a barrage of classic party tracks, their young fanbase reacting with Beatlemania exuberance.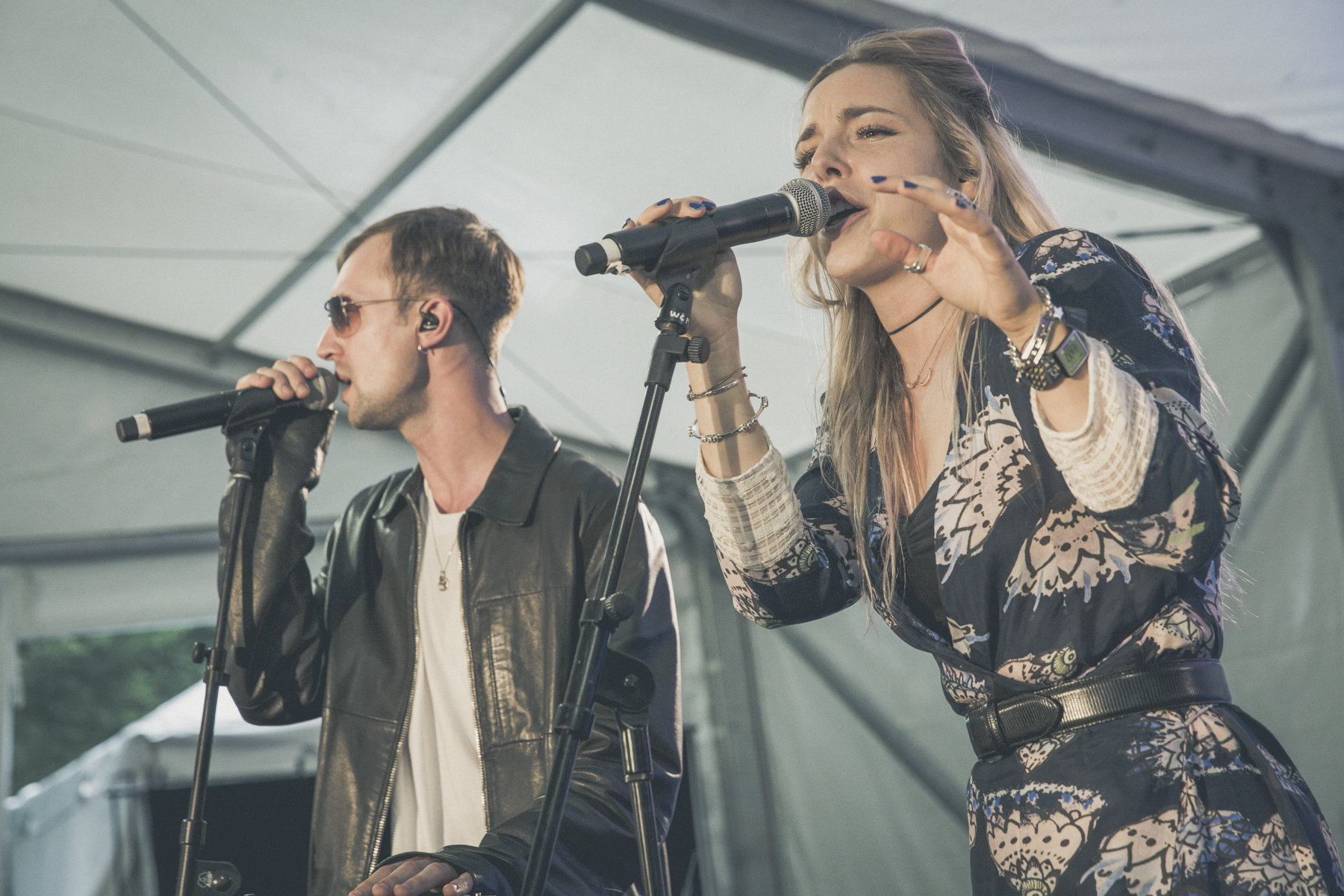 HÆLOS
Harkening back to the trip-hop classics of Massive Attack and Portishead, British outfit HÆLOS stripped down the beats and ambient noise for a gloriously ungarnished set. Without the pounding, dance floor beats, the simple beauty of the group's songwriting shone through brightly, casting the Den into a dreamy, trancelike state. Lotti Benardout's voice was especially radiant, bringing the gravitas of the band's single "Pray," off their 2016 Matador Records debut Full Circle, with only her soaring vocals. As the band states, this is music for after the club, or on this rainy afternoon, a chill, mid-afternoon set.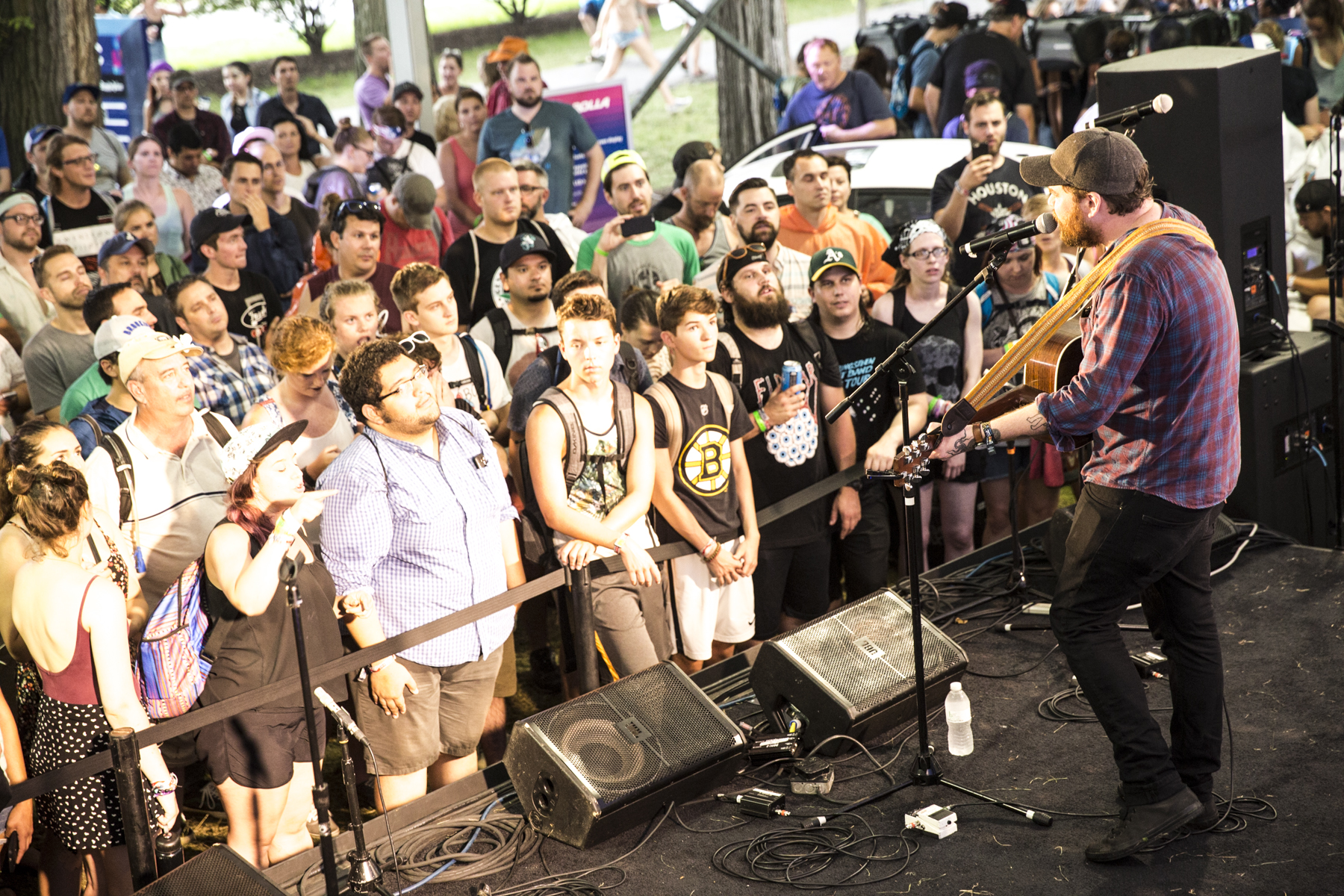 FRIGHTENED RABBIT
With the release of Painting of a Panic Attack earlier this year, Frightened Rabbit frontman Scott Hutchison further cemented his status as a master songwriter, with a deft grasp on the lyrical trick of cathartic self-revelation that never trickles into sob song. Hutchison has always injected wry humor into his songs, and during this acoustic set, he thanked the crowd for showing up for some "sad music." In fact, it was a joyous, career-spanning set, spanning Panic Attack back to fan favorite "Old Old Fashioned" from 2007's The Midnight Organ Fight. Hutchison culled the set from crowd-shouted requests, obliging but occasionally flat out rejecting requests as "ridiculous." After Hutchison finished the sweeping "Swim Until You Can't See Land," the self-confessed morose frontman was sweaty but smiling.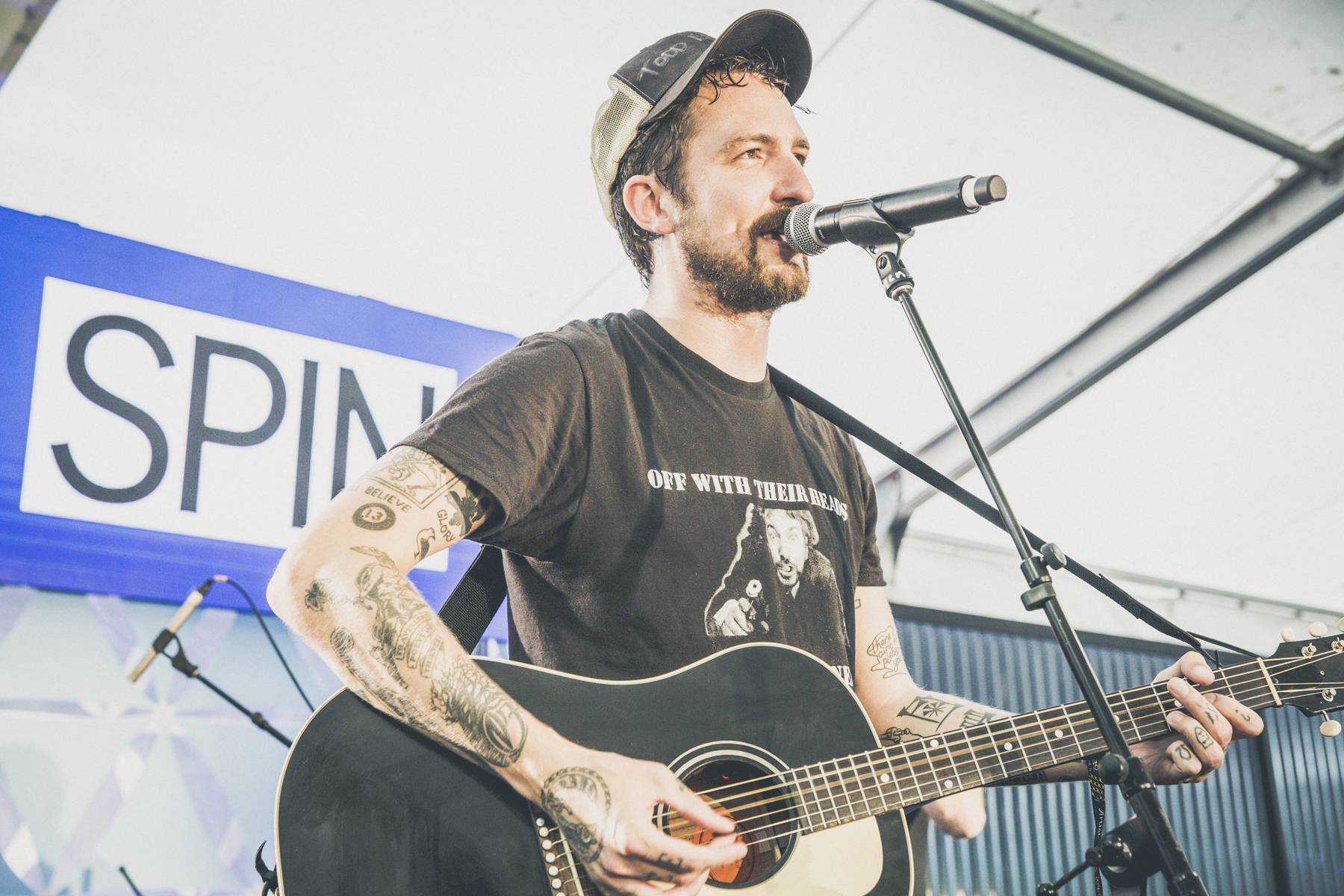 FRANK TURNER
Like a 1-2 punch of raw honesty, UK folk singer/songwriter Frank Turner followed quickly on the heels of Hutchison. His rabid fans were lined up tight against the stage ready for Turner to spin his barroom yarns of drinkers, dreamers and rabble-rousers. Firmly rooted in the tradition of Turner hero Nick Cave, Turner rallies against the dying of the light until last call. Turner performed with the gusto of a man in a pre-dawn brawl, belting out the refrains to "Mittens" and "Love Forty Down" with the passion and immediacy of Joe Strummer. His passion struck passerby just looking to escape the rain completely awestruck, while leaving his loyal throng of followers more than satisfied.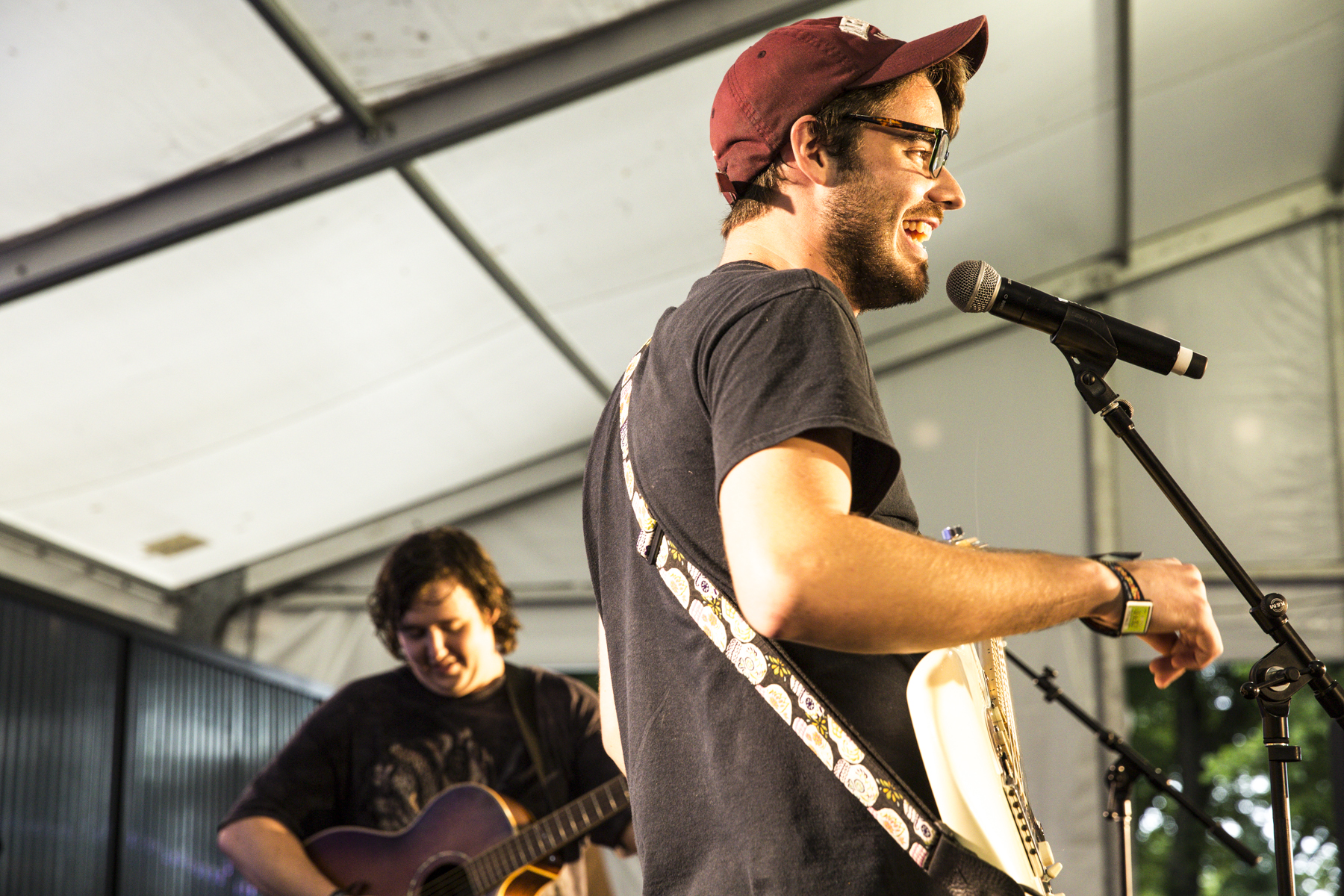 MODERN BASEBALL
One of the forefathers of the so-called "4th Wave" emo revival, Modern Baseball has always had more on its mind than "mope" music. Co-frontman/songwriter Brendan Lukens and Jake Ewald channeled their insecurities and pointed barbs about millennial ennui and vacuous trends into the group's best effort, this year's Holy Ghost. What makes that record so special was that Lukens and Ewald turned their gaze inward, turning their razor-sharp derision into bitter self reflection. The results are moving, funny and transcendent, and for this acoustic set, the duo's best songwriting shone through. Fans sang choruses and sometimes entire verses, making it clear for that a younger generation, this band could, and may be, their life.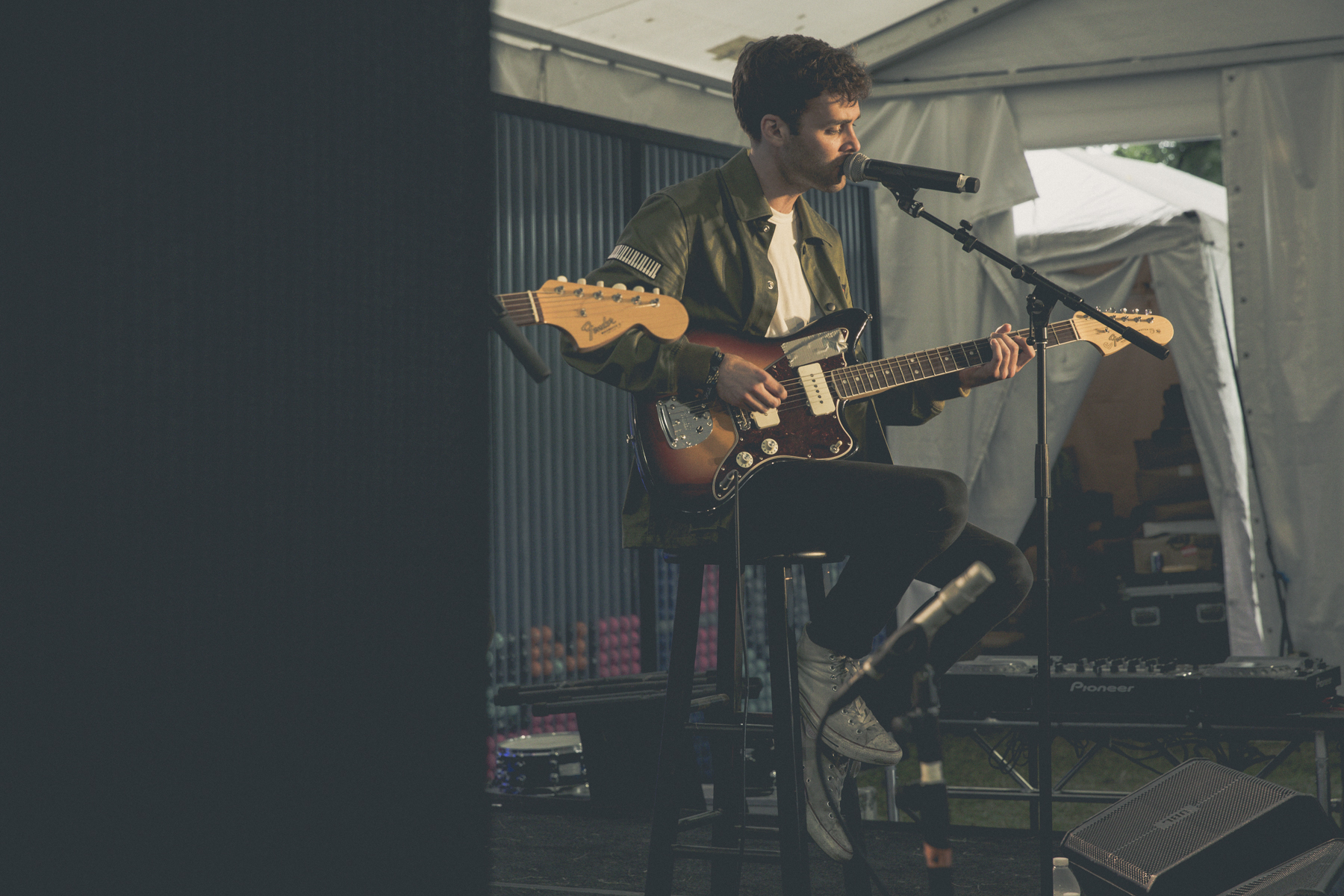 DAY WAVE
As we walked to the festival grounds earlier in the day, we heard the strains of New Order's "Ceremony" coming from some distant stage. It rattled around all day, so it was to our joy when Day Wave's Jackson Phillips launched into it for his acoustic set to close out the day. Day Wave is Phillips' project, but like his set earlier in the day, he performs live with various members. While the "Ceremony" we heard earlier was big and rollicking, Phillips turned this acoustic version into a haunting, sentimental ballad. Phillips' bread and butter is dream pop, and he played select cuts from his 2016 EP Hard to Read, closing out the day on a beautiful, somber wave.