The quarter-century-long career of Calvin Broadus — a.k.a. Snoop Doggy Dogg — is full of contradictions. He's a husband and father whose devotion to his family is evident in such heartwarming reality shows as Snoop Dogg's Father Hood and Snoop & Son: A Dad's Dream, yet who continues to make his name as a kush-puffing, big booty-snatching, West Coast-repping libertine. He routinely portrays his youthful, pre-stardom days as a weed-slanging Crip as a male rite of passage, and an everlasting source of brotherhood bound by honor and street codes. And over a two-decade-plus career, he's established himself as one of the best rappers in his genre despite only making one indisputable classic with his G-funk bible, 1993's Doggystyle. Snoop may not measure up with linguistically superior contemporaries like Ice Cube and 2Pac when it comes to lyrical bars-for-bars. But when it comes to languid vocal cadences, pure flow, Long Beach cool, and an unflappable persona, few can do it better than the Doggfather. He was quite possibly the first rapper to traffic in "vibe."
In some ways, Snoop's plight is similar to LL Cool J's in an earlier era: He's ultimately a singles artist, and he's logged so many urban-radio smashes that we often take the albums containing them for granted. Perhaps Snoop's artistically (and commercially) underwhelming new album, Coolaid — which has received significantly less attention than, say, the euphoric G-funk nostalgia that greeted Dr. Dre's Compton — justifies that conclusion. But many of his past highlights — including, for instance, 2004's Rhythm & Gangsta — are packed with so many bangers that they deserve more than their negligent reputation.
With Uncle Snoop enjoying a fresh round of attention via Coolaid and, his scheduled performance at the, uh,  Democratic National Convention, perhaps it's time we weeded (cough) out the Super Crip's dense catalog — and debunk the myth that the man hasn't made an essential album since Doggystyle.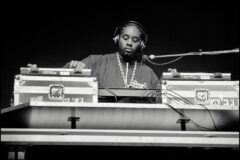 Stranded on Death Row
Let's skip past Doggystyle, of which we all know the greatness. But don't forget about "21 Jump Street," from the Murder Was the Case soundtrack, where he and LBC homie Tray Dee spit game over a boogie bounce and a chorus lifted from Steve Arrington's '80s funk chestnut "Nobody Can Be You." As for Snoop's second album, Tha Doggfather, it's marred by the drama surrounding his label: Dr. Dre's exit at the beginning of 1996 and 2Pac's murder two months before its release in that November. There's clear tension throughout, but it still contains bangers like the hydraulics-inducing "Up Jump Tha Boogie." And just before Snoopy escaped the crumbling Death Row empire, he offered a fan-beloved, promo-only jewel in "Midnight Love." His troubled and uncertain lyrics about life amidst the senseless violence that marked mid-'90s gangsta rap — "These problems probably have a nigga gray or deceased," he raps — belie the song's bluesy groove and Raphael Saadiq's buttery-smooth hook.
No Limit Dogg
It may be weird to imagine now, but Master P deserves credit for virtually saving Snoop's career — buying out his Death Row contract and offering him refuge from the demonic Suge Knight. The first two albums Snoop recorded for New Orleans' No Limit empire mostly underwhelmed, particularly when he tried to hang with his new Southern friends on odd-couple duds like "Tru Tank Dogs." But they have their moments: 1998's Da Game Is to Be Sold, Not to Be Told was preceded by the buoyant car-hopper "Still a G Thang." While it's dismissed by some critics at the time as G-funk boilerplate, the track's an underrated sequel to Snoop and Dr. Dre's seminal 1992 smash. Another standout was the deep cut "Game of Life," a gripping tale of hustling and banging alongside Oakland duo Steady Mobb'n.
For "B Please" from 1999's No Limit Top Dogg, he reunites with Dre and resurrects his ragamuffin flow from The Chronic years; it's a virtual blueprint for Dre's own early-'00s revival. The following year's Tha Last Meal is the best of Snoop's No Limit period and includes memorable hits like the Timbaland-helmed jitterbug "Snoop Dogg (What's My Name Pt. 2)." Amidst this G-funk renaissance, Snoop formed Tha Eastsidaz with Tray Dee and Goldie Loc. Highlights from the group's two albums include "Got Beef," which has a memorable sing-song chorus from Snoop ("If you got beef with DPG, then holla at me, the D-O-G"), and "Welcome 2 Da House," where his homegirl protégés, Doggy's Angels, drop flows over synthesizers and champagne glass-clinking cowbells.
Snoop Goes Pop
You could frame this as the Neptunes era, when Snoop linked up with Pharrell Williams and Chad Hugo for blasts of spidery synth lines and club-smashing drum kicks. "Beautiful," from 2002's Paid tha Cost to Be da Bo$$ (the title alludes to Snoop's hard-earned status as a free agent), is merely a summery table-setter for 2004's Rhythm & Gangsta: The Masterpiece, which overflows with superior Neptunes-helmed hits like "Let's Get Blown," "Signs," and, of course, the jolting, minimalist brilliance of the huge, all-snare-and-mouth-clicks hit "Drop It Like It's Hot." As a near-classic fusion of Snoop's street bona fides with mid-'00s pop appeal, Rhythm & Gangsta set the course for Snoop's career to the present day of packing albums with a handful of radio heaters and enough West Coastin' throwbacks to keep longtime fans satiated.
Equally solid is 2006's Tha Blue Carpet Treatment, which doesn't include any Neptunes sure-shots but soars with "Candy," a hyphy knocker with a Ladybug Mecca hook; "Vato," where B-Real of Cypress Hill's nasally croak takes center stage; and "Imagine," where Snoop and Dre muse about their unexpected paths in life. "Sexual Eruption," an inspired homage to '80s electro-funk freakiness that inspired a classic VHS-damaged video fantasy, is better than anything else on 2008's water-treading Ego Trippin', but there's also some strong album fodder like the Isley Brothers-sampling "Press Play" and the surprisingly sweet-natured breakup song "Waste of Time."
Uncle Snoop
Is Snoop the funny and wise elder at the family barbecue, or the corny middle-aged dude trying to kick it with the kids at the club? His material since 2009 has leaned both ways. That year's Malice N Wonderland is a sonic tattoo parlor of leering teen bait (anyone remember the "jerkin'" dance fad that he unsuccessfully tried to bandwagon with "I Wanna Rock?"); the exception is his breezy duet with The-Dream, "Gangsta Luv." Doggumentary, from 2011, is a no-thrills collection of EDM and Auto-Tuned pop, although it has a smokers-in-arms duet with Willie Nelson ("Superman"), a halfway-decent trip-hop escapade with Gorillaz ("Sumthin Like This Night"), and, if you dig deep enough, a little bit of gangsta bliss ("Cold Game").
His brief makeover as the Rastafarian Snoop Lion on 2013's Reincarnated is best forgotten; his reunion with Pharrell on 2015's unremarkable Bush proves you can't go home again. But a collaborative soundtrack with Wiz Khalifa for the 2011 straight-to-Netflix comedy Mac & Devin Go To High School  — where the fortysomething Snoop plays a high-school jock – brought "Young, Wild & Free," a cheerily ephemeral ode to the stoner children of America. Much better is his 2013 project with L.A. electro-funk maestro Dâm-Funk as 7 Days of Funk, and frizzy and sensuous jams like "Do My Thang."
Unfortunately, the just-released Coolaid fits snugly into Snoop's late-period dilemma of being adrift among trends. There's a trap choon, a passé disco-funk number, and a duet with Jeremih. But there's also "Super Crip," which has a crazy, spooked-out Just Blaze beat that should evoke vague but rightful comparisons to the canonical "Deep Cover." Snoop's everything-but-the-kitchen-sink approach often means his albums sound more like a grab-bag of songs than a piece of music with concepts and themes. Yet, true to his contradictory nature, it's his ability to mine a bit of gold against the chaff, along with his legendary reputation as a West Coast O.G., that continues to hold our attention. He's got plenty of hot ones hidden in plain sight, some folks just need to learn their motherf**kin' names.
Correction: An earlier version of this post misidentified the release year for Paid tha Cost to Be da Bo$$; it was released in 2002, not 2003.