SPIN Rating:
Release Date:
August 07, 2015
Label:
Aftermath / Interscope
Detox has arrived. Except it's not Detox, it's Compton. And fortunately, Compton is not hip-hop's Chinese Democracy — a mythical, long-awaited record released to shrugs and far removed from the relevant center of the culture. Dr. Dre, with little warning, declared Detox dead, and that Compton was coming to take its place. On the heels of many surprise-release albums, the unexpected arrival of Compton feels consequential, because its creator hasn't dropped a full-length album since the last century, and because he changed the context of its release so drastically a mere week before it debuted on Apple Music. It's the best possible bait-and-switch.
True to its event-release status and its subtitle, A Soundtrack by Dr. Dre, Compton is at once a sweeping, grand gesture worthy of the big screen, but also, if taken as a "spiritual" soundtrack to the N.W.A film, Straight Outta Compton, leaves certain things unresolved — how else would listening to a soundtrack to a movie you haven't seen feel? Compton earns a lot of credit simply by not being a disaster or an embarrassment, but there's only so much a 50-year-old rapper can say to a generation following their favorite artists on Snapchat.
No one needs to tell you this sounds fantastic, because of course it would — Dr. Dre became hip-hop's first billionaire only in recent years by selling headphones. But how it sounds fantastic is also key — The Chronic's G-funk rattled warmly, The Chronic 2001's crisp textures pre-dated Jay Z's Blueprint and Kanye's perfectionism in the next decade — but Compton abandons that for something that inexplicably sounds grand through headphones, bookshelf speakers, and the car. The propulsive "Genocide," which uses the sound of a car revving up as its foundation, is one of those sonically progressive moments in hip-hop that makes you think, "I can't wait for every producer to try and make a song sound like this." The sound of Compton keeps your attention even when little-known rappers like King Mez and Jon Connor don't leave an impression beyond "Well, that guy had bars."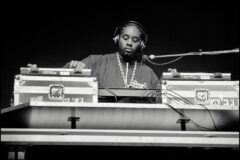 This is the biggest knock against Compton — it's thrilling to hear Ice Cube on a track, to hear Snoop Dogg rapping with vigor after this year's (pretty good) funk stylings of Bush, hell, it's great to even hear Xzibit — but, true to a blockbuster's mixed bag of cutting-edge technology and nostalgia, the result can be like looking at Arnold's weird CGI body in Terminator Genisys. Here's a bunch of guys you loved years ago, now here they are again, except older. It's cool once, but after a few spins through the record, your fast-forward finger gets itchy. (You do have to love Snoop's verses, though, especially "One Shot One Kill.")
What should be commended about Compton is how it truly has re-invigorated a segment of hip-hop culture and fans into caring about rap in 2015. Not that you need to pander to those who would scoff at someone telling them to listen to Future or Young Thug, but the right nostalgic touches work: sincere props to Dre for getting Cold 187um (a.k.a. Big Hutch) on his record, just on principle alone. And the Bone Thugs flip on "For the Love of Money," complete with a welcome feature by Jill Scott, is fantastic.
The DJ Premier-assisted "Animals" is another highlight, touching on police brutality and racism, a note of vitality on a record that runs a little too long and features a few especially ho-hum verses (shout-out to Eminem). Then again, you could say the same thing about Dre's first two records, and that doesn't detract from how classic The Chronic is. Kendrick Lamar of course steals the show on all three of his guest verses, but you kinda wish there was an equally significant presence from guys in his class of rapper. The album would certainly benefit from the voice of the other most important current rapper from the titular city. But its sometimes-spotty curator has decided to prop up other, less-revered names to scattered results (which is just as well considering YG just boasted, "I'm the only one to make it out west without Dre").
Still, the highs of Compton are genuine and sit favorably with the highs of Chronic and Chronic 2001 — the time-healed rapping about Eazy-E on "Darkside/Gone," Game sounding more exciting and keyed-in than he has in years over a gorgeous boom-bap on "Just Another Day," even the swirling, To Pimp a Butterfly-esque closer "Talking to My Diary." The always-fun game of spot-the-ghostwriter on Dre records is present, too (Kendrick will get paid many times for this album). And the reality is, Compton doesn't need to exist, but it does, and that it's actually pretty good and fresh in a year brimming with vibrant, relevant young voices, says something: Dr. Dre is surprisingly spry for a 50-year-old tech-billionaire. You could call this the real detox, from the rare elder statesman who knew when to quit.