SPIN Rating:
Release Date:
March 18, 2014
Label:
Def Jam
For the majority of YG's minor key concept album (and major label debut), My Krazy Life, the Compton rapper concerns himself with what is, well, right there in front of him. "I woke up this morning/ I had a boner," are the first lines delivered on "Really Be (Smokin' N Drinkin')," a sticky confessional with an assist from Kendrick Lamar that kicks off the record's benighted third act. YG, the street voice of the West Coast's so-called "ratchet music" (hypnotically spare, incredibly catchy, strip-club-friendly music artfully crafted by DJ Mustard of "Rack City" fame), has crafted a palpably in-the-moment gangsta rap album that by way of Mustard and similarly-minded skeletal beatmakers (Metro Boomin, Mikely Adam, Terrace Martin, Ty Dolla $ign), doubles as a peculiar party record with a whole lot at stake.
None of this is exactly new for YG and Mustard, who've been collaborating since 2010 and whose recent mixtapes (Just Re'd Up 1 & 2, 4 Hunnid Degreez) assisted ratchet music's arrival as an all-encompassing underground-to-mainstream phenomenon. But My Krazy Life, released by Young Jeezy's Def Jam imprint CTE World, is a YG/Mustard project gone widescreen. It's also the final nail in the coffin for trap music's busied maximalism, perfected on Waka Flocka Flame and Lex Luger's 2010 album Flockaveli and codifying since then (indeed, My Krazy Life will do for "ratchet" what Flockaveli did for trap). That Jeezy, who helped establish the maximalist stomp of trap nearly a decade ago, is now cosigning the minimalism of YG and Mustard (and appearing on bromantic hit "My Nigga"), kind of says it all.
Despite the shock of the new street rap swagger that defines My Krazy Life, YG also locates a balance between his ratchet music tunnel vision and the market-driven demands of a wide release major label hip-hop album. An unabashed three-track R&B diversion (usually the cloying low point of a rap record) proves ratchet's radio malleability while providing a glimpse into the troubled romantic life of YG. And closing track "I'm Sorry Momma" all but reinvents the once powerful, now corny "I did dirt and screwed up and I feel guilty about it" track. On a record full of typical knucklehead behavior that never looks back for long, "I'm Sorry Momma" feels like the other shoe finally dropping. Not to mention, YG gives voice to said momma, so there's much more of a conversation going on here, further rescuing the track from hedged half-insight.
Meanwhile, the big deal types featured are the same guys doing guests spots on everybody's albums right now (ScHoolboy Q, Rich Homie Quan, Drake, Kendrick) but YG never gets pulled into their well-branded orbits. Drake appears on "Who Do You Love," but the track's "hey!" shouts and melting electro bubbles force the drifting rap-singer to gain focus and resurrect his hyphy-indebted flow heard on 2011's "The Motto." Kendrick Lamar's "Really Be" verse finds him rapping in the voice of a scrapping dude also caught up in the life, rather than an insider-outsider "good kid." And YG is a refreshing rap archetype: The conflicted everyman, a throwback to the early '90s West Coast constellation of MCs featured on Dr. Dre's monolithic The Chronic. As a result, he adds a lot of palpable pain (and yeah, lunkheaded misogyny) to songs that could probably slip by as unambitious club cuts.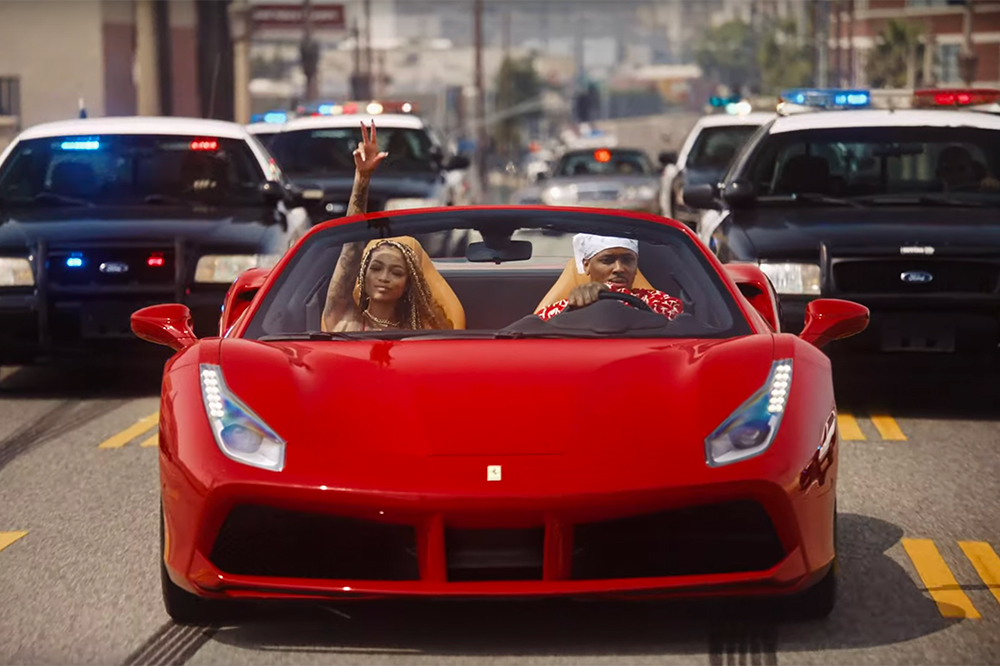 Boldly, My Krazy Life is in the vein of Kendrick Lamar's good kid, m.A.A.d city, with a developed, knotty and, ultimately, deeply moral narrative: YG parties and bullshits, breaks into some people's homes, argues with girlfriends, gets caught, and ends up in jail, his mistakes suddenly slapping him in the face as he apologizes to his mom. And sonically, thanks to Mustard and company's humble eccentricities (obvious touchstones include L.A. jerk and G-funk, Bay Area hyphy, and Rick Rubin reductions, though John Carpenter scores, Detroit techno, and Trevor Horn's stabby synth pop can be heard here as well) it's as out there as Kanye West's Yeezus. It just doesn't make a big stinking deal about it. If Kendrick and Kanye, bigger than hip-hop, are making the rap equivalent of Oscar Bait (and rap needs that more than ever mind you), then YG and Mustard's ratchet music masterpiece is a sneakily ambitious genre flick.