If the album is still supposed to be dying, nobody told 2016 – it's hard to remember a year that was so dominated by the full-length, with seemingly one major LP roll-out handing the baton to the next over a months-long relay of Event Records. Exciting times, but don't let the individual song get lost in the shuffle: highlights from those marquee-stealing releases, crossover radio smashes no one saw coming, one-offs responding to a cultural moment, and many more jams borrowing some piece of the cultural conversation for four minutes at a time. Ultralight beams and low-flying panic attacks, these are the 66 Best Songs of 2016 So Far.
The Starman's final transmission. To close out his curtain-call album, David Bowie offers this weightless, wistful goodbye, nodding to works past and pleading with admirers, "I can't give everything away." That's fine — you gave us more than we ever deserved. — KYLE MCGOVERN
65. Kali Uchis feat. Vince Staples and Steve Lacy, "Only Girl"
https://youtube.com/watch?v=2i8UvopEDp4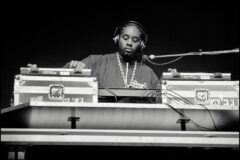 Kali Uchis is a New Hollywood glamour-girl crooner who knows her worth: "Talk is cheap and see, I got expensive tastes." Vince Staples plays her philandering-but-semi-regretful boyfriend, whiplashing between apologies and excuses so fast you feel like he might break into "Hotline Bling" at any point. Thankfully, hook man Steve Lacy's light-as-air vocal goes a long way to smooth things over. — ANNA GACA
64. Roly Porter, "In Flight"
A captured S.O.S. to Ground Control from the Tri Angle ambient-noise pilot, as his spacecraft spirals out of control and sets adrift into the gorgeously terrifying unknown: SEND HELP AND ALSO ADDITIONAL SYNTH ARPEGGIATORS AND DRUM PADS. — ANDREW UNTERBERGER
https://youtube.com/watch?v=9nJkGH80suo
At a recent listening party, Maxwell proudly announced that his long-awaited upcoming LP, blackSUMMERS'night, was recorded in analog. But like Maxwell at his best, "Lake By the Ocean" feels too free-flowing to be held down by austere intentions. Even if the song favors plush production over creative risk-taking, it's hard to find fault with Maxwell's dulcet falsetto soothing over an arrangement that exists in perpetual bloom. Besides, the singer suffixed his Jack White-ian announcement by saying he doesn't mind today's turn-up music. Can't be offensive if you're trying to be Eros. — BRIAN JOSEPHS
62. The Knocks feat. Carly Rae Jepsen, "Love Me Like That"
Though it opens with one of the most literal lyric-to-sound-effect tricks in the book ("I hear thunder in the distance," Jepsen moans as thunder crackles in the distance), "Love Me Like That" is one hell of a pop-funk boombox bumper. The staccato guitar, Jepsen's breathily layered vocals, a dramatic key-pounding bridge: It's like someone shook a soda bottle up and poked a hole in the cap, unleashing the fizzy concoction. — BRENNAN CARLEY
One Baltimore rapper's valiant attempt to put a stop to the hip-hop Derek Jeter's seemingly endless winning streak, with 2040s Bomb Squad production and Twitter-unfriendly lyrics like "I give a f**k about peace, I spit hate crimes." Good luck to the heavy underdog, but chances are Drizzy's still smarting at least a little over that faux-"Marvins Room"-crooned, Forrest Gump-quoting outro. — A.U.
60. Miserable, "Violet"
"You're the most spiteful person I could never be / So when I hear your name around town / Kills me," moans a gut-punched Kristina Esfandiari, as encroaching guitars and drums swell to envelop her in a monsoon of bile. Plenty of shoegaze artists have managed to equal metal's sonic destructiveness, but reaching its emotional devastation is the kind of achievement only artists bold enough to dub themselves "Miserable" should be capable of. — A.U.
In which Lucy Dacus is forced to stand by while a loved one spirals out of control — a frustrating scenario made even more so with the knowledge that there's little she can do to save them from their "bad habits." That doesn't set the Richmond singer-songwriter's mind at ease — precisely the opposite. If this person's a speeding bullet, Dacus is the shell casing, left to survey the damage. — RACHEL BRODSKY
"Is this past or present?" strains Modern Baseball co-frontman Brendan Lukens. We can't seem to make it all out, either: Hailing from the band's first non-self-produced album, Holy Ghost, "Apple Cider, I Don't Mind" incorporates the open-wound narrative style of their earlier records while showcasing their subtle evolution from "Whatever forever"-minded] Drexel recordings to New York Times-recognized indie rock. With rollicking percussion guiding the track, and Lukens' raw and urgent howling erasing any need for a chorus, it's evident that the still-mid-20s Philly quartet are already starting to age gracefully. — NATALIE CAAMANO
https://w.soundcloud.com/player/?url=https%3A//api.soundcloud.com/tracks/250885292&auto_play=false&hide_related=false&show_comments=true&show_user=true&show_reposts=false&visual=true
Doom-metal death-marching that inexplicably swipes the guitar solo from GN'R's "There Was a Time" note for note, this is the sound of Charlie Puth being sacrificed to a volcano. — DAN WEISS
56. Ariana Grande, "Into You"
You might know Ariana Grande and Max Martin, but please welcome to the stage producers and songwriters Savan Kotecha, Alexander Kronlund, and Ilya Salmanzadeh, who crank the heat to the triple digits on the singer's menacing disco scorcher "Into You." It's the only Dangerous Woman cut as intriguing as Grande's latex bunny ears, and it's smoldering enough to melt them down into a pile of rubber. — B.C.
Stop the press releases: James Harrison's cracked voice, halting lyrics, and static guitar patterns are spookily close to what Robert Forster from the Go-Betweens would sound like if he grew up alongside emo. (All the spookier considering that the bassist/co-frontman to his left is actually Forster's son Louis.) "I don't care about much / But one of the things I care about is you," Harrison speak-sings into his moleskine, pitching a relationship as well as his acne-scarred heart can muster. — D.W.
"I'm only a woman if woman is a word," wails Lorely Rodriguez, as she proceeds to either disassociate her femininity from its strictest Webster's meaning, or guarantee that you'll never define it by anything else. Regardless of the point Rodriguez is making, if she doesn't hammer it home herself, you can be damn sure her cowbell will. — A.U.
Soundtrack singles rarely sound as blessed as "Good As Hell," a bouncing bauble Lizzo had been working on with pop producer Ricky Reed when the pair got the call from the brains behind Barbershop: The Next Cut. Praise the heavens we didn't have to wait until the Minnesota rapper's next album cycle to hear this prayerful, half-sung (better than your faves, too) slice of surefire satisfaction. — B.C.

Two minutes of leather-jacketed nocturnal bliss that packs more vampiric romance than an entire CW series in one devilishly cooed "Hey you, I saw you from across the room." By the time it ends as suddenly as it began, you feel like you've woken up from a wild and hazy night, totally empty except for a strange lust in your veins and inexplicable throbbing in your neck. — A.U.
51. Prince Rama, "Bahia"
Sisters Taraka and Nimai Larson's bonkers tropi-pop goes down smoother than a flight of technicolor Jell-O shots. The beat for this slinky, springy opener from eighth (!) album Xtreme Now takes off like a flying saucer and doesn't come down for three gloriously goofy minutes. — A.G.
As in another "Pop Song" from 27 years earlier, Sam Ray of Teen Suicide half-heartedly tries to shrug off the more confusing anxieties of his existence with a little pop shimmy, his subconscious uncoupling getting more and more exquisitely frayed as it folds in on itself ("What do you want for dinner? We broke up in November"). Michael Stipe and his topless cronies may have been more successful in unburdening themselves, but he didn't have multiple Netflix accounts to worry about. — A.U.
BRONCHO lead singer Ryan Lindsey sounds like he was born inside of a big, dreamy, scuzzy nostalgia wave. He blesses this retro cruising anthem with a weird, wonderful vocal hook ("fa-fanna-sea buy-oys") that might be mistaken for a hiccup if it weren't made purely of innuendo and saltwater taffy. — A.G.
In Marissa Nadler's realm, a change in relationship status is akin to a sudden shift in weather patterns, so consider the smoldering "Janie in Love" an Emergency Alert. Brace for hurricanes, earthquakes, monsoons; take shelter in the shadows and marvel at the chaos. — K.M.
"With Them" upstaged half the songs on The Life of Pablo when it played at Yeezy's Season 3 fashion show, yet it barely did much damage on the charts, staying on the Hot 100 for a whole week.  But when the public wises up and the behind-the-curve thinkpieces finally recognize Young Thug as Lil Wayne's heir, "With Them" will be an essential mention for how Thug throws syllables against internal rhymes with the violence of water splashing against a Slip-N-Slide. When Lyor Cohen advised his signee not to leave his songs "like little orphans out there," it was a reflection of our own limits, not Thugger's. — B.J.
Musket drums, napalm guitars, Tremor synths, and a vocal that sounds like it's being attacked by all three, combining for one of the most visceral expressions of terror you'll find outside of a Golden State Warriors away game. Or, the sound that Indiana Jones' intestines make at the thought of being buried alive with the titular serpents. — A.U.
Though it's not going to be celebrated in comments sections anytime soon, Emily Nokes' one-woman crusade against the "hate from the basement" from those who have "no consequence to fear" will remain timely as long as female Democratic state chairs are still fending off actual, physical chairs. Her backup singers and blunted riffs lift up a soaring hook that asks, sanely, "What place do you have?" Well? — D.W.
"Vroom Vroom" is a song of firsts: First Charli XCX collaboration with pop molecular physicist SOPHIE, first production to veer from EBM contortions to cheerleading stomp, first driving jam to actually make you feel like you're trackside at the Grand Prix. Unlike Charli, you might not have been waiting all your life for such a good time, but now that it's here, you certainly hope it won't be the last. — A.U.
https://youtube.com/watch?v=aXsd4xula-k
A single beat takes on a life of its own on Hamilton electro-pop maven Jessy Lanza's "It Means I Love You." Over the course of almost five minutes, the metronomic pulse mutates, piles on layers, and morphs into an agile beast as Lanza pulls you in, determined to look you in the eyes and have it mean absolutely everything. — MELODY LAU
If you're going to compare Deftones' first new material since 2012's aggressively atmospheric Koi No Yokan to  nu-metal, look to nice-guy Puka-shell wearers like Morning View-era Incubus rather than perennial growl-brooders Korn. Getting heavy on the hooks without sacrificing any noise, Chino Moreno & Co. stay true to their trademark approach by experimenting with the quiet-loud balance, building "Prayers / Triangles" out with hulking guitar, throat-cracking screams, and thundering percussion — but, at the same time, butter-smooth harmonies. It's no small feat when anything metal-related gets tagged as "blissful." — R.B.
FKA's experimental tendencies are a distant second to her most valuable asset: No other artist expresses the complexities of desire better than her. "Good to Love" tosses within the same bed as Twigs' most forward-thinking fare, but as a traditional, sparse ballad, it's arguably FKA twigs' most accessible song. The instrumental break sounds like Aphrodite's wail, but know it's an expression of yearning despite heartbreak: "It's not your fault that I'm loved to my limit / I've had plenty, so I know you're mine." — B.J.