Not a cover of Dionne Warwick & Co., as you could probably guess from the song's singularly soul-piercing single cover. Nonetheless, Adesse Versions' cacao-dark acid-house throwback is one of the most unexpectedly poignant tributes to friendship of recent years, with a long–matriculated vocal sample offering to perform the most final of kindnesses for a long-suffering friend and stone-cold matte synths reinforcing her grave seriousness. "You can always count on me," promised Ms. Dionne, but Adesse Versions' loyalty would never necessitate such platitudes. — A.U.
No matter how gripping Open Mike's threnody of living in the skin of an assumed rapist/pocketbook thief/yoga pants crook is, "Smiling" just wouldn't be him without that "ghost fart" line. Chuckle at his diss to Macklemore's "flip-flop squad," let Paul White's chipmunked doom-blues sample make your hair stand up, and note the duo's collective post-protest depression: "When a hundred police wanna sing one song / All the people stop giving a damn." — D.W.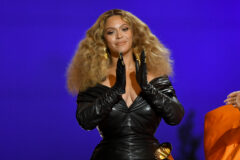 38. Meghan Trainor, "NO"
You already knew her name was NO, but this is the response song that Redman's "I'll Bee Dat" deserved. She and her clever studio architect Ricky Reed treat Max Martin the way Tyler, the Creator did Pharrell: as an inexhaustible resource. Who cares if only teenaged girls end up liking her in the end? They can never have too many songs teaching how cool it is to say nay. — D.W.
Like Fiona Apple's "Criminal," if it was streamlined by Steve Albini and its aggression directed just as much outward as inward. You know exactly how many years it's been since the mid-'90s by how exhilarating it is when — after two verses of corkscrewing guitar riffs, bone-dry drum stanzas, and snickering self-lacerations ("I'll get over it when I feel like it!") — the building tension finally chuck-a chuck-as into a full-band mosh, broken hearts and torn flannels everywhere.  — A.U.
36. Lil Yachty feat. Quavo, Skippa da Flippa, and Young Thug, "Minnesota"
https://youtube.com/watch?v=_VYU2pCdd20
At 18, Lil Yachty is very much a child of the post-Lil Wayne, Internet-based era of hip-hop: He has melody and charisma, but not much else. But his strengths coalesced for one gem — the "Minnesota" remix, aural candy as surreal as an animated Bob Ross painting. Whereas Yachty's shaky falsetto was an enjoyable novelty at best throughout breakthrough tape Lil Boat, here, it's the center, stuck in levitation with only thudding bass tethering it to the stratosphere. The joy is infectious: Young Thug makes Yu-Gi-Oh! relevant again, Quavo gives Motorola stock a boost, and the Minnesota summer peeks over the horizon. — B.J.
"If you want the girl next door, then go next door," challenges country songwriter-turned-performer Brandy Clark. That's hardly the last Jenny Lewis-esque shot Clark fires at her wannabe love interest, whom she's sure would rather date a "cardboard cutout," a "Barbie doll," or "Debbie debutante" than her. Her blunt honesty, set to a no-nonsense, march-forward beat, is exactly what Clark's convinced you'll initially find attractive and later desire to "fix" — but good luck trying. — R.B.
34. The Hotelier, "Sun"
The year's most thoughtfully scripted rock album gets the climax it deserves, an epic drama in its own winding — from taut verses to exposed chorus to wrecking-ball outro, and from pulse-skipping courtship to open-hearted proffering to cruelly lost eternity. No one has invoked the Solar System center's majesty this awe-inspiringly since the Boredoms, or this heartbreakingly since Gerry and the friggin' Pacemakers. That there are still three tracks to follow on the album is Goodness' greatest mistake. — A.U.
https://youtube.com/watch?v=F7l2Qw2FcSM
A campaign slogan that's welcome not just for its takedown of the GOP's "Comedy Central-ass" candidate, but also for proving there's indeed a personality driving YG's drop-top G-Funk. Only way this anti-Drumpf anthem could be more on-point is if he and Nipsey Hussle took aim at the Donald's cocktail-weiner fingers. — K.M.
32. Nick Jonas feat. Tove Lo, "Close"
The lead single from Nick Jonas' Last Year Was Complicated shows Sweden's freshest production stars, Mattman and Robin, flexing new muscles as in-demand songwriters Justin Tranter and Julia Michaels try their damnedest to nestle intricate wordplay into pop-friendly melodies, while faux steel dreams provide both the backbone and the heartbeat. Tove Lo's haunting, hollowed-out verse (and panting video appearance) cinch the deal. Give us that new album already, Tove. — B.C.
Sadie Switchblade has released fewer than 40 minutes of music — with her breakneck, '80s-style hardcore band G.L.O.S.S. and her own Springsteenian Dyke Drama project — and every one of them feels vital, but none so much as the almost-two of "Give Violence a Chance." Beginning with "world peace is just another word for death," almost every legible lyric is a goosebump-inducing mantra: "Anti-racist doesn't mean not-racist," and duh, "Black lives don't matter in the eyes of the law." These girls aren't actually living outside of society's s**t; they're shoveling it out. — D.W.
Todd Terje's irresistible Boney M cover has already infected thousands of innocents with its skittering beat, rubbery synth line, and consonant-popping, sex-starved robot voice. Practice safe bumping. — A.G.
29. The Range, "Florida"
The Range, a.k.a. electronic producer James Hinton, has secured a reputation for crafting sophisticated patchwork quilts out of YouTube samples. On the breathtaking "Florida," the result features a cover of Ariana Grande's spritely "You'll Never Know." As the warm, sensual vocals are paired with chilly synth pads, guitar plucks, and slices of steel drum, the song's erratic tone feels reminiscent of its titular state: balmy with the occasional blast of cool rain. — R.B.
28. Kwesta feat. Cassper Nyovest, "Ngud'"
South African rapper Kwesta has dubbed himself DA King of Afrikan Rap, a clever semi-backronym for Senegal's capital city, even though his hypnotic Tricky-deep basso chanting won't garner Best Rapper Alive evaluations on its own. On the screwed-down house sample of "Ngud'" he finds a heavenly ebb and flow to match, a four-and-a-half-minute ear tickle that should work on lean-puddled dance floors. Maybe he's got a backronym for ASMR too? — D.W.
27. Frankie Cosmos, "Sinister"
Frankie Cosmos ringleader Greta Kline recalls some less-than-favorable memories in "Sinister," realizing she "can't always turn to Arthur" to lift her spirits; sometimes it's healthy to embrace the woe. Though the well-known Arthur Russell enthusiast doesn't always find relief in her North Star, we can look to Kline's twinkling wavelets of six-strings, hushed harmonies, and sobering relatability for our own comfort. — N.C.
26. White Lung, "Below"
On "Below," Mish Barber-Way tackles the transience of beauty on one of White Lung's prettiest songs to date, and the biggest musical departure from their usual punk fury. Here, bright and spacious soundscapes — a glimmering guitar riff and pounding drums — give way to Barber-Way's "Stevie Nicks-meets-Celine Dion" vocals and, suddenly, the band's music opens up to so many new, exciting possibilities. — M.L.
On the opening track of Bottomless Pit, Death Grips invite an outside voice into their wigged-out man cave: Cherry Glazerr frontperson Clementine Creevy. Her impudent presence elevates and escalates a banger that already hits like an overcharged defibrillator — all busted instrumentation, rudely shuffled atmospheres, and MC Ride's trademark fist-through-windshield bluster. Is this really what disbandment sounds like? — R.C.
When house music wizard Hans-Peter Lindstrøm eschews vocalists and gets in touch with his more caffeinated side, he's absolutely golden. Exhibit A: the eight-and-a-half minute delight "Closing Shot," a veritable 4-D disco whirlwind calibrated to trigger heart, head, and feet. — R.C.
Nicki Minaj is very much a student of Lil Wayne, and "Down in the DM" captures an essential aspect of Weezology: stealing beats with kleptomaniac zeal. Yo Gotti's original — a 2016 "Sky Pager" for the club — was fine, but seems quaint now with Minaj strong-arming him. Peggy Bundy and Miley Cyrus catch strays here, empty calorie dick-swingers ("Your dick ain't good enough to be stylin' on me") get clipped, and tabloid firestarters are re-appropriated into signature witticisms ("Then he put his hands in my pants, felt them thick lips, and got wood / He said, 'Kylie, what's good?'"). Minaj is a ruler, existing at the center of a mythology that she built. We're the guests. — B.J.
If there's an upshot to living during Kanye West's ongoing Imperial(ist) Era, it's that, in context, his more humanist offerings stand out; sometimes, they truly resonate. The definitively unfinished The Life of Pablo doesn't get any more relatable than "Real Friends," where mournful, looped tones and deflated drums soundtrack typical middle-aged doldrums in a way that suggests a marathoner limping across a finish line: family as familiar strangers; everyone scheming or begging; life revealed as a vise that makes it impossible to connect to whomever you once were. The struggle is real. — R.C.
"Your mother wouldn't approve of how my mother raised me," cries New York-based twentysomething Mitski on the gut-wrenching chorus to her best song yet. This Puberty 2 centerpiece transforms a small epiphany into a crushing wall of sound, illustrating how one's identity of race and upbringing can fracture and ultimately overwhelm an otherwise joyous relationship. — M.L.