Often, you hear a great breakup song you just can't relate to personally — Jay Z didn't cheat on you, right? The reason "A Change of Heart" hurts so bad is because mutual attraction can quietly slip away from even the happiest relationship: "You used to have a face straight out of a magazine / Now you just look like anyone." Monday everything's perfect, and Tuesday you're crying in your car feeling way too old to be this dumb or this affected by four British boys with pretty synthesizers. :'( — A.G.
19. Michete feat. Reverend Dollars, "Come Get It Daddy"
The bawdiest spoken-word 4/4 floor-slayer of the year's first half is also its most quietly affecting. "Daddy" is LOLercoaster enough for three verses of seduction and repudiation — over the most Technotronic of Reverend Dollars beats — that it takes a couple of listens to properly suss out the years of frustration underlining the lyrics from the opening "So there was this guy, right? / You can already tell where this is going…" The final verse is the real coup, an irritated (but still impressively patient) plea for the sexual inflexibles of the world to get over themselves and realize: "It's not the end of the world just because I gave you the suck." — A.U.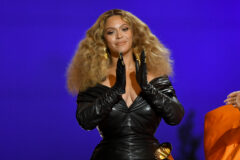 In a way, the most plainspoken song of 2016 sets up its own mysteries in a vignette so direct that finding ambiguity in it feels impossible. How could a woman pass the rapper riding his bike and know which way he was going? Which beefing rapper is mediocre and which one is okay? (He'll never confirm Meek Mill and Drake respectively, but the timeframe and interest from HuffPo only allow for so many suspects.) And is the fourth verse the most outward discussion of polyamory in hip-hop extant? We'd never dream of trying to kick some knowledge to the boy Sand; we just hunger for more of his. — D.W.
17. Kvelertak, "1985"
If we're indeed defining this as black metal, it's black metal for Care Bears. Or Cheap Trick for kidney thieves. Let's savor the fact we may never again hear a wedding of caramel and barbed wire quite like this ever again, noise-pop burning at both ends and held together by a single seam. — D.W.
16. Beyoncé, "Sorry"
Lemonade is a deep exploration of hurt and betrayal, among many other things, and "Sorry" is a sweet moment of suspension, where uncertainty looms but the anger begins to strip away in favor of free-spirited aplomb. At this exact moment, as Bey tosses biting lines like "Suck on my balls, pause" to a buoyant bounce, there are no f**ks left to be given because, as the Queen has warned us in the past, "Me, myself, and I / That's all I got in the end." Self-love takes priority here and hell naw, she ain't sorry. — M.L.
Breaking up is hard to do; witness "Human Performance," which lurches from lounge-act despondence to hard-rock-anthemic desperation and back again with all the helplessness of a claustrophobic in a padded cell. As if that wasn't compelling enough — and it almost is — singer Andrew Savage blithely nails the ennui of separation, how waking existence is reduced to an imitation of life: "Breathing beside me, feeling its warmness / Phantom affection gives a human performance." — R.C.
14. Chance the Rapper feat. Jeremih and Francis and the Lights, "Summer Friends"
Leave it to mopey music writers to take the most joyful release of 2016 so far and single out its saddest song. But hear us out: The downbeat tone of "Summer Friends" provides a helpful counterbalance to Coloring Book's Spirit-juiced ecstasy. Projecting fading memories of childhood alongside the tragic violence devastating Chicago, Chance offers a poignant look at his hometown and captures bittersweet nostalgia like a lightning bug in the backyard. — K.M.
The same man who once built an entire music video around a pack of gyrating, thong-clad gym-goers is now one of the most respected players in the prog-house game. And for good reason: Of the 125 minutes comprising his debut, Opus, the dazzling "Last Dragon" demands the most attention. Prydz lets his synths do the heavy lifting, pounding out a fireball hook that, combined with a throbbing back beat, will have no trouble getting every last foot on the floor. — R.B.
After capturing New York's earthy blend of smoke and snarl on "Ch-Ching," Chairlift shot for summertime incandescence on "Moth to the Flame." The production is just as crisp, but this time it's more Caroline Polachek's show. As she cries the eponymous hook, her melisma twists and dies like, well, the doomed titular insect. But the burning moth is as compelling as the rising phoenix here. — B.J.
https://embed.spotify.com/?uri=spotify%3Atrack%3A12VWzyPDBCc8fqeWCAfNwR
Wherein Drizzy Drake sets aside categorical, grayscale woes aside to tip Hennessy and trip the light fantastic on his first number-one single. Dancehall-drenched and "Do You Mind?"-feel copping, "One Dance" practically demands a riddim patois that its host alley-oops: clipped, suave, laser-focused, almost koan-like. — R.C.
10. Kevin Gates, "Kno One"
"Ooh, that's it?" Gates asks at the end, while the red light's still on. The effect is that of Miguel's rapt "Pussy Is Mine," if you can imagine that Miguel looks comparatively embarrassed by his floor-humping. But rap's greatest hook massager glides through every event of his conjugal evening with gusto: caressing your thigh jelly, sucking your titty in the mirror with a finger in the booty. They never make it to the bed, which is just fine because this lapdog prefers the floor anyway. And what would the premier mix of crude and tender be without "My attention / Giving all of it to you" in the bridge? That's right, ladies: He writes bridges. — D.W.
Those squawking synths! That chorus! A tearjerking music video that'll stop you in your track as you realize, "Well s**t, Naomi Campbell can act"! ANOHNI ushered in the HOPELESSNESS era with a stunner heavy on lyrics about warfare, orphaned children, and mass destruction — and made us dance to its assaulting throbs and pulses. That's the ultimate pop coup, and nobody saw it coming. Consider us unblinded. — B.C.
8. Rihanna feat. Drake, "Work"
You know it's good when a track that came out in January is still in the running for Song of the Summer come June. Curiously elliptical and proudly Caribbean, "Work" is a song only Rihanna could make — and Drake knows it, which is why he had to try so hard to bite Popcaan's style on "Controlla." Their neon-saturated joint video is a testament to these two artists' are-they-or-aren't-they tension, even when Drizzy's landing some of the most disingenuous lines in the history of pick-ups ("If you had a twin I would still choose you"). Dancehall may or may not stick around on the pop charts through autumn, but unless you're in Fifth Harmony, good luck trying to say the word "work" this summer without someone parroting Rihanna's unmistakable patois back at you. — A.G.
The Life of Pablo may not have been the gospel album we were promised but "Ultralight Beam" is a beacon of luminescence sent from above, one of the best opening tracks on any album this year. It's a hymn that Kanye merely ushers us into and then takes a backseat as he oversees a powerful choir of voices, including The-Dream, Kelly Price, Chance the Rapper, and Kirk Franklin — each pleading for serenity, for peace, and for love. Because, good God, we need it. — M.L.
As damning an indictment of Twitter as you're likely to hear all year, set to croaking electronics and violins plucked with guitar picks. Saving themselves from being thought of as over the hill, Radiohead pick a prime spot beside the gallows and give us the theme for our Age of Public Shaming. "Abandon all reason," says the leader. Gather round, point fingers. (Shame.) Expose the outlier, set it aflame. (Shame.) Turn on each other, repeat. (Shame.) Lazier, miserable, less productive. (Shame.) — K.M.
5. Fifth Harmony feat. Ty Dolla $ign, "Work From Home"
While it's reprehensible that Epic found it acceptable to pair Fifth Harmony — hot on the heels of their worldwide 2015 smash, "Worth It" — with Ammo, a member of Dr. Luke's production team, the resulting product is a series of nonstop pop peaks. Its chorus sinks its teeth into listeners with unvarying repetition (the song's title, quite believably, was simply "Work" before Rihanna's hit of the same name came along); beyond the chorus, Ally Brooke nails the song's saucy lyrical highlight: "Nothing but sheets in between us / Ain't no getting off early." Bust out the briefcases and get in formation — work starts at midnight, and doesn't let off until you've worn a hole in your shoes. — B.C.
4. Underworld, "I Exhale"
Underworld celebrate the 20th anniversary of "Born Slippy .NUXX" becoming the euphoric dance-floor anthem of the Britpop generation by going the other way with it. "I Exhale" is about as grandiose as "Slippy," but its triumph reminds not of Saturday night's release but the brutal work week leading up to it: all post-industrial grime, bleary-eyed exhaustion, and one-foot-in-front-of-the-other drudgery. It's still thrilling in its daily grind, though — EMP bass blasts, air-raid synths, and Karl Hyde sneering, "December, Monday morning / Okay / What you got?" all steeling you for the quietly exhilarating dignity of uniting with your fellow man for another five days of clock-punching. Shouting TIME-SHEET! TIME-SHEET! TIME-SHEET! TIME-SHEET! — A.U.
3. Tegan and Sara, "Boyfriend"
The Quin sisters may not have always draped '80s-style synths around every circuital melody, but the one element that's stayed consistent over their 15-plus-year career is Tegan and Sara's open-veined approach. On this stellar single from their eighth record, Love You to Death, the twins confront a puzzling relationship that toes the line between closest confidant and potential romantic partner. It's an ambiguous situation, not to mention a true story: Sara's current girlfriend was seeing a man when they first met and had never dated a woman. But the chemistry was there. "You call me up like you would your best friend / You turn me on, like you would your boyfriend," an observation capped with an ultimatum: "I don't wanna be your secret anymore." It's a justified request that any partner deserves — to love and be loved freely. — R.B.
Not pop, bubblegum. Understandably emerging from last year's spellbinding "Deeper Than Love" with the takeaway that maybe a drum machine works in her songs' favor, the most bonged-out chill-mistress since Kim Deal writes an A. That's A as in A-list, top-shelf harmonies and wit (extra-top-shelf harmonized guitar solo, actually), and A as in the A-side to a single that would've blown the Ohio Express off the charts in 1968, provided no one told Dick Clark what a D was. He didn't know what "Yummy Yummy Yummy" was rumored to be about either. — D.W.
Over the past decade and a half, there's been endless evidence of Beyoncé's regal status. But the proof that'll endure the longest — even when today's twentysomethings are grandparents — just might be this "Rhythm Nation"-by-way-of-Houston anthem. Bey's power is encompassing enough to take over Super Bowl Weekend by sheer force of pro-black artistry; Peyton Manning's ride into the sunset was a sideshow to the "Formation" roll-out, and this year's Black Panther-inspired halftime show is already in sports-performance canon.
The track's video and the song itself feel juxtaposed: The former is a densely formed and historically wrought vision, while the latter draws power from its plainspokenness. In between the slinks that bounce along like jack-in-the-boxes and the New Orleans-inflected brass, Beyoncé fills the space with immediately identifiable features: the negro nose and Jackson 5 nostrils, the black entrepreneurial ambitions, and the creole ancestry. Every decision she's made — and she's making all of them — exists to accentuate those details and remind listeners that she's a black woman first and foremost. Beyoncé is a king, and those attributes are scepters. — B.J.