SPIN Rating:
Release Date:
March 04, 2016
Label:
Software
Arcology, the sophomore album from Thug Entrancer (a.k.a. Denver sound-clasher Ryan McRyhew), is very nerdy. Look at the song titles alone! "ROM" likely stands for read-only memory, "Arrakis" could only be a planet in sci-fi opus Dune, "Curaga" names a spell in video game odyssey Final Fantasy, and "Xeno" might refer to multiple things but given the aforementioned evidence is likely a live action role-playing series. Then there's the album title, a portmanteau of architecture and ecology, and the philosophy behind such progressive institutions as Arizona's communal living experiment, the Arcosanti. It's not the first time McRyhew's electronic experiments with Chicago-centric dance (i.e. juke, footwork, early house) have followed a thematic bent: His last record, 2014's Death After Life, was billed as a "tribute" to the music of his adopted Windy City. Arcology is very much an extension of that pulsing amalgamation of sounds, while filling out an expanded universe of technological touchstones.
https://youtube.com/watch?v=EevqLRiyykc
Take the album's videos, for instance. Like Daniel Lopatin, who runs Thug Entrancer's label Software Recording Company, McRyhew has always been visually oriented. The clips for "Ronin" and "Curaga"/"Low-Life" traverse black-and-white, retro-futuristic landscapes that might have been part of a three-dimensional Dark Castle, one with humanoid ravers nodding their head to the beat because they don't know how else to move their bodies. Musically, many of Arcology's offerings adhere to some kind of beat-based structure, but some meander with more freedom than Death's prescribed dance structures; in fact, "VR-Urge" and the title track are practically beatless. McRyhew really stretches his legs on the garbage-compacting "Low-Life," which grinds up and down a scale so deliberate it sounds like a child stomping up and down those musical stairs at science museums. Indeterminate objects whoosh around in the background, somewhere between Oneohtrix Point Never's circuit-broken meditations (and his own connections to the Teklife crew), and the droning exegeses of his acolyte James Ferraro.
https://youtube.com/watch?v=dRxfoEXDVlE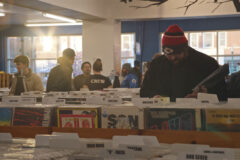 Thug Entrancer's deft juggling of rhythms and percussive textures — gamelan-like plinks bouncing off ohm-deep background bass and granular arpeggios — throughout Arcology shows both an understanding of his source material and a willingness to riff off of it, albeit respectfully. But despite his obvious technical prowess and the LP's well-placed titular LARPing references, Arcology doesn't quite click into rotation with the intellectual reward it's aiming for. Rather than focusing on oblique references to science fiction staples, Thug Entrancer could benefit from imbuing a little more emotion into his Chicago-indebted music; like the humor in DJ Paypal's footwork frenzies on Sold Out! or the inherent sadness and nostalgia of DJ Rashad and RP Boo's most recent (in the case of the former, posthumous) releases. It's more than likely McRyhew will reach that level of emotional resonance and personality in his own music: there's a kind of endearing artificial intelligence in how the burbling chugs of the multi-part composition "Wave Mage" have evolved from "I" to "II" to this record's "III." In the meantime, fear is still a mind killer.