Andrew Wyatt is unnecessarily apologetic when I mention that I was at Miike Snow's New York concert last Thursday. "Oh, you were at the terrible one," the singer says at the midtown Manhattan office of Atlantic Records, disguising a harsh self-critique as a joke. The recent concert at the 700-capacity venue (Le) Poisson Rouge was the Swedish trio's first live performance in nearly four years, and despite some enthusiastic takes on old favorites like "Silvia" and new cuts from their latest album, the newly released iii, it wasn't their proudest outing. During the opening number, the booming "Heart Is Full," Wyatt accidentally yanked on his mic a little too enthusiastically, and had to scramble for backups while technicians fixed his broken equipment.
Despite this, and a couple more minor mishaps — including some confused transitions and lengthy tuning times — it was a fun show, even though you could see (and hear) the band shaking the cobwebs off. "We're working our way towards the vision of how we want [live shows] to be," producer Pontus Winnberg explains, adding that "all those flaws and imperfections can create some kind of bond between the audience" for a more intimate show like the one at LPR.
In the long stretch since Miike Snow's sophomore LP, released in 2012, Wyatt put out a solo album, 2013's Descender, and worked on songs with the likes of Charli XCX and Emile Haynie, while the group's third member, Christian Karlsson, kept busy as one half of the big-room house duo Galantis. Karlsson's been so busy, in fact, that he was unable to make our interview, but SPIN sat down with Wyatt and Winnberg to talk about returning to the studio, past tension within the band, and songwriters retaking the spotlight.
Why was this the right time to get the gang back together for iii?
Andrew Wyatt: We were out of a deal — so in a weird way, we were kind of back to where we were on our first record. So we just did a bunch of songs, and there was a lot of enthusiasm for the songs that we made. We didn't feel like we had to do Miike Snow. We just did it because, I mean, I guess we felt like it would be a bit of a shame to leave it where we left it. When I say "leave it where we left it," I mean letting the sort of tough aspects of being in a band discolor your memory of being in a band.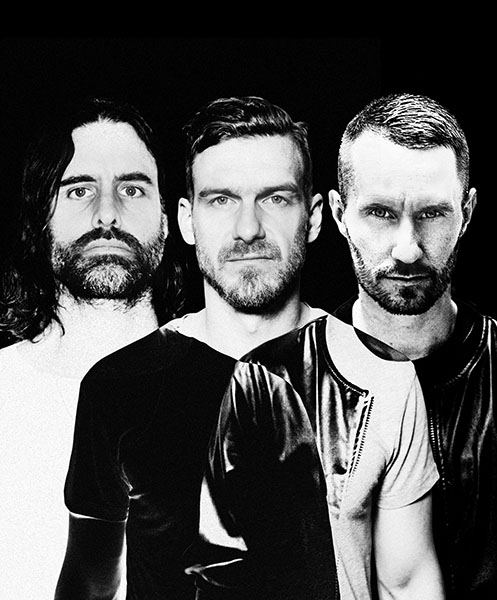 Are there any specific instances that come to mind?
Wyatt: I'm not going to get into details, but every band has their moments when things are tough. Just logistically, tough on your body, stress levels, psychologically tough, relationships can be tough. I think that we felt like it would be a shame to let that type of thing call the shots, so to speak. So we kind of sucked it up and had a little bit of faith and tried making some songs together.
Pontus Winnberg: I don't think we ever gave up the idea of making up another album, it was just like, "Okay we don't really have a solid idea."
Wyatt: I don't think we gave it up, but we definitely didn't… [turns to Winnberg] Come on, we knew at some point there was definitely maybe not going to be Miike Snow.
Winnberg: Yeah, I mean, but some way or another there was still work being done.
Wyatt: Yeah, it's true, but I don't think… At least for me — I don't know how you felt — there was a point at which I felt we might probably not do another record.
Speaking of that — I noticed that you only played one song from your second album, Happy To You. Is that because there are rough memories of that period, or just because you're figuring out the set?
Winnberg: We're still working on the set. [Laughs.] During rehearsals and everything it's been so fun to "rediscover" the old songs from the first album. A little bit more fun than playing the songs from the second album, basically because it's closer in time, but also I think that, musically, iii feels a little bit more connected with the first album… The first album had two major elements: One was kind of electronic, and the other was beats-y — a little more earthy sounding. I think that the second album more took the electronic side and ran with that, and this one took everything else, plus a couple of new things.
Why did you guys go with "Heart Is Full" for the first single? It's much more bombastic and wonky-sounding than the Miike Snow everyone was familiar with, and I know it took some people by surprise.
Wyatt: Actually, Brian Burton [Danger Mouse] was the guy who suggested to me that we go with that first. I totally disagree with the people who — whatever — hated on that song, or thought it didn't sound like us, or complained that we didn't give credit to the vocalist — who didn't want credit, incidentally. We offered! It was the most jarring reintroduction that we could do. The reason I thought it was interesting is because it sounded like if you took a Troggs song and a Just Blaze beat, which I haven't heard done before, so of course I want to do that!
Winnberg: But also if you have one track like that, that really stands out from the rest, isn't that the best place to put it? Rather than to have it somewhere floating around in the back? That's more of a fun thing to do. Just play around. It's just music! It's supposed to be fun! And that beat is phenomenal!
Do you guys have a favorite track from the album?
Wyatt: "My Trigger" is the best combination of song and track. "Heart Is Full" is maybe the best song we've done as a song, and that's why we try to play it in different ways, too, because I think for a lot of people the track was a bit distracting from the song.
Can you talk about that distinction? Track vs. song?
Wyatt: I think a "song" is, like, just play it on the guitar and sing it. You look out and see thousands of covers of "Animal" for example, so you think, "That was probably a pretty good song, because people feel like it's satisfying to just play it with one instrument accompanying it." There are other tracks that are more reliant upon the beat. Like nobody's going to sit there and play "Harlem Shake" on the guitar! It ain't gonna rack up the spins, you know? Maybe people are going to play it, but they're going to play that recording of "Harlem Shake" in the future. They're not going to do a different version of "Harlem Shake." There's no point.
Pontus, I know you and Christian co-wrote Britney Spears' "Toxic" along with a bunch of other big pop songs from that era, and you've also been active on the stage. It seemed like a few years ago there was a narrative forming where songwriters started coming more into their own — like Sia having a big resurgence and Charli XCX breaking out. Do you guys think this trend has always been there, or do you think that songwriting is getting more credit now?
Wyatt: It was gone for a while. There used to be a whole cult of the songwriter in the '60s. People would want to know who was behind this and that song. That's why Burt Bacharach became sort of a famous person in the '70s, or Glen Campbell, or even Neil Diamond started out writing big songs for other people. I think we're getting back to that. If Max Martin put out an album, you could guarantee it would be the No. 1 album on Billboard. Even Mark Ronson, although he's kind of coming from more of a DJ's side of things. I think there's always been a precedent for it. But I think at the particular time you guys [turns to Winnberg] were doing a lot of big, huge pop songs in the 2000s, that was a lull in that.
Winnberg: Yeah, then it was much more about the producer than the songwriter. It was all the Timbalands, and Darkchilds. People are kind of curious about what's going on behind the scenes.
Finally, I love your jackalope logo, but if you could have another mythical creature as Miike Snow's logo, what would you choose?
Wyatt: I would choose the Valkyrie. [At this point Wyatt stands up with his back to me, arms akimbo, displaying the epic Valkyrie painted on the back of his leather jacket.]
Winnberg: I'll have the wolpertinger, which is a jackalope but it has the back of a bird.
Wyatt: A pheasant.