No, Junglepussy's father wasn't aware of his 24-year-old daughter's alter ego, which is brazen even for rap. In late 2013, the East New York native formerly known only as Shayna McHayle confirmed to Oyster that her father didn't know about her rap career, or her potentially shocking choice of pseudonym. But last December, when we meet up for tea at Manhattan's Happy Bones café, she'd finally broken the news to him the week before.
"No secrets, I'm free!" she says, grinning from behind her sunglasses.
How did he take it? "I told my big sister and I was like, 'Tell him, I don't even care no more.' I was in New York magazine and we had a bunch of copies at the house and I was like, 'Show him the magazine.' Then she and I ran into the bathroom. He knew already!"
But not before he inadvertently contributed to her Internet success. "He's a very good handyman and electrician; he's built me so many things for my music videos, like tire swings, all kinds of stuff," McHayle explains. "I told him it was for a photo shoot," she says slyly. "Now that I've told him, it's just gonna help me get more stuff done. 'Daddy! I need this!'"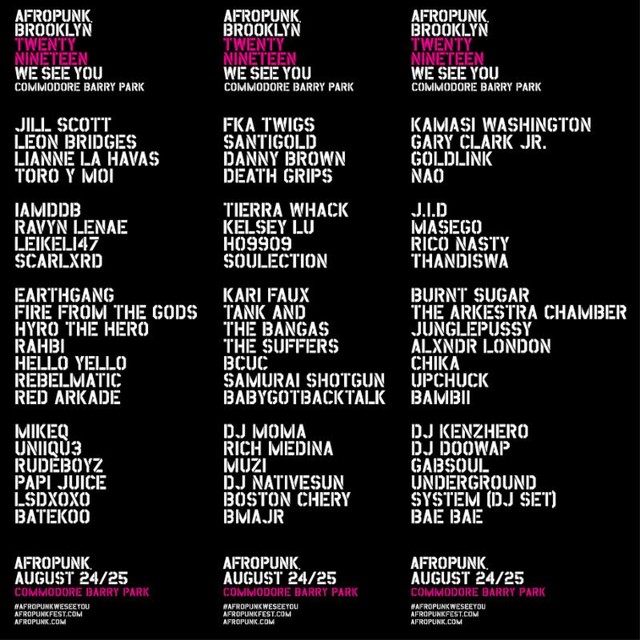 The rest of her family also supports her, and never seemed to have qualms about the name (Sway Calloway of Sirius XM likewise surprised her by saying it on the air five times during her visit). McHayle swears she only kept her Junglepussy identity hush-hush because she didn't want her family to know before she had something to show for it. Having made early fans out of Erykah Badu, who showed her love on Twitter, and Lil' Kim, who handpicked her to open a gig, it's safe to say she has reason to feel accomplished.
Junglepussy began — where else? — on Twitter in 2008, as a fantasy persona the then-H&M and -Diesel employee was encouraged to cultivate on friends' mixtapes, either by hosting them or ad-libbing onto the songs. With blunt charm to spare, it's no surprise that the polymath who absorbed Missy Elliott, Metric, and Soulja Boy ("the original Internet money maker") by the 2010s was starting to think of herself in headliner terms. Even her unhurried music reflects that casual transition, such as when she coos, "This pussy don't pop for you," in a gently mocking singsong as if improvising in the shower to entertain herself. Next thing she knew, it was a song.
"I wanted 'Pop for You' to be like an interlude or skit," McHayle explains. "When [New York-via-Texas producer] Shy Guy heard it, he was like, 'Oh my God, can I make a beat for it? Let's do a full song!' And then it turned into that." Ironically, the track she's proudest of is this past fall's "Somebody," which is "the only song that's PG-13," with no curses. "I'm like, 'Go me! No dicks and pussies in it!'" she says.
Of course Badu is a kindred spirit: The way the R&B icon calmly reports intense relationship dynamics in song has affected Junglepussy's own nonchalantly intimate couplets like, "While my hair wrapped up, I still be looking good / Wake up next to me and you gonna get that morning wood." Even Badu's current extracurricular gig as a doula who helps deliver babies inspires McHayle: "That's how I feel sometimes too, like, you never know where I'll be at 40. I might be a gynecologist: Doctor Junglepussy."
As of now, McHayle's artistic moniker is synonymous with her excellent, Shy Guy-produced sophomore album, Pregnant With Success, released in November of 2015 to follow her well-received 2014 debut, Satisfaction Guaranteed.
"This time, I really got to dive into myself, my sea of emotions, and it was more fun," McHayle says. Indeed, Success earns the rare distinction of being a fun breakup record; catch the skit where she bemoans one guy who merely gave her animal-print underwear while she's got dudes "taking [her] to see live animals." None of her exes dared complain about showing up in her songs, though. "Everybody leaves me alone. They're all scared, I'm a big monster," she says, cackling.
McHayle says she isn't friends with any of her exes — perhaps because she writes about them? "Well not even that, it's 'cause they're just f**king liars," she says. "It's just impossible for me to be trusting someone who's just done me so wrong. It always seems cool when other people are like, 'Oh, I'm good friends with my ex.' I'm like, how?"
McHayle is currently writing material that's less dependent on old relationships — "I don't want to complain anymore," she says — but Junglepussy's songs, which are as steeped in languid R&B as hip-hop, are far from whiny. They're more conversational, casual like venting around the table with friends, which is often where her verses come from in the first place. (She's been known to take 15 voice notes a day.) In her raps, she nails an advisory tone that's never preachy, always cool. Success' trip-hop-paced opener, "Spicy103 FM," even casts her as a radio-show host helping call-in listeners. "Mostly the girls, they'll be like, 'Thank you,' and the guys will be like, 'Bitch!'"
When asked about a potential Badu collaboration, the normally outsized personality becomes shy. "What am I gonna do, slide in her DMs?" she asks, laughing. "I already slid, slipped, and slithered. I guess I'm not aggressive enough… I don't want to force any connections or force any music. I really love how it all comes out when it's just natural."
McHayle doesn't even want to force you to say her name in its entirety if it makes you uncomfortable. "It's not my government name! You can use J.P., J-Puss," she clarifies. "There's so many remixes to it, you know? Have fun with it, I'm not asking you to tattoo it on your children's foreheads."