Aside from Kendrick Lamar's breathtaking performance, this year's Grammy Awards were universally acknowledged to be the most boring in recent memory — but comedian Wyatt Cenac, whose 2014 record Brooklyn was a contender for Best Comedy Album, still found something to say about them. "The most interesting part of it, to me, was the fact that you get nominated, and they give you one ticket," he tells SPIN over the phone from his Brooklyn apartment, where he's just returned following an appearance on Conan in Los Angeles. "If want to bring somebody, it comes out to $700. Needless to say, I went by myself because there's nobody in my life I want to spend $700 on."
This observation is indicative of Cenac's dry, understated style, which did not win a Grammy but has won several Emmys (for his stint as a writer on The Daily Show with Jon Stewart). On his recently released stand-up album, Furry Dumb Fighter, the 39-year-old continues to good-naturedly skewer pop culture's less savory aspects with a winning combination of pithy remarks interspersed with winding soliloquies. Over the course of 13 tracks, Cenac says the Kardashians are the closest thing America has to a royal family ("If Kris Jenner is our queen, that makes Kanye West our Kate Middleton"), pictures subway rats as characters in Game of Thrones, and complains that he can't wear sweaters anymore because of Bill Cosby.
He may not mine his musical tastes for comedic material on Fighter, but as SPIN finds out, Cenac is a total music nerd: embarrassing himself with how much vinyl he buys and obsessively trawling the Internet for jazz samples in his favorite '90s hip-hop songs. Find out more below.
I was just listening to your "Airplane Seat Buddies" bit. What do you usually listen to on airplanes?
Flights are a good way to catch up on podcasts, but I'll listen to some jazz to fall asleep. Miles Davis' In A Silent Way, and a bunch of different albums by Bobbi Humphrey, Donald Byrd, Freddie Hubbard. I listen to a lot of Freddie Hubbard.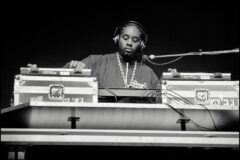 It sounds like you have quite an extensive knowledge of jazz. How did you get into it?
Through hip hop — once I started figuring out there were these records sampled that turned into songs that I enjoy, like the Pharcyde's "Runnin'," which samples Stan Getz [1973's "Saudade Vem Correndo"]. I'd look through liner notes, see what songs they sampled. For a long time I'd been on a search to find Quincy Jones' "Summer in the City," which was in [the Pharcyde's 1993 track] "Passin' Me By." That's out of print, so I think that may have been one of the first things that I downloaded illegally. Somebody had a blog where they were transferring out-of-print jazz records to mp3. 
Do you remember the first album that you bought with your own money?
The first one I bought with my own money might've been a Cypress Hill record. I never actually got to open it because it had a "Parental Advisory" sticker on it, so my mother confiscated it. She was going to listen to it first, and if it was okay, give it to me. And she never gave it back to me. I don't even know if she listened to it. I don't think it was even unwrapped. She could've very easily taken it back to the store and gotten [seven dollars] back.
What was the first artist or band that you had a major crush on?
Erykah Badu was big. I'm from Dallas, she's from Dallas, so there was A) a sense of hometown pride, and B) her music pushed boundaries and is always pushing the envelope. She has been a part of the soundtrack of the last 20 years of my life. I wonder if in 30 to 40 years there will be a documentary about her that's sort of a rediscovery, because she really doesn't get enough attention and praise. [But You Caint Use My Phone] was great. It was almost enough to make me sign up to Apple Music.
Are you going to sign up for TIDAL to listen to The Life of Pablo?
Somebody will find a way for me to be able to listen to it without having to sign up. I don't listen to new stuff enough, that I feel like it's justifiable. I'm kind of going backwards, because if I'm on the road and I need to kill time, I'll wind up going to a record store and buying records. I did that yesterday when I was in Los Angeles; I had three hours to kill before I went to Conan, so I went into a record store and bought some jazz and comedy records I'd never heard before. But I didn't go crazy. Sometimes I've gone into a record store and embarrassed myself with the amount of stuff I have to lug.
Do you remember the last time you were embarrassed by your purchases at a record store?
Yeah, I went to A1 Record Shop in [New York City]. I had kind of gone in like, "I'll buy, like, five records" and I wound up just filling a heavy, heavy, heavy bag. That's not the worst. The worst was in Providence, Rhode Island. I was there for a day and went into three record shops, and I wound up having to buy a bag to carry all the records I bought.
Who have you worked with, or shared the stage with, that you've also shared music with?
There's a comedian named Jen Kirkman, a good friend, who was talking about Morrissey one day, and I can't name a Morrissey song. She was shocked I didn't know anything about Morrissey, so much so that when I jokingly said, "His music is kind of like Tears for Fears, right?" she got upset. Then I asked her if she ever heard of Jodeci, and she didn't, so we were two people sharing our high school musicians whose names kind of rhyme.
When did you come to this realization?
We were both in Australia last year for the Melbourne [International] Comedy Festival. We were having that conversation and then I would torment her with various artists I knew weren't Morrissey. I was like, "Morrissey did that song 'Take On Me,' right?" and she'd get really pissed. She was like, "That's not Morrissey. You really believe that my high school was spent sitting in my room listening to 'Take On Me' by a-ha?"
Morrissey fans are notorious for not having a sense of humor.
They're very committed. Morrissey is kind of like the Ron Paul of music: He has an ardent fanbase, and they don't understand why you don't get [his music], and why you can't see that he has a plan for the future. I don't know if Morrissey would like to be called the Ron Paul of music.