When Santigold started the year-long process behind her third LP, 99¢, she had no idea what instant grats ("instant gratifications") were. "We went to YouTube to meet with the product manager and the digital person, and they were explaining it's where they release all these free songs before the record comes out, and then video for all that stuff, and Tumblr, and this and that," she tells SPIN at a pizza restaurant in Brooklyn's Bedford-Stuyvesant neighborhood. "It's like, 'We have to have content!' That's new. My last record wasn't like that."
A lot has changed since 2008, when Santi White — then known as Santogold — erupted from the wide-eyed DIY music scene of 2000s New York with Santogold, an album of polyglot pop that drew from West Indian street parties, London's dimmest dance clubs, and the garage-glam rock of the Lower East Side. Then, around the turn of the millennium's second decade, "all the great things that people were doing just got streamlined into the song-machine system," White recalls. "You got these big pop stars who didn't know anything about [music from other cultures] and took little pieces and ran with it." (Case in point: She's claimed in the past to have introduced Beyoncé to Diplo's 2009 dancehall/baile funk fusion "Pon de Floor," sampled on 2011's anthemic "Run the World (Girls).")
Her sophomore album, 2012's Master of My Make-Believe, addressed commercial pop music's increasingly bland direction with stylishly righteous — and often misinterpreted — rage: Many assumed the video for album fire-starter "Big Mouth" was a dig at Lady Gaga and Katy Perry, who looked suspiciously like a few cartoons in the clip. (It wasn't.)
But Santigold's third album — 99¢, out February 26 on Atlantic — leaves all that behind. "I had to have a talk with myself this time," White says. "I was like, 'This is what it is. I'm gonna have a good time this time.'" So she opened herself up to working with new people, like Swedish producer Patrik Berger, manufacturer of pop hits like Icona Pop's glossy banger "I Love It," and Ariel Rechtshaid affiliate Justin Raisen. Riding the energy of having a new baby and a new attitude, White reappeared with singles like the jubilant "Can't Get Enough of Myself" and tropical-touched "Banshee." She even embraced "instant grats" like her Steve Madden-sponsored show at Music Hall of Williamsburg back in August, when she first hinted publicly at new music.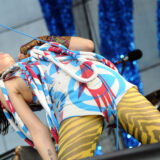 In January, White carved some time out of a schedule so packed she doesn't even have time to exercise  ("I literally am just trying to be a mom and do all the record stuff") to walk SPIN through her career thus far. 
On 99¢, you comment a lot about product and the commodification of things, and content is a form of product.
I spend way more time on marketing than I do making music. And that's the thing. You have to do all this other stuff to figure out how to make an income so you can keep making music. It's this weird dance. How much better would the music be if you got to spend so much more time making music? People think that I spend so much time [making music] because my records take forever to come out.
Your records come out with four years between them. Do you feel like each one is representative of a different period in your life?
Yeah. Even if they came out within two years, they would each be [too similar]. More records used to come out with that gap, back in the days of not putting out a record a year.
When is "back in the days" for you? 
The '90s, or when people actually made music and then put the records out. Now you get these super-producers and these factory-line songwriters, and the artists just come in and [makes beeping noises]. That's how you produce records — like, churned out — and people expect that, and they like that, and they don't mind. Back then, you had to take time to figure out what you're going to say and write and produce it. In that time, you get to grow as an artist and figure out where you've gone from here to there. The records were more reflective of, "This is who I am now, and now, and now."
"The social media thing is insane. It's not really about the music, it's about how you can be seen."
How else are things now different from back then?
The social media thing is insane. The constant engagement with the public, not even just your fans. It's not really about the music, it's about how you can be seen. The values have changed so much. If your music's good, that's great, and that will matter in the long run, so I'm still invested in that. But getting the attention is a new beast. On this record and in this whole rollout, I'm actually interested in it, and I'm making art out of that exploration. It's fascinating, and it's totally absurd, and it's crazy, and — it's really not great.
What interests you about social media?
Well, there's so many things, but the one thing is the lack of distinction between virtual and real. People really can't tell the difference anymore. This is kind of weird and has nothing to do with it, but it does in my mind: Did you see that movie The Wolfpack? When the kid goes out in the real world with the mask on, 'cause he's scared, and he's just like, "If I wear this mask, no one will really see me, 'cause I'll be invisible anyway," even though he wasn't sure if he believed that or not? It's like the way people understand themselves through how many "likes" they get. They're forming their identities around interactions with people. They're not even interacting with the real people that they think they are, like Catfish. And people don't really view experience the same as they used to. I have friends who are celebrities and musicians, DJs, who plan what they're gonna do for their f**king Instagram pictures.
Do you ever get nostalgic for when you released Santogold in 2008? A lot of people glorify New York between 2000 and 2010 as this great frontier of music.
All the way up to now, I glorify. I feel like David Byrne is a great example of someone who is always in the now moment of music and finding reasons to be excited and always seeing what's special about it. I can sit back and be like, "It used to be better," but nobody wants to hear that. "Run the Races" is about [that]: If you want people to hear your message, you have to be in the race, you have to play the game. If you want to talk about it, then make it fun, make it playful, and make it art. And that's what I did with this record. The reason I make music is so that I can influence people and inspire people, but I also want to make music that I feel happy about and that I feel is good. The challenge, which is why it's worth keeping going, is to constantly strive to figure out where the meeting place is. I'm trying to not be the nostalgic, [even though] there are so many things that were better.
Like what?
In hip-hop, for example, there were groups. Each group had their own producer, and a lot of times they had several members, and each member had their own persona. So you had all these different personalities. And then the producer was trying to make a completely different sound than everything else out there. Every group had to have their own sound and their own identity. And if you didn't, you would be laughed out of town; you were not a legit hip-hop group. No one cared about you when you didn't sound different. You'd be like, "Wow, this is wack." Now, super-producers do everybody's stuff, and you get the topline writers in Los Angeles — 'cause everybody's exit is to L.A. — and then the pop stars come sing the record. That's the model. And I like pop music! I just think there's not as much variation and diversity. That's why people's attention spans are so short for music, partly 'cause there's so much there, but there's so little that's great.
Master of My Make-Believe had so much fiery energy, almost anger. You said you were in a happier place when you were making this record and it does seem like that.
I chose to have a different experience because you still run into the same frustrations. Making a record's really hard. You deal with the money stuff — you never have the budget you need. You're working with so many egos. You kind of feel alone; like on Friday night, I'm at the studio by myself, no one cares, no one knows where I am. If I die, no one knows. As you get older, you learn how to manage your expectations and deal with hardships and you figure out, "I don't want it to go like this." So I had to have a talk with myself: "I'm gonna have a good time."
Plus I just had a baby, and he was so cute and had so much joy. I wasn't gonna leave him [to work in the studio] and have a bad time. And I worked with all these new producers. That can be really scary, but after a while you need some fresh energy. I was nervous about it but then I got in there with my new attitude and I was like, "This is so much fun!" I met some great new musical kin. Patrik Berger, I love. Everyone's like, "The Swedes, the Swedes." That's the L.A. term, because there are so many Swedish musicians and producers. He came with all of this African something, and this old Jamaican other thing. [He's] this Charli XCX and Robyn guy, and he loves deep-in-the-crates stuff!
Then I went in with Rostam Batmanglij [of Vampire Weekend], who was like, "I was thinking of doing some old traditional reggae style, but you should rap on it really fast." And I'm like, "I've been listening to Bone Thugs, let's do it!" When it was Justin Raisen, he was like, "Let's do a punk-rock song." They had done their research and they were f**king good. It was just a lighter experience.
[featuredStoryParallax id="183518″ thumb="http://static.spin.com/files/2016/02/Santigold-mustard-by-Christelle-de-Castro-300×121.jpg"]
That seems to be a result of what the Internet brings, aside from the collapse of the virtual and the real. It puts people in touch with really old YouTube videos and songs.
But that's one of the biggest fears of mine. In this new culture where everything is so disposable and so right now, I hope that people still know the old music. When I was growing up, you were only cool in music if you knew your music history. You would never say you're a producer without having crates of records. So now, I talk to these producers, and I'm like, "What are you listening to?" and they're like, "I get my beats off the Internet." They come and kill it with their couple of sounds. Great. But what if people didn't know Marvin Gaye and Joni Mitchell and Led Zeppelin?
I have a nephew about to turn 19. I took him on tour with me when he was 15, and I've seen him turn into this super-cool kid. It's very helpful to me and my career. "What do kids like?" I ask him. He's into Sade. He posted a picture of a goat — "greatest of all time" — which, I didn't know he meant G.O.A.T. Just the fact that he's listening to Sade and Nirvana gives me hope. I didn't listen to music that was just around when I was a kid. That would've sucked. My dad was taking me to see Féla Kuti when I was seven years old — James Brown, Nina Simone. As an artist, that helps you form all this stuff.
Since 2008, how's your collaborative process with producers and co-writers changed?
It's changed. In 2008, it was a bunch of us hungry and hopeful, just in a room, we didn't really expect anything.
You and who else?
Diplo, John Hill, and Switch, just writing songs and having fun and being experimental. Now, everybody has a lot of expectations, kids, families. People wanna make money. Now people are like, "I got three days for you." Which is not enough time! This is the industry of f**king huge radio-pop hits, and radio-pop hits sound like this. It's because you can't make any money in music, and these super-producers and writers trying to sell songs to Beyoncé and Rihanna want to support their families and be able to sustain something that they love. They might still be trying to do cool stuff on the side, but it has to be very little time if they've gotta pay their studio bills. The record companies stopped making money, too, and that's when they got scared, and everybody clamped down. I don't think I'm a small-change artist, but it shouldn't have to be a labor of love.
Vampire Weekend had their first album the same year that you did. Did you and Rostam ever talk about or see his evolution as an artist reflected in your own?
I was friends with Ezra [Koenig of Vampire Weekend] for a while, even from back then, and Rostam, we became even [friendlier] through this process. I have talked to them over the years quite a bit, and the thing about them and me is I'm not in a group, I don't have to deal with anybody else. Over years, can you imagine? Like in a relationship, people grow in different ways. And to have to keep moving together? It's fun to see them play in pop in different ways. Rostam is super-positive about our music industry, and he's my favorite on this record, too. He always brings the unexpected to a track, and that's the most basic rule of making a Santigold song: You have to bring a twist. He has such a common sensibility of bass sounds, drum sounds, 'cause I'm such a sound-specific person.
"Making a record's really hard. You kind of feel alone; like on Friday night, I'm at the studio by myself, no one cares."
Speaking of sounds, what's so amazing is that Santogold endures, still. It's of that time but still timeless. Did you have any idea that it would continue to sound that way? Does it still sound that way to you?
I can't listen to it that much. But I did listen to it at one point while I was making [99¢], and I was like, "That's a good record." If you make music that's right on trend, it might propel you to somewhere else, but that song is gonna have a moment and be disposable. Some of it is a play on, like, the '80s station. And you get it, and you like 'em — it's the nostalgia thing. The real endurable music, the stuff that plays over and over through your life, are the songs that come out of somebody's mind, rather than an era.
Do you remember the last time you heard one of your songs in public?
Last year when I did the record cover photo shoot in Williamsburg. I had these insane nails on. That was the first time I ever got acrylics, and they hurt so bad! They take a hard file, and they go over the whole surface, so that the acrylic can adhere. Nobody wanted to take them off of me. I had to beg this place. They got one of those medical things that you scrape off nails and they would [makes whirring drill noise]. I had just done that, and I had pedicure slippers on. I looked crazy. And I was like, "I'm gonna go get a salad, really quick, so I can go home."
I was standing in Sweetgreen and then my song came on. Maybe it was "Lights Out." Those songs are in my body. I don't have a normal listening experience because I perform them so much. Next thing I knew, I was standing at the counter paying, singing along, and this guy goes, "No way." And I just looked at him and I started laughing, and I go, "Oh no."
Have you been living in this same neighborhood the whole time you've been in New York? How has that changed?
Drastically. When I lived in Fort Greene, it was like Bed-Stuy five years ago. There was one white person. There were drug dealers on the corner and no baby strollers. When I lived in Williamsburg for the first time [in the '90s], there was one restaurant, Planet Thailand, a hole in the wall on Bedford. The neighborhood was just Polish and Latino. All the delis were that. And the train ran only every 20 minutes. When I told people that I was living in Williamsburg. They were like, "Virginia?" New Yorkers, they had never heard of Williamsburg. And then I lived there again in '98, and it was artists and it was just industrial, you could do photo shoots on the street. You could park everywhere. It was just like the Wild West.
I'm from Philadelphia, so the neighborhood I grew up in looks exactly the same as when I left. I mean, there are neighborhoods in Philadelphia that have changed, but nothing like what I've seen here. New York was in such a place after the '80s, when everyone moved to the suburbs. I wasn't around for that, but you see it in movies, like [TV series] Numb3rs, where everyone's taking the Metro North train to the city. Or even Desperately Seeking Susan. But anyway, in the '90s, I remember going to Alphabet City, and being like, "Oh my God, I'm so scared." Or CBGB! My old band used to play at CBGB.
[featuredStoryParallax id="183520″ thumb="http://static.spin.com/files/2016/02/Santigold-by-Christelle-de-Castro-gen1-300×121.jpg"]
What was that like?
It was my band Stiffed, this post-punk, new-wave band. We were getting so much press. I moved back to Philly to sneak away from it, 'cause I had been living in New York but I wanted to learn how to sing and have some space to not make money and work on music. Also, here, I was working with record companies; I wrote a record for this girl and was getting attention as a songwriter, and I didn't want to come out in that attention. Then I came back, and it was so intimidating. There was so much press and all these people, but I played CBGB and f**king killed that show. I'm not going to say that's one of my ultimate moments — but it was a moment where you felt you were legitimized. I played with Bad Brains and then went on tour with the lead singer, H.R., my idol.
When did you tour with them?
This was with my old band still, in 2001. I was with him on September 11. We were on our way back to L.A. and we stopped at a Wendy's in Nevada, where someone told us, so we went into this casino in Nevada, and we saw it on a big-screen TV. You wanna know the craziest part of this?
I do.
I found this journal that I had written in 1998. I'm describing this dream, and I'm like, "I just had the worst dream. I was in Vegas and I watched as a plane flew into the Twin Towers." And it went on: "People were running and everyone was so scared." It said I was watching on this huge window in Vegas, but there was a screen that looked like a window-sized screen, in the casino in Nevada, and that's where I watched it. And that was in 1998.
That's insane.
I was doing those "Morning Pages" at the time — you ever hear about The Artist's Way? It was this book I got in college, and it's all about how to unlock your creativity. Basically, every day when you wake up, you write three pages without stopping, no matter what. It's getting out the trash of your brain, or maybe it's something you need to remember. The idea is that in the morning, when your brain isn't all the way into focus, that you're open to all kinds of stuff that you don't even carry with you into the day. I only did the "Morning Pages" journal for, like, three days, three entries. And that was one of them.
Have you ever had music come to you in your dreams?
All the time. That's why I say half the time I don't even know where some of the stuff comes from. I use vocabulary words that I don't know; I have to look them up and they're exactly right. Whole bass lines will just come in a dream. I used to just roll over and sing it and go back to sleep. I sing melody first and I sing this gibberish and then I get lyrics from the gibberish, and usually it tells me what I'm supposed to be talking about on the song. Because I'm such an OCD person, I'm like, "It has to have the same vowel sounds and the same exact rhythm and it has to start with a kuh." And that was what they were planned for — the songs.
Correction: An original version of this story stated that Diplo's "Pon De Floor" was sampled on Beyoncé's "Single Ladies (Put a Ring On It)." The song is actually sampled on "Run the World (Girls)."