SPIN Rating:
Release Date:
May 01, 2012
Label:
Downtown/Atlantic
Soothsayers think we're at the dystopian end of the Age of Aquarius; if so, Santigold is riding out like a boss. The Brooklyn-based pop songwriter's follow-up to her eponymous 2008 debut is crackling with discontent — with the fame game, with the political machine, with fools who think they can top her — and it's electrified by her refusal to wallow in it, pushing back via steely alto vocals and a defiantly open spirit. Her producers (Switch, Diplo, Dave Sitek, and John Hill, among others) accept her challenge, piecing together beats that both directly allude to the global bass underground and rise above it. "I'm so damn gold," she brags on the sproingy, footwork-inspired "Look at These Hoes," and the sentiment pervades the album, even on those songs where she's clearly looking inward. Master of My Make-Believe turns friction into fire, its flippantly skewed pop anthems doubling as obviously personal documents of Santi White's unwillingness to let anyone get over on her.
One of the most common complaints about empowered-woman pop is that it lacks nuance: Beyoncé's "Girls Run the World" or Rihanna's overall sexual dominance are abstract declarations, or outsize generalizations, or are simply meant to titillate (read: $$$). Santigold has clearly considered the predicament of the pop star — her album cover depicts her as goddess, gangster, and conquerer — and she's made the choice to problematize it, though every song here is still catchy in its own way. Lead single "Big Mouth" might sound like a vague overture to the current pop climate, but mostly the current pop climate has had to catch up with her. And if you can hear parallels between that song and the syncopated pops of "Pon Di Floor," the Major Lazer track Beyoncé copped for "Girls," don't blame her producers: Major Lazer's Switch and Diplo have worked with White since at least 2007, and have no doubt absorbed her polyglot impulses.
Besides footwork, Master has old- and new-school dancehall throbbing in its heart ("Pirate in the Water" and "Freak Like Me," respectively), with overtures to related genres like "bubbling," a Dutch-born take on super-sped-up dancehall (the itchy, mischievous "Fame"), and a clutch of tuff-gnarled new-wave ballads that fill out the album's moral center. From there on, the main ingredient is bravery. "God From the Machine," which kicks off with a chorus of cherubs and Santi resolutely cooing, "You can make it alone if you try," is full of encouragement and promise, a lovely sentiment that bolsters the record's calls to arms. Her riots are deceptively gentle — redemption song "Disparate Youth" sounds full of love and ready to change the world — but her strength of will gives it an immediate power, like the Clash at their most party-rocking.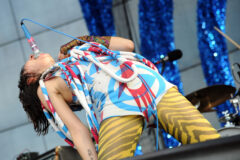 There are no broad-stroke political statements here — the Siouxsie-alluding "The Keepers," with its chorus addressing a crumbling America, is as close as she gets, but then again, it could be a break-up ballad. Though she's captured the revolutionary spirit of the past year (including the Arab Spring), she's not big on total clarity: Search the lyrics of "Big Mouth," and you'll find at least four totally different interpretations, only one of which seems vaguely plausible. (urbanlyrics.com's "If strong strong why play debutante," as opposed to azlyrics.com's "Who's strong shall wipe their debut on.")
Still, the plainest purpose of Master is generosity: Each song burns bright, each listen reveals a little more empathy. White is one of our most fervent vocalists, nothing too spectacular or flashy, but she's always wading into optimism with a bit of snarl. At times she can be almost robotic — her signature tic of staying on a single note for an entire phrase (something that smattered her debut, too) — but the repetition is strategic, an angle to make us comfortable. The familiarity breeds warmth. And, if you'll pardon the Yeah Yeah Yeahs reference (both Karen O and Nick Zinner chip in, though Karen's jittery duet "Go!" is the album's only slight misstep), "The Riot's Gone" is Santigold's "Maps," the stuff of rainy make-outs and prom-dance outros.
And there's the crux: Amid all the fight songs, Santigold's sensitive interludes only bolster her power, her harmonies rendered more invincible for their vulnerability. If she's spent the last four years soul-searching, as some of her lyrics imply, she's found it in abundance. And if the Mayans were right, and 2012 is really the end of the world, Master of My Make-Believe is an album you'd be happy to beam up to.