SPIN Rating:
Release Date:
January 29, 2016
Label:
BWA / Atlantic
Way back on the intro to his 2012 mixtape Make 'Em Believe, Kevin Gates boasted, "I got more than one major willing to sign me." Before signing with Atlantic Records in 2013, the Baton Rouge native almost joined Young Money, and at the time rumors floated of a bidding war between the two labels for his services. But Atlantic's handling of Gates since has been somewhat mystifying. Over the next two years, more mixtapes followed — some highlighting his melodic tunefulness (2013's The Luca Brasi Story) and others prioritizing his faculty for clenched-teeth street rap (2014's By Any Means) — but rumblings of the full-length major-label debut were few and far between.
With the release of Islah (his daughter's name and pronounced Ees-lah), a well-calibrated continuation of the emo-trap sound Gates has been honing over the last few years, Atlantic's long game finally comes into focus. In what would be an audacious move for most rappers, Islah is a major-label debut that stretches past 15 songs and features exactly zero guests. (Even Fetty Wap's cameo-shy debut frequently brought in his sidekick Monty.) In other words, Atlantic gets what about Kevin Gates appeals to his fanbase: Kevin Gates. And while it's refreshing that a major label, in 2016, has enough faith in a regional star to let him do what brought him to the dance in the first place, Islah also happens to be the most-balanced Kevin Gates project to date, discovering an equilibrium between his pummelers and his caressers we didn't previously know was possible.
Street anthems that could pass for love songs and love songs that could pass for street anthems: This is what Gates does best. Islah finds the rapper pushing his formula even further, whether it's opener "Not the Only One," one of the most virtuosic displays of pure rapping you're likely to hear this year, or the twinkling "Ain't Too Hard," which features perhaps his most vulnerable confession yet: "My mother left when I was young / I'm commitment-shy so when my feelings get involved, I tend to run / Sometimes emotions get the best of me, clearly / I ain't never try to straddle no fences."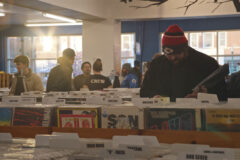 This heart-on-his-sleeve directness is a large part of Gates' draw. He's the kind of rapper who sounds like he's always on the verge of an emotional breakdown, rapping his ass off in an attempt to at least delay if not prevent one. On "The Truth," he addresses the incident last fall where he kicked an 18-year-old woman in the chest at one of his shows: "She grabbed my dick, overreacted, I'm sorry / Two or three times I had already warned her." Both an apology and an attempt to defend his actions, this is the brand of complicated honesty in which he trades. And after a year in which his extramusical actions overshadowed his music and threatened to turn him into a caricature, Islah proves that Kevin Gates is still a living, breathing person — and a fascinating one at that.