It's a couple of days after New Years and Kevin Gates and I are on the seventh floor of the Beverly Center mall in Los Angeles, trying to find the elevator. He's telling me about how he just recently got really into the lunar calendar. He's eating mini-pretzels, dipping each one in jalepeño-cheese sauce, popping them casually in his mouth, which just so happens to contain several diamond-encrusted teeth. "I was born on a full moon," he says. "Both my children were born on full moons, too. Some people say that's scary. It is what it is, man, I don't be trippin'. I couldn't tell God when I wanted to be born."
When you are with Kevin Gates, you must prepare yourself to accept the things that Kevin Gates says. The Baton Rouge, Louisiana rapper will talk to you about meditation, he will talk to you about strippers, he will talk to you about his children, he will talk to you about accepting your own helplessness in the face of the crushing, f**ked-up totality that is life. He will say all of these things in the same genteel grumble, and he will not announce when he has elected to switch between polar opposites: of optimism and fatalism, depth and frivolity, talking about how dope Wetzel's Pretzels are and the fate that may or may not be written in the moon and stars.
"I was born on a full moon," he says again, this time letting his words trail off into the distance. This is one of the things Kevin Gates does, signaling he's done talking about something by repeating a phrase, like a refrain, bookending a thought that is completed to him and him alone.
Now is a great time to be in the Kevin Gates business. After years of stardom in his native Louisiana, mixtape after mixtape after mixtape, flirtations with major-label cliques, near-hits and valiant misses, tracks with Juvenile, JT the Bigga Figga, Jim Jones, Jeezy, and Juicy J, bounce songs, reggae songs, trap songs, rock songs, love songs, fight songs, driving songs, acoustic songs, zydeco songs, ill-advised Furious 7 soundtrack songs, story-raps delivered over beats pounded out on his own chest, grinding and jail time and blown chances and gossip-site headlines, it seems that if the 29 year-old rapper is to have a time, that time is now.
His "Really Really" single, an anthemic, organ-led tour de force in the vein of T.I.'s "What U Know" and Jeezy's "I Luv It," is a bona fide hit, with a combined 17 million YouTube views, more than eight million Spotify streams, and even a sneaky appearance on the Billboard Hot 100. His debut album, Islah, is due out January 29, and does the quintessential Kevin Gates-ian trick of merging tough talk, wordplay, and cutting emotional honesty, oftentimes on the same song. "[Music] is therapeutic for me," he says. "Sometimes I use it as a way to vent."
It's that exact impulse, to tell self-consciousness it can go throw itself down a well and instead lay down his deepest insecurities on wax, that helps explain why Gates is such a devastatingly effective rapper. Unlike, say, Drake, whose emoting tends to be couched in cynical overtures towards "relatability," Gates forges a connection with the listener by lending a certain air of unease to his lyrics. Where Drake's lyrics seem designed to be posted as Facebook statuses, Gates often raps about the s**t you're not even supposed to think, let alone tell anyone.
To wit, Islah's whose most poignant cut is the acoustic ballad "Hard For," which features the gut-punch of a hook, "You the only one that my dick'll get hard for / I'm confused, what the f**k you want my heart for?" Says Dre Edwards of the Baton Rouge hip-hop blog Dirty Glove Bastard, "You're not going to find many men that would say that out loud. He's known for that openness, saying stuff that other rappers would be afraid to say because they're afraid of looking soft or not-street." Another song features the chorus, "I ain't too hard to tell you how I feel," which given conceit of "Hard For," goes without saying.
"I love his range and his rawness," says Nashville's Starlito, who Gates tells me is his favorite rapper. The pair are close friends — Starlito attended Gates' wedding — and are planning an EP together. Gates and 'Lito met a few years ago, he says, when a mutual admiration led to an Atlanta studio session. "It was kinda cool because we were alone, both away from our hometowns," says 'Lito. "That first session we did three songs over the course of an eight-hour conversation about life." He's a fan because, "You can see [Gates'] vulnerability and his intelligence in his raps. He can rap bar for bar with anybody, and he's really adaptive melodically."
Though Gates has professed a love of the author Nicholas Sparks, he's more reminiscent of Denis Johnson, whose liberties with form and function undercut convention in the service of packing as much ferocity, substance abuse, and straight-up delusional desperation into his stories as he can. You can look at Islah as Gates' version of Jesus' Son, a dense collection of tracks that offer idiosyncratic tales of the violent, the depressed, rendered in eye-popping detail. He's an ass-eating mystic, a lovesick hardhead, a bleeding heart with a tattoo of a pistol on his hand, an outlaw poet, the world's most bummed-out optimist. He's not commercial in the least, but he's so popular that he might not need to be.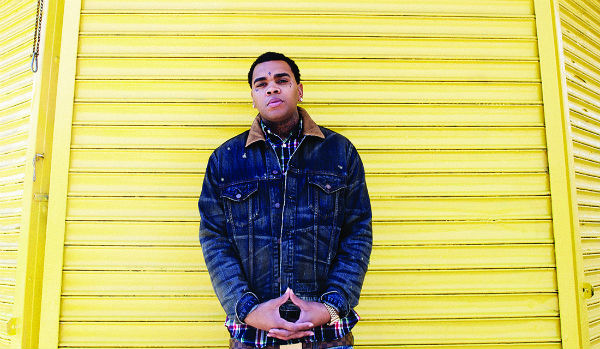 As Gates' star rises and his fanbase swells, it's very possible that his infamy outstrips his reputation as a Louisiana rap hero and connoisseur's favorite. His summer 2014 comments about his predilection for annilingus went viral (it reportedly inspired the Jhene Aiko line, "He got to eat the booty like groceries" on Omarion's "Post to Be"), as did his admission, from about a year ago, that he once dated his cousin. And that's not even getting into the drug trafficking (alleged), devil-worshipping (also alleged) and dog-f**king (again alleged, though this should go without saying at this point), all of which for different reasons do not hold up under even a half-assed attempt at scrutiny. Then there's the confirmed stuff, including the fact that during a performance he kicked a female fan in the chest for trying to grab his crotch. Which, precedent and debate over performer/audience contact aside, makes Gates look violent and gross, especially when viewed along with the aforementioned controversies.
"The s**t people ask me," he says in an exasperated tone. "I was always taught not to answer no questions. I'm not really good at answering them because I get agitated so fast. I always been the type of person who's like, 'Why does this matter? Who gives a f**k?'" When we first meet, he asks to hold my voice recorder for the entirety of our talk.
If Islah succeeds, Gates will have successfully crashed hip-hop's upper echelon, and through the magic of celebrity and the American promise of constant forgiveness through success, all of that other stuff will barely matter. If Islah fails, then it's very possible we end up only thinking of Kevin Gates in the context of that other stuff, and he will be totally hosed.
I get the sense, however, that (to use a colloquialism) Kevin Gates could f**king care less about Islah's success, mainly because he said that, verbatim, when I asked him how he felt about Islah finally coming out: "I could f**kin' care less."
Still, our hour together is amiable enough. We check out socks at Foot Locker, shoes at Giuseppe, we try to find the Coffee Bean only to give up and buy Wetzel's Pretzels. Whenever I hit him with a straight question he tends to dismiss it, instead talking about something else entirely, only to inadvertently answer it moments — sometimes minutes — later, with little provocation. Which is to say, Kevin Gates addresses the present only when it becomes his past, and sometimes not at all.
Back to the past. I meet Gates at Macy's, where they're shopping for what appears to be one hundred Polo T-shirts. He's with his wife Dreka, and a mostly silent man carrying a dense, circular wad of hundred-dollar bills in his pocket named Jafar.
"This is one of my rituals," Gates says, as the four of us comb wooden racks of Polo three-packs. "Coming to Macy's and buying T-shirts. Classic Fit. Large."
Gates is new to marriage — he and Dreka tied the knot in October — but it's "the best thing in the world," he says. "We do everything together. We work together, we own our company together. We like the same cars, we listen to the same music, we read a lot of the same literature, we're interested in a lot of the same subject matter. She'll come and get me and say, 'Hey, let's go to the strip club.' I married my best friend that happens to be a girl."
Dreka soon hits paydirt, loading up Jafar's arms with packs of shirts and then filling up her own. At the register, an older salesman wearing a white shirt, black glasses, and black tie — who clearly has no idea Dreka's husband is a rapper about to release a major-label album — is trying to sell her on a Macy's card. It could, he claims, save them "at least a hundred dollars today," leaning into the word "today" presumably to emphasize not only the generous nature of the savings he's offering, but also their immediacy.
"I promise you, we don't want one," Dreka says, laughing the guy off. Together, she and Gates run Bread Winners Association, Gates' label (a subsidiary of Atlantic), as well as #IDGT, an apparel line and brand of energy drink whose can features a flip on the iconic(?) Actavis cough-syrup label.
Gates and Dreka recently relocated to Los Angeles — the nearby hamlet of Calabasas, to be exact — and seem ecstatic about the move. "I think California has the best energy," says Gates, calling Calabasas "quiet and peaceful." He and Dreka came from Miami, and Atlanta before that. "I gauge my growth by my ability to move in public without being bombarded. When I first moved to Atlanta, I could go to the mall. Now I can't go into Lenox without the whole mall stopping and following me. That's how I knew it was time to move to Miami. Now I can't walk in Aventura."
After Los Angeles, Gates tells me he's thinking of moving to Europe. "I already got where I'll go in mind. Close to France, but not France."
Bags in Jafar's hands, we're done with Macy's, so it's up the elevator, to the seventh floor, to Foot Locker. "I don't know why I'm coming in here," he says. "Maybe just out of habit." As he paws through a rack of socks, a group of kids — maybe 18 or so — come up to him asking for a picture. And sure enough, this happens several times over the course of our time together, fans approaching him requesting pictures, a quick conversation, or even a dap. This is relatively normal in the celebrity-addled world of Los Angeles — hang out in public with anyone even mildly famous here, and someone will eventually sidle up to them with a similar ask. But what separates Kevin Gates from your run-of-the-mill famous person is that his fans feel like they really know the guy. Gates asks how they've been, even if he's never met them before, and they respond by telling him they're rooting for him. After the second or third time this happens, his wife jokes, "You have a cult following!"
Gates is "the people's champ," says Edwards, who through Dirty Glove Bastard released Gates' breakthrough mixtapes, 2012's Make 'Em Believe and 2013's The Luca Brasi Story. "He can go anywhere and get that same love from all kinds of people." (Not for nothing, a few days later, an erratic and enthusiastic stage-crasher at the People's Choice Awards interrupts the ceremony only to announce his allegiance to Kanye West and — wait for it — Kevin Gates.)
Edwards has watched Gates come up since he first hit the Baton Rouge scene around 2006, and even helped him achieve stardom by releasing Believe and Brasi. "He was just so different," Edwards says, from his local contemporaries like C-Loc, Max Minelli, and Lil Boosie. "He just blew up around the city. He was the next artist that everybody thought had a chance to make it out of Baton Rouge."
That potential cohered into opportunity with "Satellites," a love-rap off of Make 'Em Believe with a stadium-worthy hook and an edge sharper than a Bowie knife, which quickly became a monstrous local hit. "That was the transition," Edwards says. He tells me Gates had finished a jail term prior to the release of Make 'Em Believe and Luca Brasi, and had emerged with a new style. On his strongest Believe and Brasi cuts, Gates raps about breakups, love, lust, how he "grew up poor, got teased a lot / 'Cause my school clothes had a smell in 'em," and how when they'd fight, his girlfriend would call him "stupid-ass Kevin, tell him anything he won't understand it."
The fresh direction worked with local audiences. "His demographic started to change. He always had the hood and the streets on lock," Edwards says, but after "Satellites" dropped, "you could go to the whitest neighborhood in Baton Rouge and that's all you'd hear." At his shows, "people were singing his stuff word for word. Even established rappers don't have that."
The reasons Gates became the hottest thing smoking out of Baton Rouge around 2013 are many. But it certainly helped that the city's rap scene was experiencing a power vacuum due to the incarceration of Lil Boosie, who, over the course of the 2000s, became the de facto bleeding heart of Baton Rouge hip-hop, only to spend five years locked up on drug convictions while fighting a murder charge. "There was a void," Edwards says. "And Kevin Gates filled that void." It's easy to get the sense that there's a bit of a cold war between the two: Though both are signed to Atlantic, the pair haven't released a track together since 2008.
Still, it's folly to simply chalk the ascent of Kevin Gates up to timing or luck. One listen to him and it's clear that Kevin Gates is his own man. Boosie being gone might have made it slightly easier for Gates to hit the big time, but you can't stop what can't be stopped.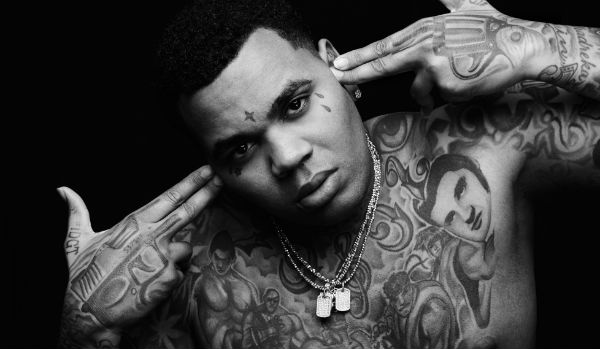 Gates, Dreka, Jafar, and I are in the elevator of the Beverly Center mall now, headed down to the parking garage, where they will get in their car and head back to Calabasas, where it is peaceful and quiet and no one will ask Kevin Gates any questions that don't matter. Halfway down to the garage, someone else hops in the elevator. His face lights up and he says, "What up, Gates?" He's a small guy, too old to be called a boy but too young to be called a man, dressed in a sharp, slightly oversized suit. It looks like it once belonged to his father, like it might swallow him whole.
Gates shakes his hand, looks at him in his suit, and says, "Man, I thought you was more famous than a motherf**ker for a second." For the record, this person does not exude the charm and charisma that the famous or soon-to-be-famous (or even the could-hypothetically-be-famous) do; more than anything, he seems like some guy who just had a job interview at, like, Banana Republic. But Kevin Gates is the people's champ, so these are the sorts of things he says to these sorts of people. 
The fan laughs, clearly flattered. "Nah, man, I'm underground. Just like you."