In an abandoned bank vault in Manhattan's financial district back in May, Björk took the stage — in secret — for a DJ set. Face occluded by just one of her many bejeweled headdresses, the godmother of all electronic experimentation both biodiverse and luminous was there to celebrate with friends at the New York-based purveyors of bleakness, Tri Angle Records. But from the outside it looked like an anointing.
Descending into the room's darkness, amidst clattering and anxious sets from Berlin glitch torturer Lotic and blackened-drone act the Haxan Cloak (who, along with the like-minded experimentalist Arca, worked on the Icelandic auteur's spring awakening, Vulnicura), Björk played a set of material that drew on those producers' abrasive plinks and clanks, officially placing her stamp of approval on a slowly coalescing scene. These dance-floor monastics — who conjure astringent static and scraping metal sounds as a means of art-damaged empowerment — were, for at least a night, her equals.
Just like in the early '80s when a handful of Detroit residents superglued a pair of human legs onto Kraftwerk's austere Autobahn explorations, or when a host of cyborg Brits offered digitalist approximations of the same in the '90s, electronic music's most exciting innovations in 2015 have little to do with ecstasy — either kind. Underneath the Vegas-strip glow of EDM's ever-burbling industriousness, Skrillex and Co.'s post-dubstep move to hi-gloss pop production, and the retro-gazing pop hybridity that even Lorde and Ed Sheeran were somehow roped into, there's an underbelly that favors introversion and anti-sociality.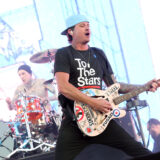 It's a conundrum for the club kids, who've always looked to techno and house hegemony — correction, homogeny — as a way of forging communities. They take drugs to make friends to take drugs with and forge oneness as their own biorhythms gently hew toward the sunny-eyed doof-doof-doof emanating from up onstage. In an iteration of this same "Trend of the Year" essay several years ago praising Disclosure and Rudimental's "dance/pop" revisionism, critic Philip Sherburne wrote that dance music had once again found itself celebrating "joyous abandon." In 2015, a group of producers at the genre's vanguard have abandoned joy.
Texas composer/grime deconstructionist Rabit — born Eric Burton — started his August single "Pandemic" with a mission statement for the understandably discontented. A dulled, synthetic voice intones, "There aren't any people." And then comes bedlam. Gunshot samples, shattering glass, and teflon-tough percussion crash into a disorienting mess that feels sort of like a car rolling over into a brick wall. There's no immediate signs of life among the wreckage.
Burton, along with the boisterous, shape-shifting Venezuelan producer Alejandro Ghersi (a.k.a Arca), has been primarily concerned with sounds that feel ascetic. And they've connected with a few fellow travelers along the way, both far-flung (Berlin's roving Janus party and prickly PAN Records stable) and domestic (the geologically fascinated thinker/composer Elysia Crampton and nomadic postmodern DJ Total Freedom). Like last year's Trend of the Year alumni PC Music, their palette is plasticine by design, but this loose association of noise-makers has no ambition toward playful critique or art-pop cynicism. Their music sounds like cracking PVC and creaking girders because they want to scrub the dirty smudges of humanity from their work.
To that end, the early-'00s noise scene hangs heavy over this crop of producers. It's hard to imagine the existence of Lotic — whose shuddering 2015 EP Heterocetera was intended as "the biggest middle finger" possible to dance music's straight, white establishment — without the knife wound-probing of Wolf Eyes' 2004 dance floor-clearer, "Stabbed in the Face." Elysia Crampton's more locomotive tracks function like googly-eyed cousins to New York producer Eric Copeland's loopy solo work away from Black Dice, the New York pranksters who, like Wolf Eyes, represented the more popular and goofy vanguard of noise in the era. But where the delirious ooze of those crossover noise acts was meant to provoke a human sort of repulsion — something like a man snorkeling in a septic tank — the aim of these younger acts is politicized, meaningful, far more than just shock tactics.
Rabit titles his battered works with references to Catholicism ("Advent," Communion, Baptizm) — representing the discomfort he felt in the institution growing up as a queer kid in Texas. Arca titles a track "Faggot" and has been known to pseudo-rap about anal sex on older tracks. Crampton indulges in frigid mysticism as a way of highlighting, as she puts it, a connection between geology and brownness — finding warmth and identity in stone, life in slivered glass. Talking to SPIN earlier this year, she spoke of the need for the dance club, as a space, to "evolve."
"The space can actually facilitate more," she says. "Where it's kind of scholastic and people can talk big and think big."
With mindsets like these driving the creators, the songs themselves remain abstract; immense, but wordless. And yet, the disruption of house and techno's traditional rhythms feels like a conscious representation of the fractured headspaces of otherness. These are pieces that are self-consciously marking themselves as different, representing viewpoints and perspectives that run contrary to mainstream thought. It's intentional disruption from identities so often marginalized and minimized. It's chaos and terror as a Cartesian affirmation of existence — I can make this noise therefore I am. Making music like this or going onstage and screaming about queer desire (hopefully) won't be considered radical forever. It still is.
https://youtube.com/watch?v=nIl6h7ccuV0
The pervasive influence of Arca on the current crop of similarly minded composers can't really be overstated. Though some, if not all, of the hazy-leaning producers on Tri Angle and PAN have been working about as long as he has, his Stretch EPs (the most recent of which was released in 2012) were watershed moments — metallic casts of hip-hop and dance structures that many spotlight-absorbing producers in the scene would go on to twist and contort to their own devices.
But he won't take credit for the spread of the shattered sonics, deferring to Venus X's roaming, on-again-off-again GHE20 G0TH1K party — a famously stylish, famously queer dance night that temporarily shuttered when Rihanna copped its designer streetwear-gone-BDSM aesthetics — which has taken on a sort of mythic status among certain subsets of New York dance fans. The DJs that Venus enlisted pushed boundaries in club culture, forcing people — even those present at a space as safe and queer-friendly as GHE20 G0TH1K — to confront the existential questions that such a space often allows you to ignore: Why are you there and who are you, really? "One of the most magical moments I've had in a club was when [Total Freedom] played glass crashing for five minutes," Arca related breathlessly in a recent interview with Pitchfork. "Everyone stopped dancing. And then he played a YouTube rip of Beyoncé singing the national anthem, drowning the whole room in echo. Everyone lost their minds."
It's this sort of herky collision between chaos and beauty that's always driven the work of Arca and his peers. They make music rooted in the quotidian futility of dance forms, but shaped into sculptures grotesque enough to make you stop and think. This year, the world at large finally did. Though Kanye West was an early adopter, enlisting Arca to work on Yeezus, it was Björk who brought these dance-floor deconstructions (oh, and people do dance to this stuff) out of the shadows. Seeing Arca's electro-ballistics as a proper tool for rending open a batch of songs so intimately concerned with divorce and heartbreak, Björk drafted Ghersi to work on her ninth album, this year's Vulnicura. It's an experience he's described as "enlightening, exciting, ecstatic, celebratory, interesting, and therapeutic," and her presence has irrevocably shaped his own music, turning the gangly contortions of 2014's Xen into a thing of labyrinthine beauty on Mutant.
Even from her very beginnings, Björk has had a knack for sublimating emotional landscapes — as she puts it on "Jóga" — into mechanized environs both anxious and vulnerable. No matter the disposition of the collaborators she works with at a given moment — whether it's Baltimore sampling cyber-geniuses Matmos on 2001's Vespertine or the power-drill drum work of Lightning Bolt's Brian Chippendale on 2007's Volta — each twitchy release remains a florid depiction of her own inner turmoils, whether that's a newfound life away from her home, or a difficult separation from a longtime love. She's able to manipulate component parts into painful reflections of herself, a fact ironically underscored by her much-maligned MoMA show, which traced her development from shy Icelandic kid to a figure at the vanguard of the worlds of music, fashion, and visual art — pairing each step with whispered narration and the music from the corresponding period of her career. It's all intertwined, each success doubled in the music, each personal trauma rendered in instrumental shivers and overwhelming string swells.
It's this autobiographical approach to instrumentation that Arca and his contemporaries are able to work into their Fissure-Price-at-the-discotheque revisionism. Cracks spiderweb across his music's frosty veneer and, even though it's wordless, you start to get a sense of the man behind the haze — an interpretation made literal by Mutant's music videos. Each clip features distorted images of a sexualized Ghersi, preening before the camera and tying his visage (and in the NSFW case of "Front Load," his genitalia) to these divisive, notional compositions. Mutant functions as a representation and ownership of his body, sexuality, and the complex vibrations of his inner states — reclamation and declaration of his very identity. If you don't like it, eat static.
But there's hope too. It's there in the searing white light/white heat in pieces like the title track from Mutant or Rabit's "Glass Harp Interlude." The unearthly synthesizer jitters feel like the immediate aftermath of the "Pandemic" car crash, tinnitus-like pricks of white noise and woozy vision coming together to evoke something a little different than the initial terror and chaos — something like relief. Out of horror comes stasis, and the mutant dance music being made in this mold is dynamic enough to distribute peace among the noise.
You can see this light creep through in moments on Elysia Crampton and Lotic's dueling 2015 releases. The former released a 7-inch called Moth / Lake and a full-length release of transfeminist mantras called American Drift as part of a project she's calling the Shenandoah Series, evocations of her Virginia home as representations of her upbringing, identity, and ideals even though the compositions remain abstract. These releases, along with Lotic's Heterocetera EP and Agitations tape, carry with them the addled urges and frantic impulses of Arca's work to date, but they're not afraid to offer suggestions of security and hope. The clouds part on tracks like Lotic's "Feign" or in the midst of Crampton's "Lake."
The work still isn't happy really, but there's serenity at least — a cautious optimism that springs from the scorched Earth and sterile soundscapes that they spend most of their time conjuring. Noise is primarily about dominance — there's a reason that Merzbow called a release Music for Bondage Performance — and to see traditionally muffled voices assume those kinds of roles is an uplifting thing. There's a reason for these moments of respite, even within the context of music that's largely severe, confrontational, and (intentionally) distressing. In making music that concerns itself with representation, oppression, and power dynamics, Arca, Rabit, and all of their peers have slowly begun assimilating into the pop music structures that would once have thought to oppress them. Maybe there's no reason yet for joy, but it's still worth celebrating.