Mark 2015 as the year of the Real Estate solo album. To date, frontman Martin Courtney has mostly chilled out during the downtime following last year's Atlas, since songs for that band already bear his voice and perspective. But flashy lead guitarist Matt Mondanile and soporific bassist Alex Bleeker have always used their spare time to up the ante of their main act's already deceptive prolificacy. They make similarly wooly pop songs, ambient recordings, and tape-warped hypnagogia with Ducktails and the Freaks, respectively. But now approaching a decade after his primary band's formation, Courtney has joined them with his first solo album, Many Moons.
Mondanile's latest Ducktails full-length, St. Catherine, came out with a flourish back in June, and Alex Bleeker and the Freaks will release Country Agenda in October, so even in a year where Real Estate has lain mostly dormant, nary a season has gone by without some sort of update from the transplanted New Jerseyites. The Freaks' weedy and reedy instrumentation is enough to warm in a frigid winter, and Ducktails' latest is a sun-bathed, backstroking take on '80s guitar pop fitting for its summer release.
So Courtney, the latecomer, has chosen to use his debut to evoke the breezy, beloved interstitial periods he had left to pick from. Many Moons, a sort of leaves-changing folk rock LP that draws its chilly but florid atmosphere from the twin poles of Yo La Tengo's And Then Nothing Turned Itself Inside Out and Van Morrison's Astral Weeks. Sitting in the Brooklyn offices of his record label, Domino, while on a late September break from writing new Real Estate material, Courtney chuckles at the coincidence that his album has arrived in the same year as his bandmates' fifth (for Mondanile) and second (for Bleeker). But he sits back in his chair, brushes back his lengthy brown hair, and says Many Moons wasn't supposed to be a solo album, with the connotations of self-importance and spotlight-seeking that such an endeavor implies. It was just a low-stakes collaboration with his friend Jarvis Taveniere of Woods playing bass and sitting behind the boards.
"Right before the last Real Estate record, he had access to this studio and he was saying, 'Let's do a single!'" Courtney says. "Then it just snowballed. At a certain point it was like, we had five songs and we were talking about doing an EP, then it was just 'Let's just make a whole record.'"
The process is about as casual as you might hope for the first effort from a man who spends his days fronting such a gently drawling band. Many Moons just accrued as he and Taveniere hunkered down in a number of studios across Brooklyn, an album made by slow addition rather than an intentional bid for a definitive statement. "It kind of turned into a solo record… I just couldn't come up with a band name," Courtney says, laughing. He explains that this isn't the first time he's made halfhearted attempts at music that pushed away from Real Estate's comforting confines, specifically mentioning an abandoned collaboration with Martin Frawley, singer/guitarist of ramshackle Australian act Twerps. "It's hard to find the time to actually finish something," he says.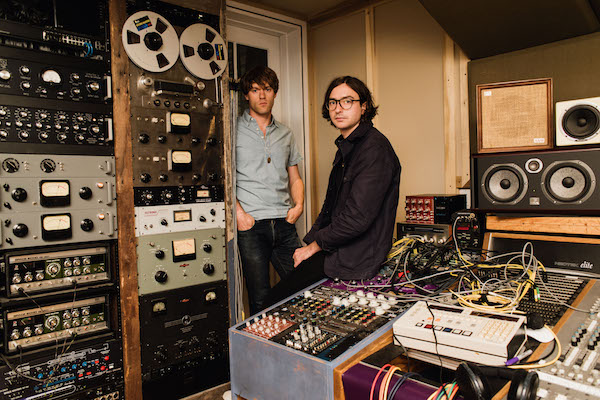 But whether through creative spark or lulling life circumstances, the album somehow got finished, and ended up more varied than anything Courtney's released under the Real Estate banner. That band has issued its share of recordings full of breath and life, but Many Moons' main difference is in Courtney's vitality. The record opens with sprightly acoustic guitars on a song (perhaps winkingly) titled "Awake," an indication that this won't be just the straightforward electric sway of Real Estate's output. Throughout the course of the songs that follow he crams in strings, '60s folk-pop harmonies, and even the flutter of a flute on the instrumental title track — flourishes that, he says, have no real place with his main act. "I'm like, 'Well, I got my Nick Drake chamber instrumental out of my system,'" he explains. "I could see that being on a Real Estate record but it just would be different. With this project, I was just like, 'Whatever.' Anything goes."
It took nearly three years for Courtney and Taveniere to put the finishing touches on the record, chasing each formless idea to its natural endpoint; as such, the ten-track album feels labored over, the result of a lot of personal effort even if there wasn't a real intention to finish a full record when they first started. Still, as Courtney starts to play shows in support of Many Moons, seeing his own name on marquees is going to take some getting used to. "I'm a pretty shy guy, you know," he says. "So that kind of thing is weird. But, it's cool. A project has to have a name."