The thing that you quickly learn about Matt Mondanile while having a conversation with him about contemporary indie music: Dude is friends with everybody. Not just with the underground darlings who actually worked with him on the Real Estate guitarist's fifth album as Ducktails (St. Catherine, out this week) but Ariel Pink, Mac DeMarco, and just about every other prolific, do-everything studio rat likely to pop up on the year-end list of a publication like ours. It could make Mondanile sound like a name-dropper, but he's sincere and genuine enough that he comes off more as a likeable guy who's just really excited about how well his buds are doing and how much awesome music they're making.
That geniality also filters into St. Catherine, an album that approximates the gentle comfort of a Sunday afternoon, while not ignoring that day's trepidation about the week ahead. At times explicitly autobiographical, it's one of Mondanile's most personal albums — the chorus to "Headbanging in the Mirror," for example, details the East-to-West Coast relocation that gives him his current sense of fish-out-of-water anxiety. But, as always, he gets by with a little help from said friends — including experimental singer/songwriter Julia Holter, who provides vocals to "Church," and electronic composer James Ferraro, who appears on "Mirror."
We played Mondanile songs from some of these compatriots, as well as some of his early influences and kindred spirits from a couple generations apart. Read our discussion below, and discover just how small the world of 2010s psych-pop truly is.
1) War on Drugs, "An Ocean Between the Waves"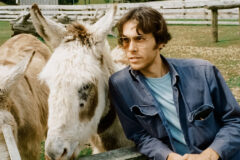 Is this War on Drugs? I toured with Kurt Vile when [Adam Granduciel] played in Kurt Vile's band… It's got that heartland Americana feel, but… he's a great guy. He's a sweet dude. His personality is awesome and I think he's really into his recording and his shows.
But yeah, I love War on Drugs. They're great. I think they just signed to Atlantic, that's crazy… Adam has been playing music for a long time. He's, like, in his mid-thirties, so it's good for him.
2) Elliott Smith, "Baby Britain"
Oh, Elliott Smith. Yeah, I love this record. Well, I worked with his producer, Rob Schnapf, for [St. Catherine]. I went to Hampshire College and Elliott Smith went there too. I had the same professor as him, and he would tell me about Elliott and what he was like in class and stuff.
What was Elliott like in class?
He was totally alienated from the rest of the school. He would sit at the other side of the classroom from everybody else. You know, when I was working on this record, I'd play it for my friends and they'd be like, "This sounds like Elliott." And I would say, "No, it doesn't." And then I didn't even think about working with Rob until people started telling me that it reminded [them of Elliott], and then I was looking for someone to mix the record. So I got into contact with Rob, who was his producer. He's from New Jersey, and I'm from New Jersey, so he loved that. And so we ended up working together that way.
Do you have a favorite Elliott Smith album or song?
I really like Figure 8. [Rob] worked on that one too.
3) Ariel Pink, "Put Your Number in My Phone"

I love Ariel Pink. He's such a huge influence to me. The first time I heard it, I freaked out. I would listen to him all the time. I've seen him, like, 20 times. And now, in L.A., I live like a block away from him. So I'll see him and sometimes we'll get lunch or…
Go to the taco truck in Silver Lake?
[Laughs] No. We live in Highland Park, but he literally lives really close to me so we'll get tacos in my neighborhood sometimes, which is nice. He's a nice guy. I played him some tracks from this record before it came out and he said it sounded like Cass McCombs to him.
4) Perrey and Kingsley, "Baroque Howdown"
[Strains to recgonize.]
This is kind of an esoteric choice. Have you ever heard of Perrey and Kingsley? They were pioneers of the Moog. This particular song was used as the theme music for the Disney Electrical Parade.
I wanna write this down. [Has me spell out artist and song name for him, looks it up on his laptop.] This is awesome.
Yeah, I know that you're a fan of the harpsichord, and I also wanted to ask about the Disney connection, since there's a song on St. Catherine called "The Disney Afternoon."
You know why I called it that? The Disney Afternoon was a cartooning block on Fridays, which had Duck Tales, Rescue Rangers. And so I was researching the show… thought that the "Disney Afternoon" was a really weird name out of context for a song, and just for a cartooning programing block. I like the idea of the afternoon in music – the themes of the afternoon. I just wanted that be a reference to people to look up, and find why it goes with that song. And then have them go, "Oh, it has to do with this Disney TV show he kinda based his name off of."
Do you feel obligated to know about Duck Tales the TV show and be decently informed about it, because people are always gonna ask you about it?
I guess at the time when I was starting out and I named it that, it wasn't really that intentional. It wasn't supposed to be something that I would be doing for nine years. It was a cassette of music that I made that I thought had this idea of a cartoon band playing music, that didn't really know what they were doing and they were really naive, and jamming. And it's a cartoon band that's thrown underwater, and then you found this recording. I wanted it to have that quality.
So I wrote Ducktails on the cassette, because that was a cartoon show that everyone watched. It was really popular. I think it was a really big cartoon for my generation at 30… I'm really sick of the name now, but I can't play under my own name because my last name is so hard to pronounce [Mon-dan-illy], which I guess doesn't really matter. But either way, I don't want to be a singer-songwriter, like straight under his own name.
Are you a fan of the Duck Tales theme song?
No, not really. But y'know, the music is cool.
5) Julia Holter, "Hello Stranger"
Julia Holter? Yeah, she's my friend. She sings on my record. This is a cover of… what's her name?
Barbara Lewis. How did Julia come to work on the album?
We were in a relationship. That's why we ended up working together for this record. A lot of the record, we were living together when we were making it, so she helped write her vocal parts, and helped write the lyrics for the song "Church," and stuff like that… she played the harpsichord. Her vocal parts were great.
6) James Ferraro, "Cheek Bones"
James Ferraro? He's a good friend of mine… He was in a band called the Skaters which were in a drone duo that were popular in the mid-early 2000's. When I was in college I studied in Berlin, Germany, and I met him when I moved there and we became friends. And he was making pop music under the name Lamborghini Crystal. These cassettes that he was making were improvised pop music. He would give me them and I would listen to them and they were a huge influence on early Ducktails.
So I'm more influenced by the earlier music that he makes. This is more of like, urban decay and auto-tune. It doesn't necessarily influence my own music that I'm making now. But he was actually a big part of finishing the record… He sings on the single "Headbanging in the Mirror." He didn't really do much physically on the record by playing, but he was there when I was mixing it, and right before I went in for mixing, it I had all of these tracks that were all rough studio tracks, and I was playing them for him and he helped me sequence and finalize them and name the songs and stuff. So he was a big creative director behind the scenes for the record.
Are you going to return the favor for his next album?
Hopefully, yeah. If he lets me.
7) Mac DeMarco, "Chamber of Reflection"
Mac DeMarco? He's a friend of mine. Yeah, he's really awesome. Just a genuine, honest guy. A sweet dude. This song is great. It reminds me of a lot of current music like Tame Impala, or Ariel Pink or anything. He's a genius, I think. It's weird because my guitar style in Real Estate kind of does a similar thing, I think. I wonder if he listened to my music before he started recording. I'm pretty sure he did. I actually live with the bass player in LA. He's my roommate, Pierce [McGary].
So you just know all these guys.
It's weird.
Is it that tight-knit a community?
It sort of is. Well, James [Ferraro] is my best friend in L.A. Ariel Pink lives down the street. Mac's a good friend. Pierce lives with me. Julia is my ex-girlfriend. [Laughs.]
When you guys play at festivals and stuff do you coordinate beforehand?
Yeah, definitely. Like, "I'll see you there." For example, next Friday we're playing at this Wilco festival upstate, in Massachusetts [Solid Sound], and Mac's playing, so I'm gonna see him there.
8) Steely Dan, "Deacon Blues"
Steely Dan? Hell yeah. Walter Becker, from New Jersey, like me… Which song is this, though?
"Deacon Blues."
"Deacon Blues." It's funny. There's this girl who's a huge fan of Real Estate and Ducktails: her Twitter handle is DeaconBlues. My last record, The Flower Lane, people compared it to Steely Dan a lot. Because there was a lot of Wurlitzer and it was kind of proggy in ways. But you can't even touch what these guys did.
Do you feel more connected to them since moving out to the West Coast?
Well, I know that they're from the East Coast and they moved to the West Coast, didn't they?
But they're so associated with Cali, I feel like.
But don't they live in the East Coast now? I don't know. I think the idea of them going from the East to the West Coast is kind of like a Woody Allen vibe, where he's on the beach and he's all pale and he doesn't really like it. I feel like that's what these guys' style is about. I'm kind of like that, too. I'm from New Jersey right around the City, so being out there is kind of alienating because it's so laid-back and relaxing. And out here… I just took the train from my parents' house into Manhattan, from Penn Station out here, and it was a nightmare.
And that's comfortable to you?
It's not, either way. Now I'm screwed because L.A. is so relaxing that [when I'm in New York now] I'm like, "How are people doing this?"
9) Weezer, "Paperface"
"Paperface" by Weezer. Do you know I was in a band called Paperface?
Which I had to ask about. It's a very obscure Weezer reference to be making.
Yeah. This song is so sick.
Is this what your band sounded like?
I think our style was pop-punk, but not like Blink-182 pop-punk. More like, older… Some of the guys in my band were into Less Than Jake. I wasn't really into that. I was more into the less-ska kind of thing. But they were really into that.
I discovered Weezer because the Windows 95 update CD came with the "Buddy Holly" music video, and that changed my life. It made me want to start playing guitar. I ended up playing with him. I don't know if you saw that, but Real Estate played a Pinkerton song with Rivers Cuomo in LA.
Which one?
"Falling for You." That was a dream. He was cool. We hung out with him. He was a nice guy. We didn't think he was going to show up and he did.
If you're out on a Saturday night, do you ever get drunk and do '90's punk karaoke or anything like that?
No, I wish. I wish that I had that inside of me.