Alex Bleeker lays it all out there in Guitar Center. "People are going to say it forever, but we're not trying to make the soundtrack to your summer," the bearded 27-year-old bassist and New Jersey native says while noodling on a six-string he plucked from the wall. "Our brand is that we have no brand. We're literally just, like, the dudes you know from down the street in high school who would play in a band together."
The "we" Bleeker is referring to would be Real Estate, the band he co-founded roughly five-and-a-half years ago with two of his high-school friends, singer-guitarist Martin Courtney and guitarist Matt Mondanile. Courtney, 28, is quietly admiring the rainbow of polished guitars hanging above. This particular Guitar Center, situated on the lowest level of Brooklyn's Atlantic Terminal Mall, is not the same outlet that they would frequent as teenagers in the Garden State. But it's also not unlike that old haunt, which the trio would visit after getting high, just before hitting up the nearby Wendy's.
Right now, on this slate-gray January afternoon, Mondanile is nowhere in sight, as he's searching for a parking spot. He's been traveling separately from the rest of Real Estate all day, driving himself around Brooklyn while Bleeker chauffeurs the others in a beaten-down Ram 2500 van nicknamed "Reality." ("The joke is, 'Well, back to Reality,'" Bleeker says.) The quintet's two newest members — drummer Jackson Pollis, 24, and keyboardist Matt Kallman, 32 — orbit around Courtney and Bleeker, who is still strumming an unplugged electric while trying to pinpoint Real Estate's appeal.
"I feel like a kid today could hear one of our records and feel inspired to be able to do it," Bleeker says. "We're not, like, virtuosos. We're not interested in making music that's difficult to play. That's a metal thing. 'Dude, that's so hard. Do you know how hard that is?' It's like, 'Yeah, but is it good?'"
To date, Real Estate have released two very good, if very unassuming, albums: a shimmering, self-titled debut in 2009, and a sturdier sophomore set, 2011's Days, their first for Domino. Both records enjoyed critical acclaim for their wealth of ringing melodies, plainspoken lyrics, and languid, interweaving guitar-work.
On March 4, Real Estate will return with Atlas, a collection of similarly warm and wistful guitar-pop that, as third albums are wont to do, explores previously uncharted depths for the band. Real Estate's first two LPs drifted along at a post-graduate pace, but Atlas is their most focused and professional effort yet. The addition of Pollis and Kallman — who both became full-time members after Days — has bolstered the band's sound, and the lo-fi textures that Real Estate wore so well in the past have been washed away, giving each song even more room to breathe. The result is not a reinvention, but rather a refinement. In its own self-effacing way, Atlas is a work of great confidence, a gorgeous testament to the kind of suspiciously casual understatement they've perfected, one that only comes with knowing oneself.
"We're just trying to be real," Bleeker says, selling the line with a semi-shrug. "There's not really a gimmick."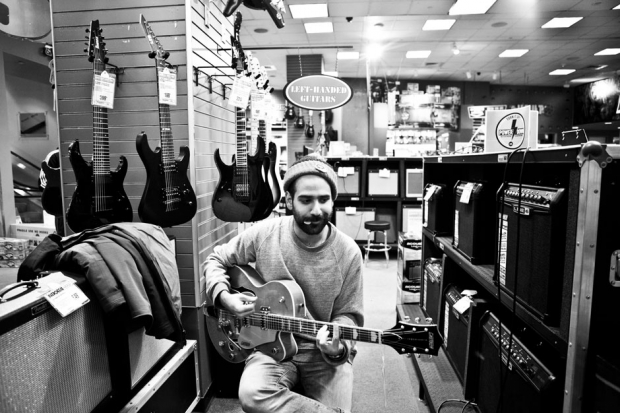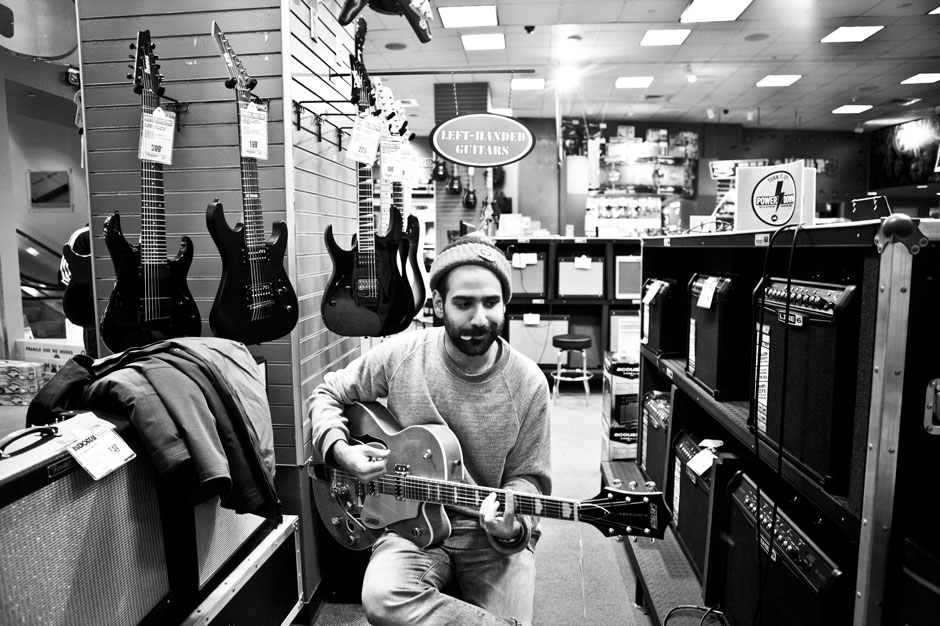 "It's a subtle landscape where I come from," Martin Courtney sings on Atlas' crisp opening track, "Had to Hear." To be more specific, the bespectacled frontman — who looks more like a mild-mannered accountant than a bandleader — hails from Ridgewood, New Jersey, a suburb located about an hour away from New York City.
Courtney and Bleeker met in eighth grade and bonded over a mutual love of Weezer, Built to Spill, and Pavement. About a year later, Mondanile entered their circle after Courtney auditioned to play bass for Mondanile's band at the time. He didn't get the gig. "I went to his house and played bass," Courtney recalls, sitting in the kitchen of the Williamsburg apartment he shares with his high-school-sweetheart-turned-wife. "And then they were like, 'Well, actually, this other kid who has a car can also play bass… so we're going to choose him.'
After cycling through 15 or so bands while in high school, Courtney ditched his hometown for Washington's Evergreen State College, while Bleeker moved to Vermont to attend Bennington College, and Mondanile relocated to Hampshire College in Massachusetts. During his time away, Courtney wrote a handful of songs that he burned onto CDs and mailed out to friends, including Bleeker and Mondanile, who suggested they start yet another band to perform them.
By the summer of 2008, Courtney and Mondanile had both moved back to Ridgewood, which Bleeker would visit regularly, since he had briefly settled in Philadelphia.
"We just wrote a shitload that summer and fall," Courtney remembers. "It all stems from that time, moving back home, and that feeling I had for that summer. And I think I wrote so much that summer that I taught myself how to write that way. And I'm still drawing from that."
Courtney's particular perspective as a songwriter — that of an aimless twentysomething waxing nostalgic for the small town he's always longed to leave behind — resonated with like-minded music nerds who stumbled upon Real Estate's early 7-inch releases through Underwater Peoples and Woodsist. The fuzzed-over gems contained on those initial discs, and on the group's proper debut album, also happened to wash ashore in the midst of a lo-fi revival that favored surf-informed, beach-obsessed, humidified indie rock.
"The first record to me — I guess I've come to peace with it," Courtney says now, after having years to dissect and consider what he'd change about Real Estate. "But for a while, I was like, 'It's shittily recorded' and whatever. The songs are kind of like half-songs in a way; some of them are like a long jam. Which is cool — it's a lot more loosey-goosey. After that, we started writing songs with structure."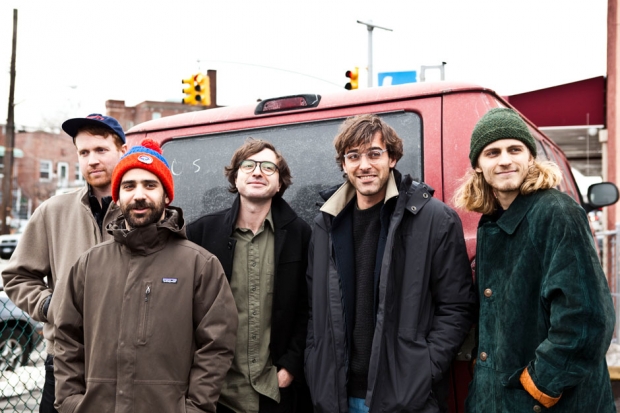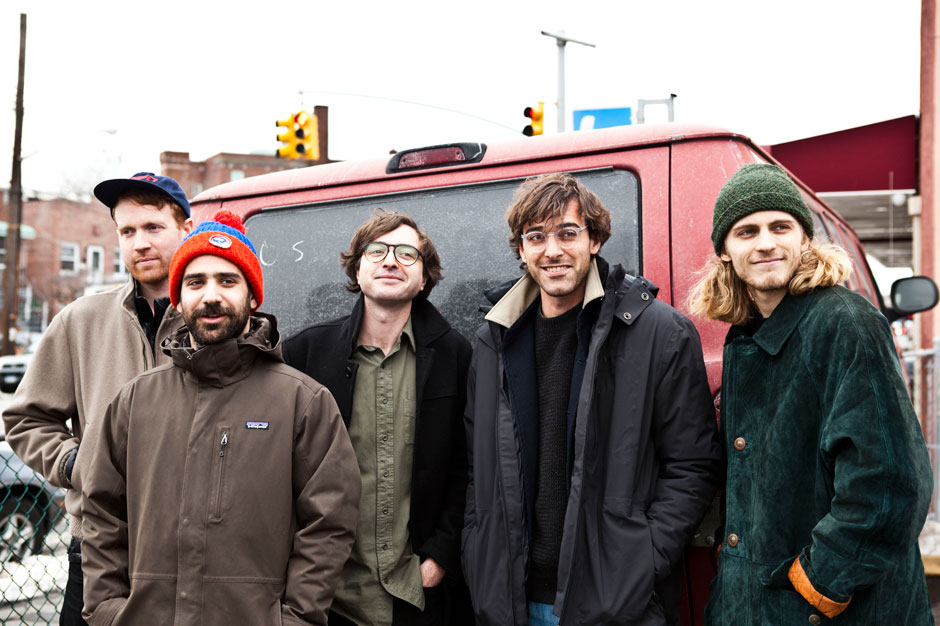 But back to Reality, the van Real Estate just retired from touring. With approximately 222,731 miles (and counting) clocked, the vehicle has long functioned as the band's mobile headquarters, up through the extensive run of shows they played in support of Days. On this day, Reality serves a simple purpose: transport Real Estate around Brooklyn, the borough that four of the band's five members now call home.
The outlier is Mondanile, who moved to California this past September. He says he abandoned the East Coast for Los Angeles "for a lot of different reasons," but "I moved out of my apartment in New York in the summertime, and I'd just been spending a lot of time out there anyway, so I kind of liked it, and there was this room opening for me in this house." A couple of hours before our visit to Guitar Center, we have lunch at legendary Brooklyn pizzeria L&B Spumoni Gardens. Since Mondanile is traveling alone, he's the last to arrive, and when he does, he rushes over to our table tucked away in the restaurant's corner, unloads his jacket onto the lone empty chair, crashes into the seat, and immediately starts wolfing down a mid-size salad, one of several meant for the table.
Bleeker, easily the most talkative, easy-going, and gregarious of the bunch, politely points out — as politely as one can with a mouthful of lettuce and tomato — that he was kidding when he said the bowl was reserved just for the guitarist. Mondanile shrugs as he continues to eat, as if to say, "I guess it's too late now."
Like Bleeker, Mondanile fronts his own outfit, the frenetic, shape-shifting psych-pop project Ducktails. (Bleeker leads the cheekily named, Crazy Horse-saluting crew Alex Bleeker and the Freaks.) Both are wonderful representations of their personalities, but neither have been subject to the many categorizations to which Real Estate have fallen prey.
"The only annoying thing is when people say, 'Oh, it reminds me of the beach or the West Coast' or something," Mondanile says. "That's already happening again a little bit, which is annoying. But you can't really stop that, and everyone needs something to say with music. Maybe we're so ourselves that it's hard to come up with some things to say about it."
Beginning in February, Real Estate will be back on the road, in a different van than Reality, on behalf of Atlas — a necessary part of the promotional cycle that the guys have mixed feelings about. "I love playing shows, but I'm also the type of person that likes to stay home all the time," says Courtney, the only member of the band who is married. In a few weeks, he'll also be the first member of Real Estate to become a father: His wife is expecting a child in May. "Not very good timing on that," he says.
And though he doesn't share his bandmate's ambivalence toward touring, Bleeker is aware that too much time away from home can take its toll. "People will just burn out," he admits, speaking broadly about musicians in general. "It's important to the sustainability of this band, as a band that makes records together and is friends, that we are careful about that. Our friendship is really central to this band."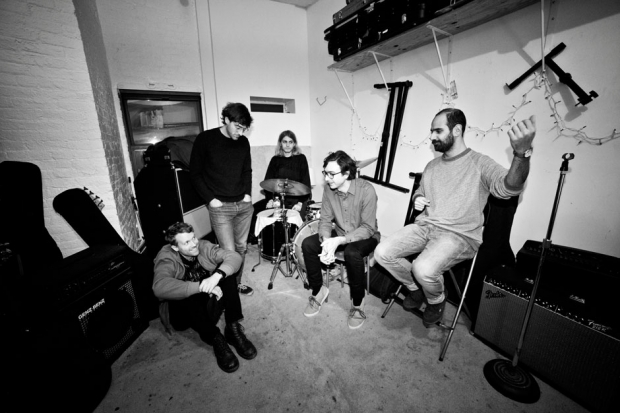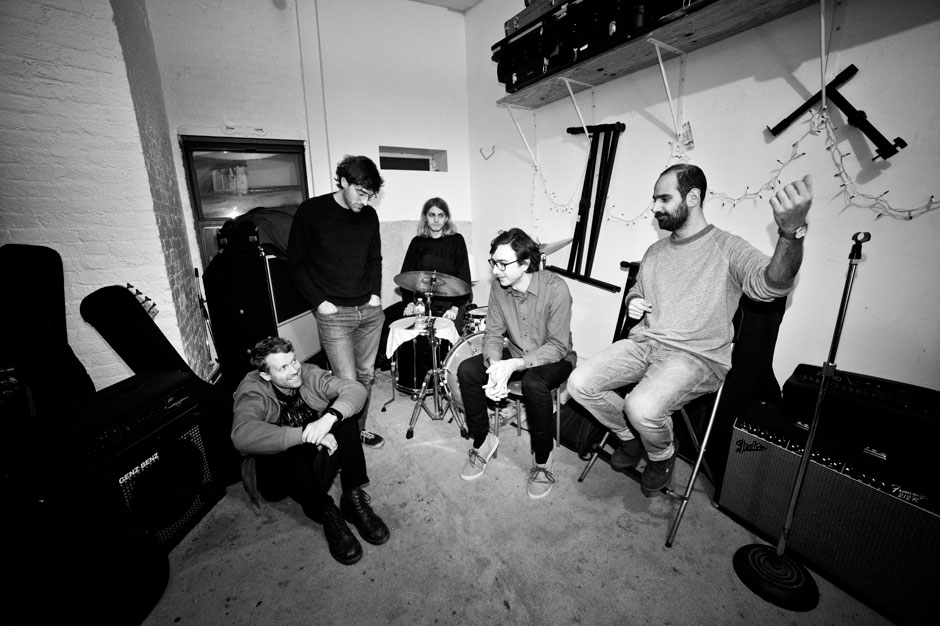 Even if the tireless touring after Days wore on Real Estate — and judging from the lyrics on Atlas, a great deal of which focus on distance and miscommunication, it did — the time on the road wasn't without its benefits. Atlas is by far Real Estate's richest recording to date, a departure from its two predecessors, which Courtney says "were not recorded live and not well rehearsed before we started recording."
"We had a band going into this record," he says. "This is a band that toured for two-and-a-half years, and spent eight months learning songs and playing them in this room and getting them really tight before we went into the studio. So we were ready to go."
The studio they retreated to was Wilco's Loft in Chicago, where they recorded for roughly two weeks this past summer under the guidance of producer Tom Schick, whose previous credits include albums by Mavis Staples, Low, and Rufus Wainwright. "Hearing them, you become a fan, and working with them you become even more of a fan," Schick says over the phone. "They sound way more mature than a lot of other bands. They sound like a classic band that has been around forever, and it's only their third record."
They also sound like a band that knows its strengths, however delicate they may be. Whereas many acts lather on fuzz and feedback to differentiate, or import elements of R&B and dance to assimilate, Real Estate continue to hone their craft without radically altering it.
"It's easy to make noise," Schick points out. "But it's hard to have nice melodies."
As the sun sets on Brooklyn and the sky turns orange, Mondanile follows up on what Bleeker said earlier in Guitar Center: Real Estate's "gimmick" or "hook" is that there is no "gimmick" or "hook." They're just a group of friends who mostly grew up together and now write beautiful, bittersweet songs that they play really, really well.
"I think we're more like the girl-next-door type of band," Mondanile says.
Bleeker pounces on the set-up. "It's like, take a second look, you know?" he jokes. "She was there the whole time."