Update: This list, originally published in August 2015, has been edited to reflect the ranking of the 12 new songs released on Beyoncé's Lemonade album, as well her feature last year on Naughty Boy's "Runnin' (Lose It All)."
Beyoncé hasn't given us much time for reflection lately: Since she unexpectedly released her self-titled video album on a Thursday night in December 2013 — all but reinventing the entire music industry in the process — it's been an absolute onslaught. Singles, videos, tours, live specials, a deluxe reissue and bonus disc, more singles, more videos…  the Bey Hive had been buzzing pretty much continuously for a good 18 months after the Queen's game-changing fifth LP dropped.
But finally, at long last, quiet. Since showing up for the launch of the Hindenburg of music streaming sites and popping in for a couple of her buds' music videos early in the summer, it's been mostly radio silence from Bey. It won't last — it never does, and indeed, she's headlining her hubby's Made in America Festival in just a couple of weeks' time. In the meantime, though, we wanted to take a moment to look back on the decade-and-a-half we've had with Beyoncé as a breakout artist, over which she's proven to be the greatest pop star of the 21st century thus far — in other words, we've ranked the 176 songs that comprise her solo discography.
Needless to say, Destiny's Child songs were not considered eligible, and we're only talking official releases, so nothing only found on unlicensed mixtapes like Speak My Mind is game. (Sorry, "Sexy Lil Thug" fans.) Guest appearances count, though, as do duets — anything in which Beyoncé was an officially credited artist — though we only included our favorite version of each song, so no "Si Yo Fuera un Chico," either. Check out our final list below, separating the flaws and all from the flawless, and ultimately putting a ring on our choice for Bey's all-time greatest.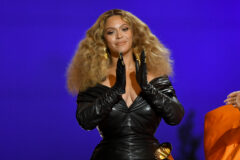 176. "Back to Black" (w/ André 3000) (The Great Gatsby OST, 2013)
175. "World Wide Woman" (B'Day Deluxe Edition, 2007)
174. "Sing a Song" (w/ The WubbGirlz) (Wow! Wow! Wubbzy!: Sing a Song, 2009)
173. "Intro" (The Beyoncé Experience Live, 2007)
172. "Beyoncé Interlude" (Dangerously in Love, 2003)
171. "Creole" (B'Day International Deluxe Edition, 2006)
170. "Heavy" (w/ Jennifer Hudson & Anika Noni Rose) (Dreamgirls OST, 2006)
169. "Cards Never Lie" (w/ Rah Digga & Wyclef Jean) (MTV's Carmen: A Hip Hopera OST, 2001)
168. "The Star Spangled Banner (Super Bowl XXXVIII Performance)" (Non-Album Single, 2004)
167. "Finale" (I Am Yours: An Intimate Performance at Wynn, Las Vegas, 2009)
166. "Step on Over" (w/ Sharon Leal & Anika Noni Rose) (Dreamgirls OST, 2006)
165. "What More Can I Give" (By Michael Jackson & The All-Stars) (Non-Album Single, 2003)
164. "****Sex Kitten" (By Kitten Kay Sera) (Self-Titled, 2013)
163. "When I First Saw You" (w/ Jamie Foxx) (Dreamgirls OST, 2006)
162. "I Wanna Be Where You Are" (I Am Yours: An Intimate Performance at Wynn, Las Vegas, 2009)
161. "Family" (w/ Jamie Foxx, Jennifer Hudson, Keith Robinson & Anika Noni Rose) (Dreamgirls OST, 2006)
Some of Beyoncé's more interesting failures here, none more perplexing than her and André 3000's totally inert cover of Amy Winehouse's "Back to Black" (No. 176), about as bad a misreading of one major artist's work by another that we've had in the last decade. "World Wide Woman" (175) was doomed by its timestamped hook, in which Beyoncé actually shouts out the letters "W! W! W!" time and again, and the lyrics of "Creole" (171) ("And all my brown bones get on the floor / Then you mix it up and you call it Creole") were questionable enough that you can't even legally hear the full song in the States anymore. There's a good reason why you don't remember Michael Jackson's All-Star-led "What More Can I Give?" (165) — the song, originally written and produced to be a post-9/11 charity single, didn't even get officially released until late 2003, at which point its musical flatness was too much to overcome.
160. "Have Your Way"  (W/ Kelly Rowland) (His Woman His Wife OST, 2000)
159. "God Made You Beautiful" (Life Is But a Dream, 2013)
158. "God Bless the USA" (Non-Album Single, 2008)
157. "It's All Over" (w/ Jamie Foxx, Jennifer Hudson, Sharon Leal, Keith Robinson & Anika Noni Rose) (Dreamgirls OST, 2006)
156. "Lorell Loves Jimmy/Family – Reprise" (w/ Sharon Leal & Akina Noni Rose) (Dreamgirls OST, 2006)
155. "Fever" (The Fighting Temptations OST, 2003)
154. "I'm Somebody" (w/ Sharon Leal & Anika Noni Rose) (Dreamgirls OST, 2006)
153. "Still in Love (Kissing You)" (B'Day Deluxe Edition, 2007)
152. "Cadillac Car" (w/ Laura Bell Bundy, Jennifer Hudson, Eddie Murphy, Rory O'Malley, Anika Noni Rose & Anne Warren) (Dreamgirls OST, 2006)
151. "Poison" (I Am… Sasha Fierce Deluxe Edition Re-Release, 2009)
https://youtube.com/watch?v=Dt-r2FCEqlQ
A whole lot of Dreamgirls here — Beyoncé is a credited lead performer on a whopping 16 tracks on that soundtrack's deluxe edition, but many of the songs (including most of those in this block) were really group numbers, or songs in which Bey sings backup. Otherwise, her cover of Peggy Lee's "Fever" (155) is fine but adds nothing new to the pop standard — ditto for her cover of Lee Greenwood's "God Bless the USA" (158), though that does get some points for allowing us to put Lee Greenwood's and Beyoncé's name in the same sentence. "God Made You Beautiful" (159) is a professional production, but its message and delivery are so bland that, coming in the midst of Bey's most creatively fruitful period, it's harder to excuse than it would've been ten years ago.
150. "Daddy" (Dangerously in Love, 2003)
149. "Save the Hero" (I Am… Sasha Fierce iTunes Bonus Track, 2009)
148. "The Last Great Seduction" (w/ Mekhi Phifer) (MTV's Carmen: A Hip-Hopera OST, 2001)
147. "Hard to Say Goodbye" (w/ Sharon Leal & Anika Noni Rose) (Dreamgirls OST, 2006)
146. "Swing Low Sweet Chariot" (The Fighting Temptations OST, 2003)
145. "Hey Goldmember" (Austin Powers in Goldmember OST, 2002)
144. "All I Could Do Was Cry" (Cadillac Records OST, 2008)
143. "I Want You Baby" (Dreamgirls OST, 2006)
142. "Gift From Virgo" (Dangerously in Love, 2003)
141. "Honesty" (I Am… Sasha Fierce Platinum Edition, 2009)
"Daddy" (150) isn't necessarily a bad song, but it's hard to take its message of unequivocal parental adoration at face value without picturing father/ex-manager Matthew Knowles pulling the strings on his daughter's debut album. "The Last Great Seduction" (146), from Beyoncé's MTV-movie turn as the legendary temptress Carmen is pretty stilted and tame compared to future Bey seductions on record, though Mekhi Phifer is actually kinda decent as a rapper. "Hey Goldmember" (144) was the earliest and most explicit of Bey's disco tributes — the forgotten cut from the '70s-set Austin Powers threequel is essentially a mashup cover of three separate KC & the Sunshine Band hits, for some reason.
140. "Stop That!" (MTV's Carmen: A Hip-Hopera, 2001)
139. "Ave Maria" (I Am… Sasha Fierce, 2008)
138. "Once in a Lifetime" (Cadillac Records OST, 2008)
137. "Love a Woman" (By Mary J. Blige) (My Life II… The Journey Continues (Act I), 2012)
136. "Lost Yo Mind" (B'Day Pre-Order Bonus Track, 2008)
135. "Hello" (I Am… Sasha Fierce Deluxe Edition, 2008)
134. "Flaws and All" (B'Day Deluxe Edition, 2007)
133. "He Still Loves Me" (The Fighting Temptations OST, 2003)
132. "Wishing on a Star" (Roll Bounce OST, 2005)
131. "Rise Up" (Epic OST, 2013)
"Ave Maria" (138) was the draggiest ballad on I Am…, though it was helped little by being surrounded by too many other ballads in the first place. "Love a Woman" (137) is shockingly leaden for a collaboration between two of the most important R&B artists of the last quarter-century. "Lost Yo Mind" (136) sounds like a simultaneous retread of about a half-dozen superior B'Day-era tracks, most of which were also produced by Swizz Beatz and Sean Garrett. "Flaws and All" (133) has its moments, but the general lyrical conceit of "I'm a host of imperfections… I don't know why you love me" is pretty tough to not roll your eyes at.
130. "The Closer I Get to You" (w/ Luther Vandross) (Dangerously in Love, 2003)
129. "So Amazing" (w/ Stevie Wonder) (So Amazing: An All-Star Tribute to to Luther Vandross, 2005)
128. "Bienvenue" (By IAM) (Revoir un printemps, 2003)
127. "Naive" (By Solange) (Solo Star, 2003)
126. "Broken-Hearted Girl" (I Am… Sasha Fierce, 2008)
125. "That's How You Like It" (feat. Jay Z) (Dangerously in Love, 2003)
124. "Move" (Dreamgirls OST, 2006)
123. "Turnt" (By The-Dream) (IV Play, 2006)
122. "Put It in a Love Song" (By Alicia Keys) (The Element of Freedom, 2010)
121. "A Woman Like Me" (The Pink Panther OST, 2006)
Two back-to-back Luther Vandross joints: one a duet featuring the Queen on an acceptable cover of Roberta Flack and Donnie Hathaway's '70s soul classic "The Closer I Get to You" (130), and one a faithful tribute from Bey and another soul legend, Stevie Wonder, doing Vandross' "So Amazing" (129). Sister Solange makes her only appearance on this list with "Naive" (127), a bonus track from her first album — which pre-dated Big Sis' solo debut, believe it or not — though neither artist had really come into their own at that point. And "That's How You Like It" (125) endures as the other Bey and Jay collab on Dangerously in Love, though it's not exactly hard to pinpoint why "Crazy in Love" was the one selected as a single.
120. "Amor Glitano" (By Alejandro Fernandez) (Ireemplazable, 2007)
119. "Just Stand Up!" (By Artists Stand Up to Cancer) (Non-Album Single, 2008)
118. "After All Is Said and Done" (w/ Marc Nelson) (The Best Man OST, 1999)
117. "Fighting Temptation" (The Fighting Temptations OST, 2003)
116. "Satellites" (I Am… Sasha Fierce, 2008)
115. "Runnin' (Lose It All)" (By Naughty Boy) (Non-Album Single, 2015)
114. "Steppin' to the Bad Side" (Dreamgirls OST, 2006)
113. "Trust in Me" (Cadillac Records OST, 2008)
112. "Pretty Hurts" (Beyoncé, 2013)
111. "Dangerously in Love 2" (Dangerously in Love, 2003)
https://youtube.com/watch?v=tfbxxd01mzk
Bey's second big All-Star charity single appearance, "Just Stand Up!" (118), certainly went a lot better than her first, though obviously neither song was a 21st-century "We Are the World," exactly. "Pretty Hurts" (112) starts Beyoncé's most beloved album off with its worst song, its intriguingly hiccuping intro giving way to uninspiring bombast and some of the most groan-worthy lyrics of Bey's career ("It's the soul that needs the surgery"). As for "All Is Said and Done" (117), the earliest entry on this list with Beyoncé as a lead artist… well, you gotta love The Best Man, and how wild is it that Bey once got co-billing with the Pete Best of Boyz II Men?
110. "Welcome to Hollywood" (B'Day Deluxe Edition, 2007)
109. "Crazy Feelings" (By Missy Elliott) (Da Real World, 1999)
108. "Radio" (I Am… Sasha Fierce, 2008)
107. "Back Up" (B'Day Circuit City Bonus Track, 2006)
106. "What's It Gonna Be" (Dangerously in Love Japanese Edition, 2003)
105. "I Was Here" (4, 2011)
104. "Keep Giving Your Love to Me" (Bad Boys II OST, 2003)
103. "At Last" (Cadillac Records OST, 2009)
102. "Summertime" (feat. Diddy) (The Fighting Temptations OST, 2003)
101. "Scared of Lonely" (I Am… Sasha Fierce Deluxe Edition, 2008)
"Back Up" (107) has a pretty slamming beat but not much else going on, though it's worth remembering just to consider a time when the phrase "Circuit City Bonus Track" could've plausibly been A Thing. "I Was Here" (105) seems to have its sights set on being something close to a signature closing number, but it comes off staid and formulaic on an album as generally loose and unpredictable as 4. "At Last" (103) was a strong enough take on Etta James' most famous number for Bey to perform it at the Obamas' first inaugural ball, but there's just no improving on the real thing.
100. "Fake Your Way to the Top" (Dreamgirls OST, 2006)
99. "Forward" (feat. James Blake) (Lemonade, 2016)
98. "Signs" (Dangerously in Love, 2003)
97. "Time to Come Home" (The Fighting Temptations OST, 2003)
96. "If Looks Could Kill (You Would Be Dead)" (w/ Mos Def) (MTV's Carmen: A Hip-Hopera, 2001)
95. "That's Why You're Beautiful" (I Am… Sasha Fierce Deluxe Edition, 2008)
94. "Everything I Do" (w/ Bilal) (The Fighting Temptations OST, 2003)
93. "Dreaming" (4 Japanese Bonus Track, 2011)
92. "Sandcastles" (Lemonade, 2016)
91. "My First Time" (Live at Wembley, 2004)
"If Looks Could Kill (You Would Be Dead)" (96) is probably the most rapping we'll hear from Beyoncé (and definitely the only time we'll hear her talk about how "brothers sweat [her] like Patrick Ewing"), and for that alone deserves Top 100 placement. The Bilal duet "Everything I Do" (94) is probably the best Fighting Temptations cut, an aqueous ballad that makes you wonder what it would sound like if Beyoncé had ever joined up with the Soulquarians for a whole album. "My First Time" (83) is an enjoyably low-key Neptunes collab, as unassuming and innocent as its title would (hopefully) imply. And though neither of the two lowest-rated Lemonade cuts ("Forward," 99, and "Sandcastles," 92) do much on their own, together they add up to a somewhat needed deep breath on the album's second side.
90. "Work It Out" (Austin Powers in Goldmember OST, 2002)
Despite its novelty beginnings on the Austin Powers in Goldmember soundtrack, the first song of the rest of Ms. Knowles' life is better than you remember, if exactly as generic. She brings sprightly ambition to the mess of clattering drums, toybox Stevie Wonder clavinet, and traffic-jam horn quacks, even if the whole thing's a one-riff wonder. Her very next release was "Crazy in Love," which wiped memories of this altogether, but it's more than just a dry run. — DAN WEISS
89. "Rather Die Young" (4, 2011)
Not quite as urgent as the title implies, and some of the lyrics ("What I'm gonna do is be a woman / And you can be a man") are a little Ron Burgundy. Hard to deny the horn-punctuated yelping on the chorus, though ("I'd rather not…live…AT….ALLLL!!"). Bey at her most romantically overwhelmed. — ANDREW UNTERBERGER
88. "If I Were a Boy" (I Am… Sasha Fierce, 2008)
This starkly composed gender-bending ballad pulls from a common female fantasy: how much easier relationships would be as the man who calls the shots. And while the lyrics themselves are powerful, the song's intensity relies heavily on Beyoncé's gorgeous vocals; the role-playing desire sounds all too real. — HAZEL CILLS
87. "One Night Only (Disco Version)" (w/ Sharon Leal & Anika Noni Rose) (Dreamgirls OST, 2006)
In which Beyoncé gets to indulge her long-simmering Donna Summer fantasies in full, with disco horns, piano, strings, cowbell, whistles — everything but Giorgio Moroder himself shooting off his laser gun in the background. It won't replace "Last Dance" as a Bar Mitzvah closing-time anthem anytime soon, but the pastiche is impressively convincing. — A.U.
86. "Best Thing I Never Had" (4, 2011)
Though it's built around "A Thousand Miles" piano rolls, one would hazard a guess that Beyoncé would be unwilling to walk 1,000 feet for the unnamed antagonist of this breakup ballad. The cringe-y netspeak is mostly forgivable, if only because "sucks to be you" is the kind of strident platitude you cling to when you realize kicking an ex-lover to the curb was such a good thing. — COLIN JOYCE
85. "Listen" (Dreamgirls OST, 2006)
Bey's show-stopping solo closer from Dreamgirls, enough of a signature ballad that she couldn't resist including it as a hidden track on her contemporaneous B'Day album. It doesn't quite get to the Bodyguard levels of emotional catharsis she's no doubt shooting for, but it'll be a musical audition standard until the end of time. — A.U.
84. "Freedom" (feat. Kendrick Lamar) (Lemonade, 2016)
Nice organ, and Kendrick shows up to save the day as usual, but stodgy and over-serious enough to remind you why they should've retired "Freedom" as a song title after George Michael. — A.U.
83. "Mine" (feat. Drake) (Beyoncé, 2013)
This is Beyoncé as pieta, sweet, sweet baby Drake cradled in her arms, both shattered in the wake of tragedy. Album cuts are where she tends to get realest (and, here, realist) so here's one of her best about what you do when you lose what's yours, aided by the rap game's most capable commiserator. — C.J.
82. "Dreams" (by Boots) (WinterSpringSummerFall, 2014)
Making a surprise appearance on U.K. producer (and Beyoncé collaborator) Boots' mixtape, Bey plays it as it lays for the first part of this delicate, glassy, under-the-sea slow dance, then blends the indie songbook with an intensely lonesome R&B croon. — JIA TOLENTINO
81. "Disappear" (I Am… Sasha Fierce, 2008)
Co-written and produced by English singer/songwriter Amanda Ghost, "Disappear" has the light rainfall of a post-Britpop breakup ballad, its disappointed resignation ("When I think about it / I know that I was never there") a refreshing change of pace from the dramatic melisma and miserable wallowing of most of I Am… — A.U.
80. "Blue" (Beyoncé, 2013)
Baby's first song credits! Beyoncé's ode to her daughter is the yang to Jay Z's "Glory," swelling to an epically percussed chorus and bridge bolstered with Beyoncé's untouchable motherly love. But it's really Blue's voice at the end that tears down the listener's last defenses. — HARLEY BROWN

79. "Part II (On the Run)" (By Jay Z) (Magna Carta Holy Grail, 2013)
Beyoncé and Jay Z have recorded more than a handful of collaborations over their decade-plus as a public item, but their most recent one highlights the peak of their relationship, where they are confident, more mature, and just plain gangsta. — BIANCA GRACIE
78. "If" (B'Day International Deluxe Edition, 2007)
On this finger-snapped, string-soaked ballad with chord changes vaguely reminiscent of the Backstreet Boys' "All I Have to Give," Bey is a girl, not yet running the world. It's hardly her most lyrically sophisticated end-of-relationship portent, but who cares when you're already swept away by the lush, cascading pianos? — H.B.
77. "Smash Into You" (I Am… Sasha Fierce, 2008)
For a song with such an explosive title, "Smash Into You" whistles in with surprising tenderness, Bey purposefully stretching out each syllable in her finely savored verses ("As I watch my feet take turns hitting the ground…") The swell to the big climax is great and all, but it's those early moments that best presage the delicate sensuality with which her later albums would glow. — A.U.
76. "Superpower" (Beyoncé, 2013)
That a ballad co-written by and featuring R&B's vaporous superman Frank Ocean could be one of its less essential moments is a testament to the bottled lightning that comprises Beyoncé. Still, slot it on any other record and the otherworldly blips and burps would stand out like the futurist candy shop jingle it really is. — C.J.
75. "Start Over" (4, 2011)
A gorgeous melody delivered from the stomach rather than the throat, with a rare message of vulnerability and reconciliation from an artist not exactly known for endorsing second chances. "Maybe we lost a magic piece, and we're both too blind to find," sang a Ms. Carter who maybe realized the Western world's most powerful marriage (save for the Obamas) isn't in fact replaceable. Here's to newfound diplomacy. — D.W.
74. "You Changed" (By Kelly Rowland) (Talk a Good Game, 2013)
https://youtube.com/watch?v=ZUM2VQGDTus
Memory of Kelly Rowland's excellent 2013 album Talk a Good Game was uncharitably eclipsed by the release of Beyoncé's world-swallowing self-titled album later in the year, but it was full of gems like "You Changed," a pass-the-mic breakup ballad in which the three ladies of Destiny's Child prove their enduring sororal bond by not actively trying to out-belt one another. Still, Bey leaves with the song's finest moment: "But you let the BALLLLL DROP!" — A.U.
73. "I Got That" (By Amil) (All Money Is Legal, 2000)
Amil's career may have quickly evaporated after the turn of the century, but how many other artists in music history can say they've both upstaged Jay Z on his hit and gotten Beyoncé to play hook girl for their own single? The squelching, slithering "I Got That" deserved better, and Bey's breathy chorus is a big reason why, a statement of simple financial and romantic independence in the midst of the greatest run of such singles ever released by a major pop artist. — A.U.
72. "Yes" (Dangerously in Love, 2003)
Beyoncé's catalog is full of sh—ty dudes who don't quite deserve her affections, but few get an airing out like the "you" on this Dangerously in Love deep cut. Synth lines upend and reverse like a slinking version of "Tomorrow Never Knows," but her lyrical concerns are more worldly, namely this guy's "ungrateful" attitude the first time she gives him anything but the affirmative. She sews it up with a gut punch: "You showed me your true face baby / The first time I said no." Not mad; just disappointed. — C.J.
71. "Standing on the Sun" (Remix feat. Mr. Vegas) (Beyoncé: More Only, 2013)First scoring the commercial for Beyoncé's H&M collaboration and landing with a Mr. Vegas remix on the Beyoncé side EP, the feel-good, tropical "Standing On The Sun" has never had an official release in its original form. Although not a right fit for the surprise album, the catchy single is an underrated cult favorite among fans. — H.C.
70. "Love Drought" (Lemonade, 2016)Doesn't quite pack the sweep or emotional punch that the dramatic low-end of Lemonade should have, and the title is undoubtedly a little artless. But the twinkling synths have the necessary pull, and it's hard to argue with those opening lines: "Ten times out of nine I know you're lying / But nine times out of ten I know you're trying." — A.U.
69. "Green Light" (B'Day, 2006)
A Bey-Neptunes team-up close to the two 21st-century pop megapowers' respective pinnacles, "Green Light" didn't quite get the peak of either artist, but still clangs and shuffles with the effortless funk you'd expect from such a collab. Plus, an "Addicted to Love"-inspired music video is never a bad call. — A.U.
68. "See Me Now" (By Kanye West) (My Beautiful Dark Twisted Fantasy iTunes Bonus Track)
https://youtube.com/watch?v=Ejqm4dBHYRo
When you're already Barry Bonds, getting Beyoncé on your hook is tantamount to a few doses of dianabol. She and Charlie Wilson pop up for a few mountainous choruses among some of Kanye's best forgotten bars (best diss of the bourgeoisie: "You walked into Nobu like it was Whole Foods"), a reminder that sometimes you need the juice for a hit record. — C.J.
67. "I'd Rather Go Blind" (Cadillac Records OST, 2008)
Most of Beyoncé's takes on Etta James' classics for her Cadillac Records role as the Matriarch of R&B were too considered by half; no such worries here, as the self-proclaimed Diva struts, purrs, wails, and wails even harder her way through one of James' most desperate pleas. She may never quite match her predecessor for naturalistic stank, but the growling way she revs herself up on the "I was JUUUUST…" repetition shows Bey at her most gratifyingly unkempt. — A.U.
66. "Dreamgirls" (w/ Jennifer Hudson & Akina Noni Rose) (Dreamgirls OST, 2006)
For those who've seen the film, there's a sense of frenzied urgency lying just beneath the surface of Bey's teeth-out, lips-stretched smile of a delivery. Sans narrative, it's obviously not as powerful, but still a winning-enough girl-group throwback. — BRENNAN CARLEY
65. "Me, Myself & I" (Dangerously in Love, 2003)
Full disclosure: Dangerously in Love was the first album I ever bought with my own money when I was 12, begging my dad to drive me to the local Sam Goody to make a boy's dreams come true. Third single "Me, Myself, and I" has stood the test of time nicely, riding a rubbery bass to its all-empowering chorus and back. Preach, Bey. — B.C.
64. "Suga Mama" (B'Day, 2006)
A reunion with "Crazy in Love" producer Rich Harrison, "Suga Mama" hasn't proven quite as timeless, but has a rawness to its secondhand Nixon-era funk that gives Bey's oddball come-ons ("Claimed you on my taxes already") a little more zest than usual. Shoutout, by the way, to Jake Wade and the Soul Searchers, who are listed as having done just two things on their Wiki page: Touring with Meat Loaf in the '70s, and getting sampled by the Queen here. — A.U.
63. "Party" (feat. André 3000) (4, 2011)
https://youtube.com/watch?v=v1AYDjFxr7o
La di da di, Beyoncé knows how to party — and make bunny ears work with innumerable outfit changes, and #flawlessly lip-sync Kanye West's "swagu" interstitials. No one's had this much fun in a motel and a trailer park since, well, ever. — H.B.
62. "Heaven" (Beyoncé, 2013)
The verses here — the piano spare and basic, her voice roughly plaintive — are as emotionally exposed as late-capitalist Beyoncé will ever get. In February 2013, she told Oprah that she'd had a miscarriage before getting pregnant with Blue Ivy; ten months later, she explained it like this. — J.T.
61. "Daddy Lessons" (Lemonade, 2016)
Beyoncé's much-ballyhooed "country song" is really more KT Tunstall than Kacey Musgraves; you half-expect a rollicking "Woo-hoo!" after each measure of strump-stomp. Still, of all of Beyoncé's songs to pay some degree of tribute to her complicated relationship with father Matthew, this one — in which he toughens her up by granting her the license to kill when "men like [him] come around" — feels the most honest. — A.U.
60. "Until the End of Time" (By Justin Timberlake) (FutureSex/LoveSounds Deluxe Edition, 2007)
Justin Timberlake's Prince-quoting original from his sophomore solo album was stunning on its own, but leave it to King Bey to take this crooning ballad to a sultrier, more yearning level. — B.G.
59. "'03 Bonnie & Clyde" (By Jay Z) (The Blueprint 2: The Gift & the Curse, 2002)
A pre-relationship-announcement track from Bey and Jay wrapped up in block-party flamenco glimmer. This was a flex and a foreshadowing: When this couple wants to flash us their chemistry, they're relentlessly cool. — J.T.
58. "Ring Off" (Beyoncé: More Only, 2014)
Over a repeated, Carribean-funk guitar figure, the woman who implored the world to put a ring on it imagines an alternate universe where life begins when marriage ends, where dressing up and fixing your hair is a prison uniform and your husband's the warden. That it was slyly tucked into the bonus disc of the connubial fireworks display Beyoncé isn't an accident, she keeps up the sex-positive cheerleading by calling the song's subject, her mama, sexy again and again. — D.W.
57. "Ego" (I Am… Sasha Fierce Deluxe Edition, 2009)
Bey's least-sly set of double entendres ever, rendered not only forgivable but downright ecstatic by a horn-and-piano groove that could make a reading of the NBA's collective bargaining agreement sound hot. Kanye eventually offered a thoroughly unnecessary guest verse to the remix, but his real contribution to "Ego" was in setting the precedent for the Sunday-morning warmth of Blac Elvis' production here. — A.U.
56. "Lift Off" (By Kanye West & Jay Z) (Watch the Throne, 2011)
The rare underrated Yoncé song, possibly because it's the only unabashedly feminine moment spoiling the otherwise bro-y Watch the Throne's cooties-free fun. Bey takes the whole thing — 6/8 beat, string fanfare fit for King Arthur and all — to Mars on the strength of her rocket-fueled chorus. It should say something that the two biggest titans in rap got the hell out of the way on their own mecha-album for the Queen. — D.W.
55. "Run the World (Girls)" (4, 2011)
While it would take a few more years for people to take her seriously as a feminist, Beyoncé would help set the stage with the badass "Run The World," an empowering revamp on Major Lazer's "Pon De Floor" and a sequel of sorts to "Single Ladies." — H.C.
54. "Nothing Out There for Me" (By Missy Elliott) (Under Construction, 2002)
A rare role for Beyoncé: the doting housewife, catering to her man's insecurities rather than tearing it up with best-bud Missy Elliott. The song plays it impressively even-handedly; it's unclear if we should sympathize with Missy for wanting her girl to live free, or with Bey for acknowledging her home life is worth more than the club's temptations. Either way, the song's conclusion — Missy conceding "OK stay wit yo man, I'll be at the club doing my dance" — is perfectly non-judgmental. — A.U.
53. "Lay Up Under Me" (4 Deluxe Edition, 2011)
One of the brilliantly ebullient bonus tracks on 4, in which Bey tries to encourage her own man to let her bedroom be the dance floor, even promising to "DJ all of your songs." Given the song's lithe post-disco bounce, it sounds like her set would be worth any cover charge, anyway. — A.U.
52. "Hip Hop Star" (Dangerously in Love, 2003)
Hands down one of Beyoncé's most underrated album cuts, and with its uncharacteristically growling bass line and stuttering drum beat, an insight into her spirit of experimentation, which would extend beyond the predictability of her early R&B-heavy jams. — B.G.
51. "Check on It" (feat. Bun B and Slim Thug) (The Pink Panther OST, 2006)
With Slim Thug and Bun B checking on it, Beyoncé makes three Houston soldiers slinging lines from the club. In the background, there's a wobbling alarm, the blinking light against which Beyoncé takes the playful, contrapuntal radio melody and rides and rides. — J.T.
50. "All Night" (Lemonade, 2016)
Neither the floor-filler or the light-dimmer you'd expect from the exhaustive implications of the title, "All Night" instead glides over a reggae-tinged groove of gently percolating bass line and eternally echoing guitars, showing the self-restraint and temperance a true dusk-to-dawn marathon would necessitate. Do we really need another "SpottieOttie" horn interpolation? Of course not, but I don't hear you complaining. — A.U.
49. "Haunted" (Beyoncé, 2013)
Inspired by Aphex Twin, "Haunted" is a spooky shape-shifting number, playing like a distorted music box as corrupted as it is ethereal and sweet. Beyoncé begins by rapping a stream of consciousness about working to stay alive, and halfway through things get explicitly kinky, with the song morphing into a mechanical, trip-hop club jam. — H.C.
48. "Beautiful Liar" (w/ Shakira) (B'Day Deluxe Edition, 2007)
The superior Shakira-plus-pop star duet of the 21st century (sorry "Can't Remember to Forget You," a toothpaste-ad jingle that not even stans could muster a care for), "Liar" predicted the flattened-horn-anchoring pop songs of the past few years and even threw in a grown-woman shout-off for good measure. — B.C.
47. "Pray You Catch Me" (Lemonade, 2016)
An alluringly perilous beginning to Lemonade. Art of Noise-like vocal chops and stereo pans give way to one of Beyoncé's most fragile piano ballads, the titular prayers implying Queen Bey half-wanting her man to notice her eavesdropping on his unfaithfulness, and still half-hoping he'll save her by providing some non-heartbreaking explanation for his behavior. You have no idea what to expect from the rest of Lemonade once it's over, and that's pretty much the point. — A.U.
46. "Be With You" (Dangerously in Love, 2003)
At this point of Beyoncé's career, her blooming relationship with then-boyfriend Jay Z was still kept under wraps, but songs like this showed just how deep she already was ("There's no other man / That gives me what I want / And makes me feel this way"). Her songwriting has definitely evolved since "Be With You," yet it is a charming reminder of her blissful and slightly naive stages. — B.G.
45. "Diva" (I Am… Sasha Fierce, 2008)
A major pillar in the church of Beyoncé Got Bars, this "A Milli"-gone-SATC track was low on melody and high on clean-lined trap, showing our diva to be the greatest hustler of all. — J.T.
44. "Telephone" (By Lady Gaga) (The Fame Monster, 2009)
A badass, fiery, and insanely catchy pop masterpiece. What else would you expect when you combine two of the fiercest ladies in the game, and give them an unlimited costume budget?  — B.G.
43. "Jealous" (Beyoncé, 2013)
While it's hard to imagine her waiting around naked for any man, "Jealous" is a portrait of the pop star in a moment of timid jealousy and insecurity. The song rounds out Beyoncé as a document of Beyoncé's very human multiplicity, that beyond the strip teases and Skittles-licking, superstar relationships can be messy. — H.C.
42. "Love in This Club (Pt. II)" (By Usher) (Here I Stand, 2008)
One of pop's all-time great "We are tremendously successful and famous" three-way back-rubs; Beyoncé, Usher, and Lil Wayne (combined Hot 100 No. 1s at the time: 14) basically congratulating one another for showing up on the same track for five minutes. For all the lustiness of the original's hook, this time out it's more ego than id — the trio is too busy clinking champagne flutes to advance to the more salacious stages of courtship, and the result is appropriately intoxicating. — A.U.
41. "Don't Hurt Yourself" (feat. Jack White) (Lemonade, 2016)
Hard to have high expectations for this 2016 exercise in TIDAL solidarity, but surprisingly, the thick drum shuffle, crusted-over organs, and Jack White's bubbling bass give Bey a groove fonky enough for her to plausibly kiss-off "You can watch this fat ass twist, boy / As I bounce to the next dick, boy." If only we could've convinced the former Stripe to stay off the disappointingly inert chorus: "When you hurt me / You hurt yourself / Don't hurt yourself."
40. "Why Don't You Love Me" (I Am… Sasha Fierce, 2008)
Solange wrote and demoed this disco topline, but only her sister could make all this retro pleading sound so bitingly tough. "Tell me baby, why don't you need me / When I make me so damn easy to need?" she coos, like a whip. The last word in the song is the true last word, with Beyoncé hitting a single, flat note: "Dumb." — J.T.
39. "Dance for You" (4 Deluxe Edition, 2011)
The cultish worship on this 4 cut has a little more of a sinister bent than you might remember. In the track's monochromatic video, Beyoncé plays femme fatale to anonymous white dude detective Brett G. Smith, listing off all the reasons (gifts, "moonlight," etc.) that he's deserving of her devotion. But that inventory of motivations starts to ring hollow once she gets around to naming the very "power of love" as one of the root causes for her fondness for Mr. Smith. No, real affection takes a little more than that. Film noir often packs a violent twist, so why can't "Dance for You" just be a build-up to the furtive dispatching of an an old lover? These sorts of things always start with obsession, and loving you is all that's on her mind. — C.J.
38. "Say Yes" (By Michelle Williams) (Journey to Freedom, 2014)
The best post-sabbatical reunion of Michelle, Bey and Kelly, with all three ladies using their exceptional capabilities for vocal exuberance to give it up to the true Child of Destiny. In 2015, gospel has a trickier time than ever crossing over into the secular world, but the next person of any religion to say no to a song this rapturous would be the first. — A.U.
37. "Kitty Kat" (B'Day, 2006)
Beyoncé's self-titled album is filled with sexy tunes that caught many by surprise, but let's not forget that it was preceded by dozens of tracks like the playful "Kitty Kat" that show off her sassy, "come hither" side — even on what's basically a breakup song. — B.G.
36. "Video Phone" (feat. Lady Gaga) (I Am… Sasha Fierce, 2008)
Not to be confused with Lady Gaga's Bey-featuring "Telephone," "Video Phone" nods to a gentleman recording a sex tape and, perhaps, a passerby trying to get their paparazzi on. Despite the dated technology, the track's futuristic melting pot of oud melody, Ennio Morricone-inspired intro, and reggaeton-flicked beat still sounds as fresh today as it did in 2009. — H.B.
35. "Grown Woman" (Beyoncé Video Album, 2013)
It'll be tough to ever forgive Mrs. Carter for only including this banger as a video on Beyoncé, or for her creepily editing archival childhood footage to make it seem like Baby Bey was singing "Grown Woman" as a toddler. However, the crisp, gum-snapping majesty of this hater brushoff makes all that forgivable — plus if you stick around long enough, you get a bonus Kelly Rowland appearance in the video. — B.C.
34. "Hold Up" (Lemonade, 2016)
Turns out, nothing sells a caught-out-there anthem more than precociously plucked strings and generously deployed Hot 97 airhorns. Bey is having too much fun sunning to the song's 75-degree minimalism to remember sound more angry than liberated, but really, vengeful fury is just one of many good reasons to put a baseball bat through a car windshield. The vibes are good enough that let's throw Karen O. a writing credit for half-swiping her most famous chorus, why not?  — A.U.
33. "Naughty Girl" (Dangerously in Love, 2003)
"I'm feeling sexy, I want to hear you say my name," Beyoncé sings in "Naughty Girl," the track that introduced the world to Beyoncé as a sex symbol rather than merely a third of the charming Destiny's Child. The singer does her best Donna Summer over the repetitive, funky beat, as high-pitched and breathy as she'll ever be, and the result is searing. — H.C.
32. "No Angel" (Beyoncé, 2013)
Beyoncé found the Queen tapping into sounds that were more left-lane for her, but taking musical risks like the breathy and atmospheric "No Angel" — whose booming, alternately lush and minimal soundscapes would've been unimaginable on Dangerously in Love a decade earlier — paid off very well. — B.G.
31. "Freakum Dress" (B'Day, 2006)
Sure, Beyoncé is a powerhouse singer who can dominate any ballad. But us Beyhive members also love her for giving us the proper adrenaline when its time to tug at a few wigs, and "Freakum Dress" embodies that HYPE. — B.G.
30. "6-Inch" (feat. The Weeknd) (Lemonade, 2016)
Just when you thought there wasn't any more mileage for hip-hop and R&B to get out of Walking on By that oft-used sample, Bey uses it as red-carpet music for her long-overdue entrance at the club — the same one she and hubby were too busy getting freaky in the car to make it to back in the good ol' days. There were no survivors, particularly not Abel friggin' Tesfaye. — A.U.
29. "Speechless" (Dangerously in Love, 2003)
A six-minute slow jam that earns it, as slow and easy as an Isaac Hayes ballad, with soaring guitar, syrupy vocals, and as much patience as you have time. "Me, Myself & I" was the easier single choice, but "Speechless" could've been her "Purple Rain." — A.U.
28. "End of Time" (4, 2011)
Horn-honking funk? A sampled "don't f—k with me" bumping in the background? Those drums? They all come together to join Beyoncé in a shuddering, pulsing blast of confidence with lyrics that veer just shy of dangerously corny. — B.C.
27. "7/11" (Beyoncé: More Only)
On what was already a truly luxe redux of her self-titled release, "7/11" makes a case for Beyoncé as some combo of ATLien and actual alien. Three-and-a-half minutes of spaceship-landing synth lines and post-OutKast mouth mantras build into a swirly subliminal ad for a host of paradoxical -isms: alcohol, vegan, surreal, etc. She's perennially impossible to fully pin down, and yeah, even her bonus tracks are fresher than you. — C.J.
26. "Déjà Vu" (feat. Jay Z) (B'Day, 2006)
In the sequel (in everything but name) to "Crazy in Love," Queen Bey stutter-steps and flings her hair through beachside dance moves outdone only by the third entry in the duo's lead-single trilogy, "Drunk in Love." Throughout it her voice blares as clear and brassy as producer Rodney "Darkchild" Jerkins' trumpet accents.  — H.B.
25. "Sorry" (Lemonade, 2016)
Cool synths and rapid-fire drum claps soundtrack one of the most infectiously dispassionate kiss-off songs in Bey's discography, Bey's soft "Stop interruptin' my grindin'" coos and tossed-off "Nigga, naaaahhhhh" taunts rousing far more than her lapses into Adam Sandler-dom ("You can suck my balls, pause"). Either way, there should be no doubt for Beyoncé's ex that it's wayyyyyy too late now to say the titular apology. — A.U.
24. "1 + 1" (4, 2011)
The hardest Beyoncé has ever tried: Every honked "You!" and tweeted "Meeeee" is E-A-R-N-E-D. No one doubts she's the hardest working motherf—ker to combine Madonna-style cosmopolitanism and Mariah-style vaunted larynx acrobatics. That said, Beyoncé's not necessarily at her most fun when she's at her most hard-working: The exhaustingly impressive "1 + 1" is possibly her finest performance purely as a musician, but award-show fodder has its limits, and it's no surprise she said screw it after this wasn't a hit, in favor of having some real fun. — D.W.
23. "Drunk in Love" (feat. Jay Z) (Beyoncé, 2013)
"Drunk in Love" may have been eclipsed (or enhanced) by the endless wave of SERFBORT memes, but may Beyoncé's glorification of married, inebriated sex mark how far she's come as an artist who's also an independent woman — if for nothing else than how she blows Jay Z's limp verses way past the breakers. — H.B.
22. "Feeling Myself" (By Nicki Minaj) (The Pinkprint, 2014)
Who better to be the poster women of unapologetic self-love than Nicki and Bey? Part ode to female masturbation, part intense self-love for each other's achievements, "Feeling Myself" has Beyoncé repeating the title alongside Minaj like a radical mantra. "Changed the game with that digital drop, know where you was when that digital dropped," Bey raps astutely, a far cry from her "probably won't make any money off of this" lyrical shrug on the self-titled's "Haunted." — H.C.
21. "Rocket" (Beyoncé, 2013)
Beyoncé hasn't actually sang about sex as much as you might think. Yeah, a song like "Freakum Dress" is a prelude to an unspoken dance of the flesh, "1 + 1" is a plea for a husband to make love to his betrothed. But "Rocket" is where the premier artist of post-Prince pop truly got up the nerve to try and encompass the motions and strokes of coitus itself. Having had 13 years to process D'Angelo's Voodoo, she's unperturbed as she invites you to bathe in her waterfalls, to hold her til she screams for air. And in return she offers to be your personal trainer, therapist, sunshine, inner peace (!), and ah, entertainer. They're all really sweet bulls—t promises, but all we need is the last one. — D.W.
20. "XO" (Beyoncé, 2013)
The song that threatened to torpedo the whole secret project Bey had spent months keeping under wraps — this was the video filmed on Coney Island that resulted in one stranded rando on a Ferris Wheel for hours — "XO" takes a triumphant Ryan Tedder topline and threads it with an undulating, uptempo melody with the feel of an intimate slow-jam. — B.C.
19. "I Miss You" (4, 2011)
Beyoncé's immensely robust vocals can be quite intense at times, so songs like the Frank Ocean-penned (and occasionally Frank Ocean-sung)"I Miss You" serve as a breath of fresh air. It shows the dynamic of her voice, which is beautifully delicate and emotive over the song's nerve-racking, heart-ticking beat. — B.G.
18. "Ring the Alarm" (B'Day, 2006)
With the aggressive blare of a siren, Beyoncé veers into punk territory on "Ring The Alarm," a song that has her playing the vindictive girlfriend who's caught her man cheating. "You ain't never seen a fire like the one I'm gonna cause," she screams, her vibrato filled with Poly Styrene-evoking aggression. When the single was released, rumors circulated that the track was about a Rihanna and Jay Z affair, a claim that was repeatedly refuted by the singer. — H.C.
17. "Halo" (I Am… Sasha Fierce, 2008)
Who cares that the backing track was sold to Top 40 twice? The single-beat pause after Beyoncé, at the bottom of her range, growls "didn't even make a sound" — it's eternal, magnificent, the space where the rest of this celestial yell lives. — J.T.
16. "I Care" (4, 2011)
The contrast between Bey's wounded caught-in-the-throat chorus and the nearly-na na na taunts of the chorus' backing vocals is almost as much of an emotional roller coaster for the listener as it must have been for her. And then, as if there were any doubts about her vocal abilities, she harmonizes with a screeching electric guitar solo. Really. — H.B.
15. "Sweet Dreams" (I Am… Sasha Fierce, 2008)
One of the few standout tracks from I Am…Sasha Fierce, but oh, does it stand out. It's completely radio-friendly, yet still has subtle elements of darkness (those snarling synths, the eerie breakdown on the bridge) that make it so compelling to listen to over (and over) again. Why would you want to wake up from that? — B.G.
14. "Partition" (Beyoncé, 2013)
Within an album structured around sexuality, this is the track so filthy that even Beyoncé — with the line "Yoncé all on his mouth like liquor" — wasn't grown enough on first listen, she said, to match it. She spits and purrs her way through the spare first half; by the time she's at Monica Lewinsky, we're all trying not to crash the car. — J.T.
13. "Get Me Bodied" (B'Day, 2006)
Let there be Jazzercise. Producer Swizz Beatz doesn't have the widest range of studio talents, but this, he can do: snapping minimalism with negative space-swallowing background chants that make 98 BPM feel like 980, the perfect backdrop for Beyoncé to megaphone instructions over, like a best-case scenario robotic Richard Simmons. Michelle Obama used it to try to get America thin; any other song choice would've been downright silly. — A.U.
12. "Formation" (Lemonade, 2016)
Brassy, ballsy, and absolutely booming, "Formation" was a statement of warning dangerous and volatile enough to properly clear the landing zone for the follow-up to the most game-changing LP of the '10s. All good Bey Hive members should know by now to be ready to mobilize whenever the Queen calls for them, so if they don't heed the air-raid stabs of the intro in time for when the beat drops, it's their own fault, really. Making the Super Bowl was undoubtedly a coup for the song; making Red Lobster seem sexy was clearly a bigger one. — A.U.
11. "Baby Boy" (feat. Sean Paul) (Dangerously in Love, 2003)
Sean Paul and Beyoncé make perfect collaborators in their hypnotic, Bollywood-tinged No. 1 smash. The song feels so far from Bey's later output, with the then-21-year-old singer's breathy vocals subdued, only cracking the surface of the range she'd mine in later releases. There's no big story to tell on this hip-swerving classic, no overarching 1essage — just sultry, obsessive adoration. — H.C.
10. "Blow" (Beyoncé, 2013)
"Blow" represents the best of the inspired genre hopscotch that Beyoncé made its major project. Why not take a neon-lit jam and an oral sex ballad and make them one song? Why not — word to 2 Chainz — make an ode to both ridin' around and gettin' it? There's more breathy moaning than "Je T'aime" and more electric piano than a whole Stevie record, and it's sweet as a Skittle to boot. What more do you need? — C.J.
9. "Schoolin' Life" (4 Deluxe Edition, 2011)
https://youtube.com/watch?v=oAmnkPUFMHg
Meet the Beyoncé deep cut to bring a smile to the deepest, most hopelessly 4chan-entrenched cynic's face. A bonus on 2011's brilliant-but-mismanaged 4 that lays waste to the majority of songs that every single purchaser received, "Schoolin' Life" is one of the most replayable pop songs of the last decade, period. Ask yourself why Bon Iver's Phil Collins ballad from the same year should be credited with bringing back the LinnDrum while this piñata of synth bursts and horn fills and "We Built This City"-size arena solos should have caused the known universe to bedazzle their roller skates and take them to the rink. There's still time to make things right. — D.W.
8. "Upgrade U" (feat. Jay Z) (B'Day, 2006)
Gone here is the Beyoncé that would let Jay Z make her look foolish, even in love. Both an anthem for women who make projects out of their boyfriends and a musical treatise for power coupling, "Upgrade U" skates by love, sex, and friendship, going straight to power and reputation. "Come harder, this won't be easy," Bey sings. "Don't doubt yourself, trust me, you need me." Spitfire and serious, it's Beyoncé's snappy vocal delivery on "Upgrade U," punctuated by a horn-blaring, almost schoolyard clap-happy beat that makes the song so irresistible. — H.C.
7. "Countdown" (4, 2011)
As feverish and idiosyncratic a love song as God ever put on this earth, with the ruffled-up horns and short, delicious rattles of dancehall-via-video game percussion exploding through the spaces in Beyoncé's quixotic, athletic, piously bombastic melody. With the a cappella half-steps of Boyz II Men's "Uhh Ahh" grounding and guiding her, Bey jumps between numbers on the chorus to tight, ingenious, and wholly memorable effect: "Still the one I do this 4 / I'm tryna make us 3 / From that 2 / Still the 1." For all the unexpected mischief in the track, it may be most Beyoncé in its total militancy: Her ego is wrapped up in the ways she proclaims and receives love. — J.T.
6. "Resentment" (B'Day, 2006)
So intimate and raw-throated a Beyoncé cut that it's hard to believe it could be a cover. Indeed, the song was originally recorded by Victoria Beckham of all people, and even claimed by Jazmine Sullivan before it became Bey's purview. No matter: There's no denying the Queen's definitive version of the track, its sweet arrangement matched with her thorniest delivery ever, as scratchy and bruised as the static-laden production, as she warbles with palpable hurt over her lover's infidelity ("I know she was attractive / But I was here first"). The song has rightly endured as a Bey live staple, where it's made even brutal and personal; the singer often swapping out "like your mistress could" for "like that white bitch could." — A.U.
5. "Single Ladies (Put a Ring On It)" (I Am… Sasha Fierce, 2008)
"Single Ladies" is, more than any of her other pop-defining smashes, the first thing people think of when they think of Beyoncé: a song with bulletproof confidence and melody riding on her own steely sea of fervent applause. She does more with a "whoa-oh" than any Orange County punk band; and far more with a power glove than the original NES. It's both the quintessential Beyoncé song and a maze of sneaky detours; what's up with that doomy fake orchestra behind the hook? And you have to love the bridge ("What I deserve is a man that makes me, then takes me / And delivers me to a destiny, to infinity and beyond"), where she reveals that her dream partner is not her husband of six months, but Buzz Lightyear. — D.W.
4. "Crazy in Love" (feat. Jay Z) (I Am… Sasha Fierce, 2008)
From the first vamping measure of the street-rumbling horns, the hype of "Crazy in Love" is relentless — as unquenchable as a tornado, the track has a seemingly unlimited energy that sheds itself constantly only to exponentially increase. Beyoncé's vocals run deft and low through the verses, rippling progressively higher until the expected structure is flipped on you: As effortless as the instrumental hook is wild, her vocals become the backbone for the track's ecstatic fireworks. The whole thing feels like a booty-shaking marching band stomping brassy and bright down a block party to which everyone in the world is invited; we showed up, and still show up for this track every time. — J.T.
3. "Flawless" (Remix feat. Nicki Minaj) (Beyoncé: More Only, 2013)
There were murmurs in the Beyhive of this song's existence well before its release, and day-of, some fans claimed Bey had soundchecked it at that night's stop on the On the Run tour. But nothing could've prepared fans for the "SpottieOttieDopaliscious"-lifting hell-raiser that the icon dropped at midnight, with a selfie-studded single cover, and a defining guest turn by one of the few 2015 artists who could claim to be a worthy co-headliner. It's at once the most self-aware Bey's ever been — "Of course sometimes s—t goes down when it's a billion dollars on an elevator," she slings to the vultures — and her finest ode to femininity and bodily agency, Minaj putting it best with her startling "Curvalicious / Pussy served delicious." In proper Queen fashion, it immediately slammed the Internet to a halt. Deservedly so. — B.C.
2. "Love on Top" (4, 2011)
For years, Beyoncé Knowles proved herself a scientist of dance, a pioneer of post-Timbaland polyrhythm, a savvy singles factory, and a vivacious lead atop forcefully shifting petals of harmony. But the true apex of her identity as the ultimate One-Woman Show, the song that proves she's the American Idol to end them all, is one that puts love — and her clarion, theater-crumbling voice — first. The '80s soul arrangement, of Dionne Warwick keys cut with Dr. Dre fart-bass and unfashionably perfect Bleeding Gums Murphy sax, is redolent of the best wedding band to ever exist, with earth's most ambitious chanteuse in front. And from there we launch the 2010s' best parade of key changes to flutter up the scale like an anti-gravity slinky. Maybe the 2000s' and the 1990s' as well. Come to think of it, '80s soul could've used one of these too. — D.W.
1. "Irreplaceable" (B'Day, 2006)
Nobody in popular music has ever done more to make a breakup seem like a springboard to personal growth than Beyoncé. Across her near-two decades of smash hits, the end of a relationship has consistently served as the beginning of an emotional awakening; not once has she been dumped, only set free. But it's never that simple: As clean a break as you could ever make, as elated as you could feel to finally be up in the club, doing your own little thing while cackling at how much it sucks to be him right now, there are still feelings of frustration, anger, remorse, and doubt invariably present whenever you say goodbye for good to someone you once cared deeply about. (Yes, even if it's while they're departing in the cab you called for them.)
"Irreplaceable" is Bey's best because it acknowledges that fact. It's as triumphant and empowering and clever as any of her other uncoupling anthems, snappy enough to spawn a catchphrase a minute — "To the left, to the left," "You must not know 'bout me," "Could you walk and talk at the same time?," and so on and so on — but it never feigns detachment at the split. You can hear Beyoncé fraying at the edges with every "Because you was untrue!"-type squawk; every time her voice pains just that little bit to hit the "He'll be here in a minute" high note; even in every breath-collecting pause between beats in the song's audibly sighing Stargate production. It's the rare song that allows Beyoncé to be both otherworldly superhero and all-too-identifiable human, and even though Rihanna attempted her own virtual carbon copy of the song a year later, replacing its singular place in pop culture is not so easy. — A.U.