"I just got these jeans," Refused drummer David Sandström says as he stands up for a SPIN photo shoot. Like the strapping, dapper percussionist, every member of the hardcore punk act looks sartorially on-point today: Lead singer Dennis Lyxzén's cornhusk-colored hair, which will become soaked with sweat as he shrieks through the band's evening set at New York City's Bowery Ballroom, is meticulously swept to the side. Bassist Magnus Flagge is careful not to soil his crisp white shirt as he wolfs down a lunch tray. Poker-faced guitarist Kristofer Steen looks stoic in an all-black shirt and blazer. The skintight pants Sandström is modeling are also quite flattering. He chuckles to himself: "They're Acne. I left Sweden and got Swedish jeans."
Sandström smirks, probably because he's aware that leaving Sweden only to purchase pricey Swedish jeans is the sort of consumerist comment the recently reunited punk-rock crew of intellectuals would sneer at. The quartet's forthcoming record — Freedom, their first together since 1998's genre-jumping (not to mention highly influential) freethinking staple The Shape of Punk to Come — is fiercely invested in goading the blinders-wearing bourgeois to engage with under-documented global issues: European slavery and Sweden's homegrown anti-Semitic culture, to name just two. "We are so-called enlightened people, so we can look at these structures, but we're still going to be a part of it as long as they exist," says Lyxzén. "Then, of course, there are a lot of people that aren't aware of the political ramifications of their own lives, which we want to address."
After seven years together before parting ways in 1998, the fervently anti-capitalist Refused have earned legions of fans and acolytes over the last 17 years. They're admired for their musical versatility (while rooted in hardcore, Shape incorporates a stunning array of un-punk genres: jazz, techno, metal, classical) and strident non-conformity ("Punch a hole in tradition, yeah! / Let's listen to the songs of discontent"). The band's varied, semi-isolated background (Sandström went to music school, Steen grew up listening to jazz and opera, and Lyxzén, a self-described loner in a tiny, sequestered Swedish town, was more of an auto-didact) has made it so that their sound is not easily classified.
Pop-punk and alt-metal apostles — Blink-182, Underoath, the Used, La Dispute, and Rise Against — all cite Refused as an influence; Paramore liberally reference one of Shape's lo-fi standouts "Liberation Frequency" in their considerably more upbeat 2007 track "Born for This."
Despite the band's cutting-edge status, Sandström sees the band's storied effort as incomplete. "When you listen to The Shape of Punk to Come," he says, "it's obvious that there is a huge amount of ambition, but I don't think we had a clear idea."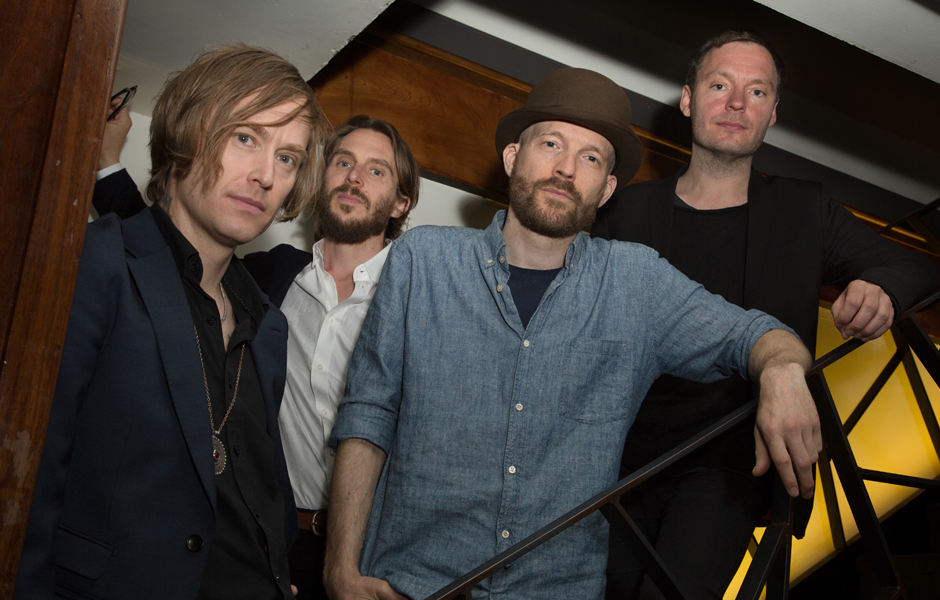 Originally formed in the early '90s in Umeå, Sweden, Refused unleashed their first studio album, a traditional, meat-and-potatoes hardcore record called This Just Might Be… the Truth, in 1994. Two more LPs — 1996's death metal-flirting Songs to Fan the Flames of Discontent and the aforementioned Shape — followed before they broke up. Each member went on to pursue other projects: Lyxzén and Sandström still perform together in pit-making punk revivalist outfit AC4, and Lyxzén is is the lead singer of post-punk act INVSN and sang in bubblegum-rock group (International) Noise Conspiracy through 2009.
For years, it looked unlikely that the band would ever reunite; the divorce itself happened in the middle of a U.S. tour; as they were busy promoting The Shape of Punk to Come, but Lyxzén, Steen, Sandström, and former guitarist Jon Brännström were growing increasingly sick of each other. "It was nothing unusual," said Steen in 2002. "Just four guys that were beginning to not stand each other anymore."
The way Sandström explains the group's past, though, outlines an internal rift regarding Refused's growing commercial presence (shortly after they split, they were nominated for a Swedish Grammy for Best Alternative Hard Rock Band). The drummer recalls getting blowback from fans for appearing on Swedish TV in the '90s, an achievement he felt comfortable with in the moment — but not every member craved that kind of recognition. "There was never any thought of us having a career," he says. "We were breaking away from a scene and trying to do something different. [But] we were also saying, 'Oh, we're even too good for this world.'" He continues: "That whole thing that we were into, just playing outside the lines, you see where that led. We did that. We can't do that again."
"The band eventually became an entity that couldn't be stopped," Lyxzén loosely details in the first few minutes of 2006's Refused Are F—king Dead, a brief rock doc directed by Steen that's meant to shed light on Refused's demise (though in truth it spawns more questions than answers). "What we became was not what we had in mind when we started out. It wasn't a very friendly, inclusive, or warm atmosphere."
Lyxzén, Sandström, Steen, and recently ousted guitarist Jon Brännström, who was officially dismissed a year into Refused's second act, played their last show on October 8, 1998 in Harrisonburg, Virginia. The basement show got raided by the police while the band was in the middle of "Rather Be Dead," and that was the end of Refused — for the time being.
More than a decade later, the foursome reunited in 2012 for some Coachella dates and a brief tour, telling Exclaim! that "We never did The Shape of Punk to Come justice back when it came out, too tangled up in petty internal bickering to really focus on the job." Fans were thrilled, rumors exploded about a possible reunion album, but the guys avoided the press. "We were just playing these old songs and hadn't formulated an idea about what we were as a band,"says Lyxzén. "In 2012, we didn't do any interviews because we felt we had nothing to say."
Witnessing fans' explosive reaction to their Freedom comeback has been pleasant — if not a little jarring — for the group. Announcing their revival with the words "Refused are f—king alive," the band has been welcomed back into the fold with arguably the highest level of enthusiasm of their collective careers. Unlike their Shape-fueled career swell of '98, though, the sonic revolutionaries are trying to take in the response with a calm detachment.
They're quick to remind me that it's been 17 years — the new Refused record, which drops on June 30 via Epitaph, will not be Shape Part II. "When we write for Refused, we want it sound like Refused," says Lyxzén. "But then we have all of these influences and references. [Freedom is] going to be different." One major change, for example, is the departure — well, firing — of Brännström, which occurred sometime in 2013. In November 2014, the longtime guitarist went public with the information via Refused's own Facebook page claiming that he "wasn't given a reasonable explanation and wasn't even invited to sit down and talk about it." In response, Refused wrote a note of their own, confirming Brännström's statement, calling the situation "complicated," and justifying their action because he "did not share our passion for the band." "It's just one of those things that happens in bands," Sandström recently revealed to Consequence of Sound. "He wasn't committed."
As for the shape of punk in 2015, they're unenthused. Shape was fundamentally influenced by late-'80s, early '90s transcendentalist projects like Nation of Ulysses, Born Against, and Fugazi. Its title referenced jazz great Ornette Coleman, who borrowed from H.G. Wells' 1933 science-fiction text. The record was meant to be, as Sandström puts it, "a protest" of the current state of punk even then.
"[Punk rock] doesn't mean anything," Lyxzén proclaims. "It got appropriated by the world. It's a subculture with men with shorts that play guitar. It has no meaning, it has no value, it has no cultural gravitas. I mean, it's going to be something that will define me and our band forever, but today it has no value." He pauses, then continues: "For us, I think it was more of an idea than a musical expression. What stuck with us was the idea that anything is possible."
Though Lyxzén and Sandström have relaxed in terms of living by a far-left agenda (both are in their 40s, so a certain amount of mellowing is to be expected), they are extremely well-informed about underrepresented social and political issues. "When you're young, it's pretty much the MC5 credo: You're either part of the problem or you're part of the solution," Sandström explains. "But as you grow older you realize that everything is part of the problem."
Like its predecessor, Freedom actively eschews instrumental arrangements that could be assigned a genre-specific "scene," choosing instead to disregard sonic boundaries and laugh at the industry's expectations. Case in point: Freedom is partially produced by Top 40 favorite Shellback, who has also helmed chart-dominating tracks from Taylor Swift, Pink, and Cher Lloyd. True, Freedom is a self-described "dark" record that's built on a foundation of chomping riffs and tonsil-blasting yowls ("Elektra," "Dawkins Christ"), but there are also some melodic, hand-clapping moments ("Servants of Death," "Françafrique") where Lyxzén actually sings, something he attributes to years spent touring with INVSN.
"I wasn't a very good singer in the '90s," says Lyxzén, who with his lean, lithe figure and slightly unbuttoned shirt resembles a slam-dancing Jarvis Cocker. "When we came to the studio, [producer] Nick Launay, who had mixed a couple of INVSN songs, was like, 'You should sing more!' He didn't know me as a screamer."
He wasn't aware of this, but apparently all that screeching in the '90s made burgeoning snot-pop act HOLYCHILD want to call their own recently released debut album The Shape of Brat Pop to Come. Though Lyxzén calls it "amazing" to be referenced, the band is a little more familiar with power-emo vanguards Paramore. There's a glimmer of recognition in Lyxzén's permanently distant gaze. "I met [frontwoman Hayley Williams]; she seems very nice." But he hasn't heard "Born for This," which went so far as to emulate Sandström's ba-bap-ba-bap drum-line.
"When we were writing songs for [2007's] RIOT!, I had these lyrics about not needing the approval of a critic," the sherbet-haired singer tells SPIN. "About forming some type of alliance with our fans and moving forward as a music movement that only relies on what fans and creators want — not fashion fads or radio trends. That particular line from 'Liberation Frequency' kept coming to mind."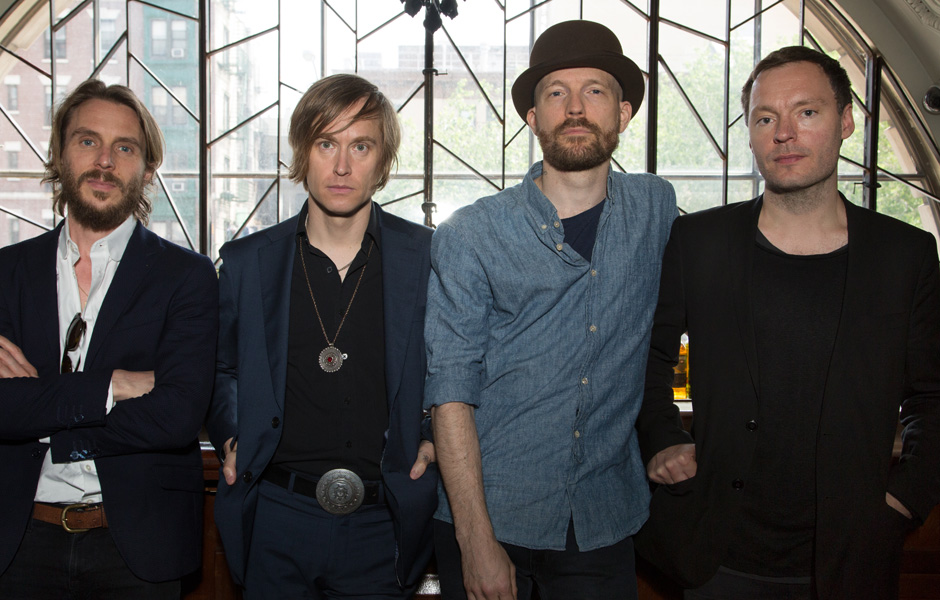 Today, Refused's signature ire toward the establishment(s) has shifted; in their middle age, the guys' new lyrics are less about boycotting offensive people, products, and Powers That Be than they are about picking up the newspaper's International section. "That was all we did in the '90s," says Sandström. "We were into pointing fingers and saying that we were holier than every other person."
Lyxzén cites the final song on Freedom, a pounding, six-minute-long anthem called "Useless Europeans," as exemplifying the band's collective frustration with the way their countrymen regard — or don't, as the case may be — international atrocities like slavery and world hunger ("You're a pretty girl / And it's a pretty life that you've got / Outside your pretty walls / There's an ugly world"). "We have all this privilege and we do nothing with it," he says.
Refused's own homeland, Sweden — a country that American liberals like to idealize as the promised land of paid parental leave and universal healthcare — lands high on their list for change. But in terms of solutions, the band is at a loss. Lyxzén reasonably maintains that if they did know what to do about, say, the refugee crisis in the Mediterranean, "we would not be playing in a rock band." "We can do very little," agrees Sandström. "What we are partly talking about on the [new] record is that we're culpable."
All photos by Guy Merin for SPIN