Welcome to SPIN's Singles Mix! The SPIN staff has rounded up their favorite, must-hear tracks for your mid-week playlists. From French adolescent disc jockeys to cross-global hip-hop to early emo revivalists, these are the songs you need to know right now.

"Suddenly," ALA.NI (Unsigned)
Over a lone, hushed piano, nostalgic newcomer ALA.NI coyly coos this seductive lullaby as if she's revealing a century-old secret. Wrapping her dreamy harmonies in classic analog production, this London-based chanteuse invokes the ghost of Judy Garland, drenching "Suddenly" in the kind of graceful mystery that sounds like a memory trapped in a dream trapped in your grandmother's record collection. MAGGIE ROGERS
//www.youtube.com/embed/jLOnUWJTCG0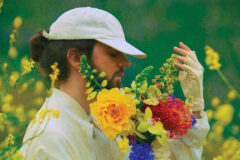 Chromatics, "Closer to Grey" (Italians Do It Better)
Chromatics' predilection for film-noir tones ("Tick of the Clock," "Kill for Love") continues on this new lover's lament. Skin-crawling synths and trembling guitar pickings permeate the track, furthering Ruth Radelet's vocals that carry the enduring nocturne melody. Radelet bemoans "summer skin" that's "faded," chiding, "You say you'll never kiss another / I see you standing close to grey" — a jilted feeling that hangs like fog after the song's misty close. MATTHEW LEVINE

Future Brown, "Talkin Bandz featuring Shawna & DJ Victoriouz" (Warp Records)
Prepping for their self-titled debut (due in early 2015), international club project Future Brown –– Berlin-based Fatima Al Qadiri, Los Angeles duo Asma Maroof and Daniel Pineda (of Nguzunguzu), and New York City's J-Cush –– tease another taste of their percussive, global sound, this time featuring some of Chicago's best. "Talkin Bandz" opens with futuristic, hollow synths that background DJ Victoriouz's easy-on-the-ears hook. Shortly after, Shawnna enters with aggressive, play-on-word verses ("She mad 'cause she sat on them seashells / on the seashore, see hoe"). LUIS POLANCO

Future of What, "Daydream 99" (Feat. Drake Records)
"So down on this daydream scene" sing Brooklyn synth-peddlers Future of What over a rounded, deceptively sexy bass line and various gauzy, technoid pad effects on this first taste of Future of What's forthcoming Pro Dreams, reportedly inspired by the death of singer Blair's younger brother. DAN WEISS

Grooms, "Doctor M" (Western Vinyl)
The bass-heavy "Doctor M" is about lead singer Travis Johnson's dealings with addiction, and, if you think about his stressful year, it's easy to empathize. In 2014, Grooms has been booted out of its home base, Brooklyn's now-defunct Death By Audio, and they've adjusted to a (mostly) new lineup featuring bassist Jay Heiselmann and drummer Steve Levine. Even if they've been forced to make the best of a bad situation, the band-member switcheroo has been rewarding. Sonically symbolizing a substance-related high-low, the six-minute single plays out like two songs in one: The first half is edgy with cutting distortion, but the latter drifts for a full two minutes on a cloud of arial guitar. RACHEL BRODSKY

Her Habits, "Faster Than Sound" (Unsigned)
Formerly known as Foxe Basin, Joanie Wolkoff has kicked off another musical endeavor under the moniker Her Habits. "Faster Than Sound" is a charming, static electro-pop gem with a contradicting theme: the often-messy feelings in missing an ex-love. The full, booming horns, however, help the song to feel more triumphant than fatalistic. L.P.

Madeon, "You're On" (Sony)
"You're On" is the type of blippy, interstellar electronic track that Madeon — a teenage French producer to the stars — is becoming rapidly known for. With lyrics by Disclosure-confidante Jimmy Napes, the track introduces British vocalist Kyan to the masses, and rightfully so: His falsetto would warm even the most ice-crusted heart. "I was losing hope / That you felt the same," Kyan sings mournfully, but "You're On" is most notable for Madeon's dips and lift-offs. His intricate production sends you on a hang gliding tour through an EDM wonderland, never once stopping to consider the rising sun in the distance. Why would he when the trip is so smooth? BRENNAN CARLEY
//www.youtube.com/embed/xp0NOjZlNlo

San Fermin, "Parasites" (Downtown Records)
Don't try to predict where this song is going — you won't be able to. The baroque-pop ditty takes so many twists and turns that you're better off just letting go and enjoying the ride. San Fermin newcomers Charlene Kaye and Rebekah Durham provide delicate, venerable vocals, but before too long they're replaced by Allen Tate's guttural baritone. That in turn segues into blaring horns, which almost as quickly become furious fiddle twanging. The song does a lot, but it does a lot well, and at least one little vignette is bound to latch onto you — somewhat like a parasite, though much more enjoyable. JAMES GREBEY

You Blew It!, "Lanai" (Topshelf Records)
It's hard to listen to You Blew It!'s "Laina," the first release from their upcoming Pioneer of Nothing EP, without thinking about classic Sunny Day Real Estate. It's just about all there: The angelically picked guitar intro, eventually exploding into an ocean of echoing cymbals and crunching guitars, with wispy, plaintive vocals airsurfing overhead. It'd be a worthy entry in SDRE's Diary, with lyrics that alternate between the confessional and the unintelligible, one of the more faithful throwbacks in the ever-unlikely emo revival of recent days. "I couldn't think of anything less cool"? Not in 2014, dudes. ANDREW UNTERBERGER