Electronic music virtuoso Madeon is still buzzing from two recent Coachella performances, where he took things next level with the now legendary Good Faith Forever tour stage production. The Grammy-award nominated star worked with visual collaborators The Architects, for a surreal juxtaposition between artist, motion graphics and lighting. Madeon also recently released "Love You Back", his first single on indie label Mom+Pop Music. "This summer felt like a particularly appropriate time. I'm so happy to see it out as I'm still experiencing the rush from my two Coachella performances. It's a happy, nostalgic song, almost like a daytime counterpoint to my last release 'The Prince.' I hope you get to make beautiful memories with it this summer," reflects Madeon.
Next up, Madeon continues his Good Faith Forever tour at Hangout Music Festival in Gulf Shores, AL. Serving as the official kick-off to summer festival, Hangout will feature an array of artists in pop, rock, hip-hop, electronic, country, and more, including Tame Impala, Post Malone, Halsey, Fall Out Boy, Doja Cat, Megan Thee Stallion, and Jack Harlow, among others.
To celebrate all things summertime, Madeon recently curated an epic Spotify playlist for SPIN and we're loving it. We present, Madeon's Beach Essentials Playlist:
Men I Trust – Lauren
That bassline is too infectious ! Perfect 2pm beach lounging music.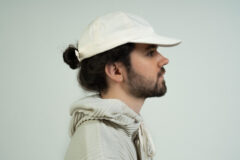 Toro y Moi – Mississippi
I could put that entire album as this playlist, I'm such a fan.
BAYNK – Naked
So catchy and fun, I keep on going back to that one !
Jamie XX – Let's Do It Again
I'm so happy to get more music from Jamie, this one feels like a classic doesn't it ?
Jim E-Stack – Next To Me 
Amazing production, feels like a magical intricate machine.
WILLOW – Wait A Minute!
I'm a sucker for this retro stompy production, so fun, I know it's a few years old but I only just found out about it.
Madeon – Love You Back
Look, I had to sneak it in, but sincerely I think it's one of my most summerey songs in a long time !
Japanese House – Saw You In a Dream
Making this, I'm realizing my summer vibe is more "sipping on a cocktail by a swimming pool in the early afternoon" than "up all night".
Lucky Daye – Feels Like
Amazing voice, pristine vibes.
Rina Sawayama – Cherry
Everybody knows Rina makes some of the best pop around.
Carpenters – Goodbye to Love
Every summer needs a timeless romantic ballad.